NEWS
Relay Interviews by Japan National Team Coaches Vol. 6: U-17 Japan Women's National Team's Coach KANO Michihisa "You only live once, so give your best efforts."
04 May 2020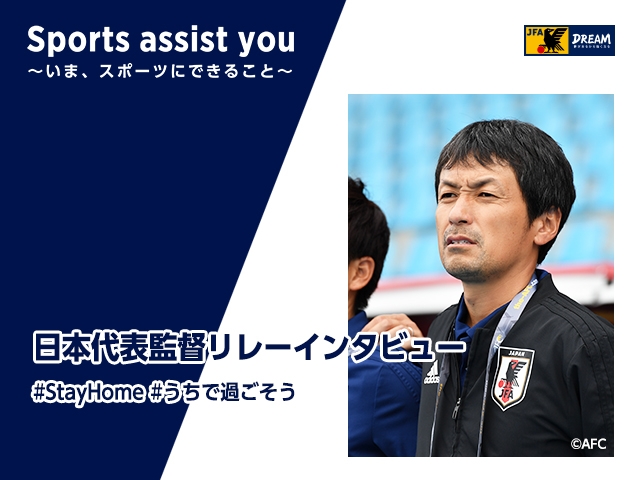 In efforts to contain the spread of the novel coronavirus, many sporting events have been cancelled over the recent period, and the activities of Japan National Team are no exception. With the players and coaches all staying at home during this quarantine period, we have conducted interviews with coaches from different categories of the Japan National Team, regarding their passion towards football, personal experiences, and the importance of chasing a dream.
As the sixth interview of the series, we will share the interview conducted with coach KANO Michihisa of U-17 Japan Women's National Team.
Always having someone to look up to
When I entered primary school, I wanted to play a sport, so I asked my father to take me to a trial session of a baseball team. On our way to the training field, we ran into my friend who played football, and we decided to go try-out for the football team instead. I played for Hirakata FC during junior high and high school. At the time, we had players like Mr. SASAKI Hirokazu, who played for the national team, Mr. ISHIMARU Kiyotaka, who currently coaches Montedio Yamagata, and Mr. HIRONAGA Yuji, who played for clubs like Tokyo Verdy. With so many talented players in the older age categories, there were plenty of players to look up to and I was greatly inspired by their presence.
The teacher who encouraged my challenge "You only live once"
Hirakata FC was a club that respected the players' creativity and personality. They provided freedom for their players to think on their own and build their individuality. The club's culture allowed us to try new things without the sense of being told to do something. For instance, when the usage of our training field was unavailable due to heavy rain, our coach lighted up a park with his car's headlights to conduct our training session. Instead of thinking, we have to train in the rain, there was a vibe that we all wanted to train. I am forever grateful for the coaches of Hirakata FC for nurturing players' independence and providing an environment where we can challenge new things, which really allowed us to enjoy playing football.
The inaugural year of J.League took place during my second year in high school, and I joined a training session with Shimizu S-Pulse in my third year, but I was not able to earn a contract with the club. That try-out gave me the opportunity to think about what I really wanted to do, and it made me realise that I wanted to challenge the world as a football player. From then on, I started to plan on playing football in Brazil after graduating high school. While many people suggested that I should think twice before traveling to Brazil, my former teacher from junior high school supported my idea by mentioning, "You only live once. Follow your heart and give your utmost efforts towards it."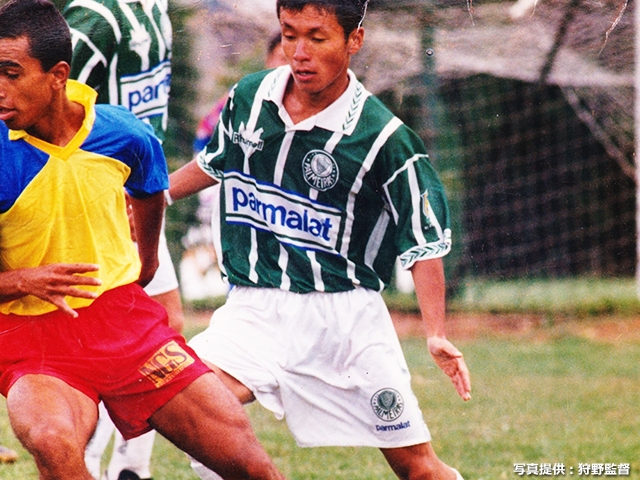 Getting accepted by showing greater intensity than the Brazilian players
After graduating from high school, I travelled to Brazil with a strong determination to earn a contract within a year. I did not have much money at the time, so I walked to get to the training field every day, which took about 50 minutes each way. I eventually made friends that would go to training sessions with me, and I started to play with players like Roque JUNIOR, who used to play for the Brazil National Team. After spending half a year in Brazil, I joined the U-20 squad of Palmeiras, where I earned minutes in their matches. At the time, Palmeiras had players like CAFU and RIVALDO in their top team, and I was given the opportunity to train against them, which was a priceless experience for me. When I officially joined Palmeiras' U-20 squad, I played in a scrimmage game where I played on the same team with Cafu. While Cafu played as the right fullback, I was positioned in the left wing, which was not a position I was used to, but I remember playing with great intensity, and I also played extremely well.
Learning how to speak Portuguese was not easy, but I always had good grades in English during junior high and high school, and I also came prepared before traveling to Brazil, so I was able to carry on with my daily lives without too much problems. I was able to play in matches after spending six months in Brazil, but I was not a skilful player, so always had to give my utmost efforts in every match and training session. I played furiously on the pitch and I also had the most stamina on my team, so I gradually earned more minutes in the team's matches. After playing for the U-20 squad of Palmeiras, I singed a professional contract with Osasco FC, where I played in the Campeonato Paulista. I spent a total of four years in Brazil as a football player.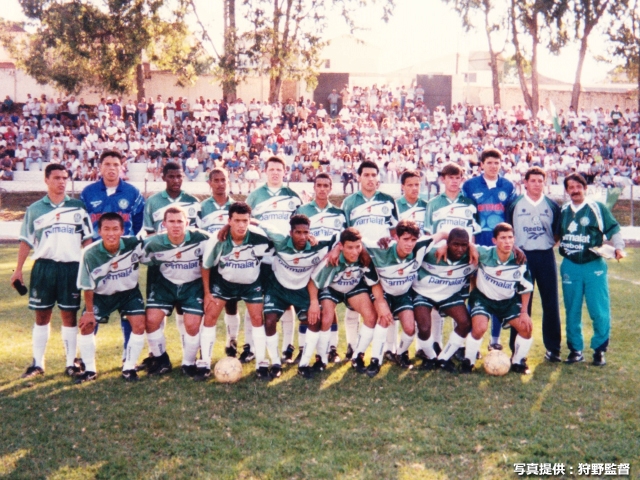 Pursuing a coaching career after taking on a role as a player-coach
I had strong desires to play in Japan, so I joined Sagawa Express, who were competing in the JFL at the time. As the team strived to reach the J.League, I was getting older and took on a role as a player-coach in my final year with the team. The head coach at the time was Mr. ENDO Yoshimune, who is currently a coach at the National Training Centre, while the assistant coach was Mr. NAKAGUCHI Masafumi, who is currently the coach of Vanraure Hachinohe. With the support of these wonderful coaches, I made my decision to pursue my career as a coach. While I was in charge of the boys' development age category, I was asked to coach to raise the level of the girls' teams, and that was how I started to get involved in women's football.
Entering the U-17 Women's World Cup with passion and ambition
When coaching the development categories, you may not see instant results, but you do get to see the players' improvements and changes in first-hand. I always try to find the strong points of each player and bring out their potentials before sending off to the next age category. At the same time, I am always striving to become a coach that can lead the team to victory. By winning matches players can gain confidence, so in any given tournament, I focus on making the tournament final. Regardless of the tournament size, the final always have a unique pressure and atmosphere, and I believe through these matches, the players can reach a higher level in a more rapid pace. That is why we always enter the U-17 Women's World Cup with great passion and ambition.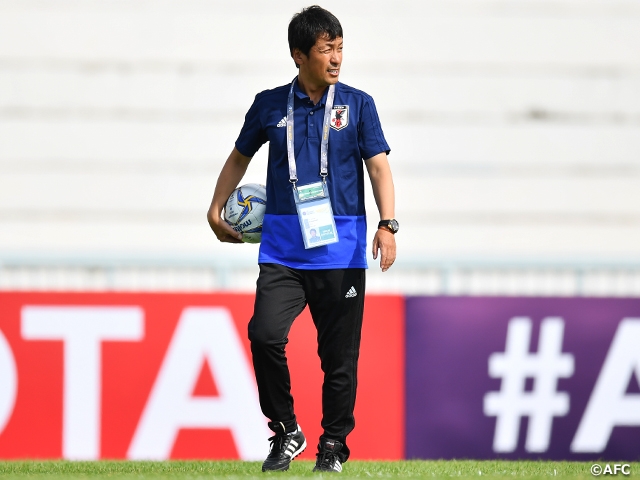 Women's football in Japan can improve by developing physical strengths
In order for Japan to reclaim the world title, we must develop the individual strengths of our players, and I believe there are plenty of room for improvements in the players' physical strengths. For instance, Japanese female athletes competing in individual sports, such as marathon, judo, wrestling, table tennis, and badminton are highly successful at the world stage. These sports require power and agility, but they continue to impress the world. By developing physical strengths from the development category, we can heighten the overall level of women's football in Japan.
Meeting new people will give you many new findings
I have met so many people through football. By meeting new people, I was able to broaden my perspective and grow as a person. For the young generation, I want them to think on their own and try new things without being afraid to fail. Even if things do not turn out the way they were planned, I want them to continue to challenge. We must stay patient for now and replenish our energy for the day we can play football together.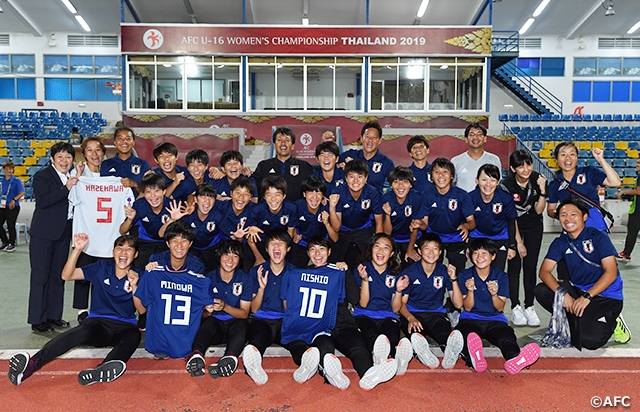 Tomorrow we will share the interview of U-16 Japan National Team's coach MORIYAMA Yoshiro.