NEWS
Mongolia National Team arrives to Japan ahead of match against SAMURAI BLUE at the FIFA World Cup Qatar Asian Qualification Round 2
08 October 2019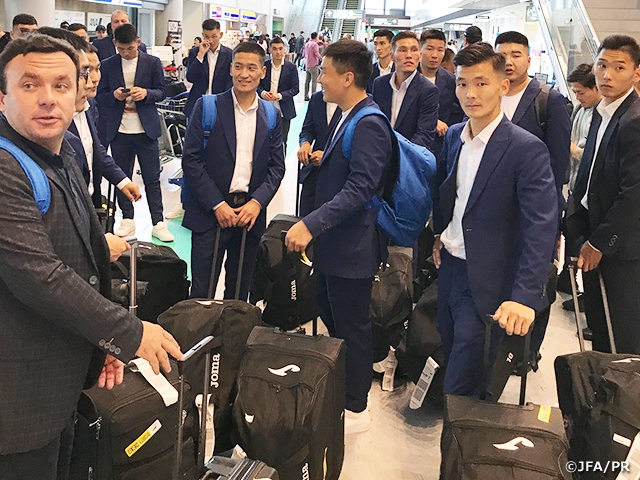 Ahead of their match against the SAMURAI BLUE (Japan National Team) at the second round of the Asian qualifiers for the FIFA World Cup Qatar 2022, the Mongolia National Team arrived in Japan on Monday 7 October.
Many of their players showed great interest to the view from their bus, as many made their first visit to Japan. After arriving to their hotel, the players were seen taking a walk around the hotel to get their body loosened up. The team will start training to prepare ahead of the match on Thursday.
The FIFA World Cup Qatar 2022 Asian qualification match between the SAMURAI BLUE (Japan National Team) and the Mongolia National Team will kick-off at 19:35 on Thursday 10 October at Saitama Stadium 2002.
Coach and Player's Comments
Michael WEISS, Coach
I used to work as a satellite coach for Kyoto Sanga from 2001 to 2004, and I really loved living in Japan. Many of the veteran players are no longer with the Japan National Team, and I am getting the impression that their transition to the next generation is getting underway. The team has finished as the runners-up at the Asian Cup, but they should get much better from here on. The Asian rankings are constantly changing, but I think Japan will solidify their status within Asia. With their players gaining more playing time in European leagues, Japan should get stronger proportionally. The J.League has also developed dramatically since I was in Japan. However, as much as I respect Japan, I have also told my players, not be afraid of Japan and to give their best efforts in the match. Mongolia is ready to showcase our best performance, so please come watch us at the stadium.
Naranbold NYAM-OSOR
I have visited Okinawa two years ago in a training camp with the national team, so this is my second time visiting Japan. The Japan National Team is a very strong team and all of their players are famous, Yoshida and some other players are especially well-known. The strong point of Mongolian football lies on our physical strengths. Our team is highly motivated, and we have a strong bond like a family. We hope to put up a strong fight as a team.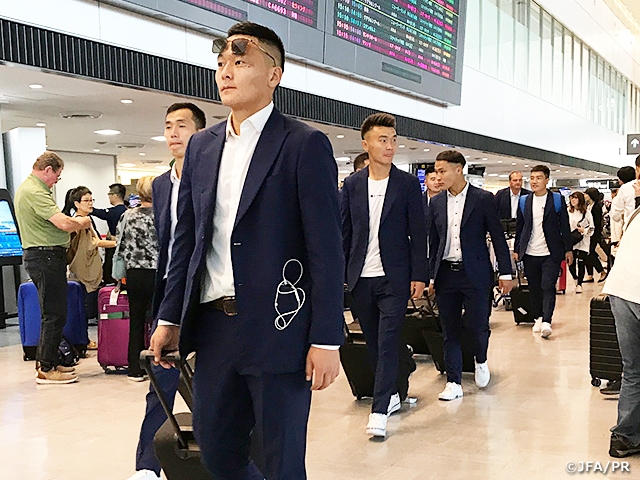 Coach
Michael WEISS
Squad
GK
18 Ariunbold BATSAIKHAN (Erchim)
16 Saikhanchuluun AMARBAYASGALAN (FC Ulaanbaatar)
1 Munkh-Erdene ENKHTAIVAN (Athletic 220 FC)
DF
23 Tsedenbal NORJMOO (Ulaanbaatar City FC)
17 Davaajav BATTUR (Erchim)
20 Bilguun GANBOLD (Erchim)
3 Turbat DAGINAA (Athletic 220 FC)
21 Tuguldur GALT (Erchim)
5 Usukhbayar SUKHBAATAR (FC Ulaanbaatar)
6 Narmandakh ARTAG (Ulaanbaatar City FC)
15 Temuulen DUGEREE (Ulaanbaatar City FC)
2 Munkh-Orgil ORKHON (Deren FC)
4 Dulguun AMARAA (Deren FC)
MF
10 Tsend-Ayush KHURELBAATAR (Deren FC)
8 Gankhuyag SER-OD-YANJIV (Khangarid)
9 Tugsbileg BATBOLD (Ulaanbaatar City FC)
7 Sundorj JANCHIV (Khangarid)
22 Bat-Orgil GERELT-OD (Deren FC)
FW
11 Naranbold NYAM-OSOR (Athletic 220 FC)
13 Enkhbileg PUREVDORJ (Anduud City FC)
19 Mijiddorj OYUNBAATAR (Ulaanbaatar City FC)
14 Jansyerik MARATKHAN (Deren FC)
12 Baljinnyam BATBOLD (FC Ulaanbaatar)
Schedule
Tue. 8 October
PM
Training
Wed. 9 October
PM
Official Press-conference/Training Session
Thu. 10 October
19:35
2022 FIFA World Cup Qatar and
AFC Asian Cup China PR 2023
Preliminary Joint Qualification - Round 2
vs SAMURAI BLUE (Japan National Team)
*The schedule is subject to change due to the team condition, the weather, etc.
2022 FIFA World Cup Qatar and AFC Asian Cup China PR 2023 Preliminary Joint Qualification - Round 2
SAMURAI BLUE (Japan National Team) vs Mongolia National Team
Match Date: Thu. 10 October 2019, 19:35
Match Venue: Saitama Stadium 2002, Saitama
Live Broadcast on TV Asahi/NHK-BS1