NEWS
The 2nd module of Futsal A-Licence Coaching Course 2019 held at Hakone-machi, Kanagawa
29 July 2019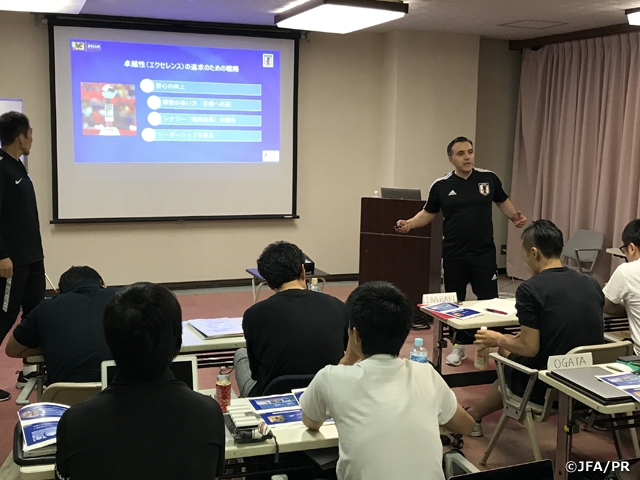 The second module of the Futsal A-Licence Coaching Course was held for five days, from Monday 15 to Friday 19 July 2019 at Hakone-machi in Ashigarashimo, Kanagawa.
The JFA Futsal A-Licence Coaching Course launched in 2017 and the course in 2019 was participated by futsal coaches from various categories, as coaches from the F. League, regional club teams, and National Coaching Staff were present. They shared their opinions and inspired each other, and the course was very productive.
The second module of this course took in consideration of the materials covered in the first module, as the participants conducted their own training menus during the practical coaching session. Mr. Bruno GARCIA, Head Coach of the Japan Futsal National Team gave lectures on "scouting," "team management," "tactical planning," and "bench-work," while professor YASUMATSU Mikinobu from the JFA Physical Fitness Project gave a lecture on "physical conditioning", followed by a lecture on "psychology" given by professor NAKAYAMA Masao of University of Tsukuba.
The JFA Futsal C and B Licence Coaching Courses are officially recognised by the AFC as being equivalent to the AFC Futsal Level 1 and 2, respectively. JFA is now applying the JFA Futsal A-Licence Coaching Course for being equivalent to the AFC Futsal Level 3, as the AFC Futsal Department made an assessment visit to Japan to observe the course.
The third module of the Futsal A-Licence Coaching Course is scheduled to take place in December 2019.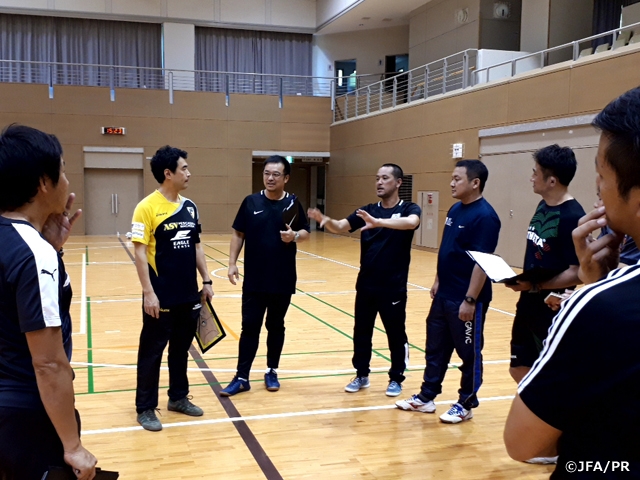 Instructors' Comments
AKUTSU Takashi, JFA Futsal Instructor
The second module of the Futsal A-Licence Coaching Course took place in Hakone. As part of the main focus of the A-Licence, each participant is asked to verbalise the play models they have in their mind to write a thesis. In efforts to support the participants to verbalise their play models, we have welcomed coach Bruno GARCIA of the Japan Futsal National Team to give a lecture on his own play model, game plan, and scouting methods. During the practical coaching session, each participant prepared their own coaching plans to lead the session with the players of a futsal team. The coaches then shared their opinions on each other's sessions, where heated discussions took place, and I am sure that the opportunity to hold such discussions have given the participants a precious time. With the conclusion of the first and second module of this A-Licence Coaching Course, we have just the third module left. I would like the participants to spend a productive time ahead of the final module and really reflect on their past experiences to get their thoughts organised. I hope that they will implement the new knowledge to improve their coaching experience, so that we can hold discussions at an even higher level in our third module.
Ali TARGHOLIZADEH, Head of AFC Futsal Department
AFC already equalised JFA Futsal 'C' and Futsal 'B' with the AFC Level one and two and following the AFC procedure this evaluation of second module of JFA "A" Futsal that organised in Hokone – Japan will be performed to exchange ideas and minimum criteria to equalise JFA Futsal 'A' with the Futsal Level three coaching courses in Asia.
The third JFA 'A' Futsal had boost knowledge of Futsal Coaches who active in the F-League and other Futsal Leagues in Japan. The Futsal Fitness session organised in a very simple way and understandable for Futsal coaches by professor YASUMATSU who manage very good the performances of given topics to participants in the practical session. Theories and Practical sessions by Bruno GARCIA, Head Coach of Japan Futsal National Team, given a lot of exposure and experience to young coaches. During Training sessions all young coaches assisting each other in their exams thus has created the good teamwork environment.
The open speech or individual speech sessions also gave a good chance to young coaches to learn how communicate during pre-game speech, timeout, halftime, flash interview and post press conference. In addition, great session of mental skill by professor NAKAYAMA was very interesting due to all content of presentation was related to Futsal and sport activities hence I believe participants enjoyed from his type of presenting also content of his presentation. JFA Futsal Instructors working tireless and with passionate to teach and elevate participants.