NEWS
Urawa and Shoshi shares a point apiece in a 1-1 draw at the 9th Sec. of the Prince Takamado Trophy JFA U-18 Football Premier League EAST
08 July 2019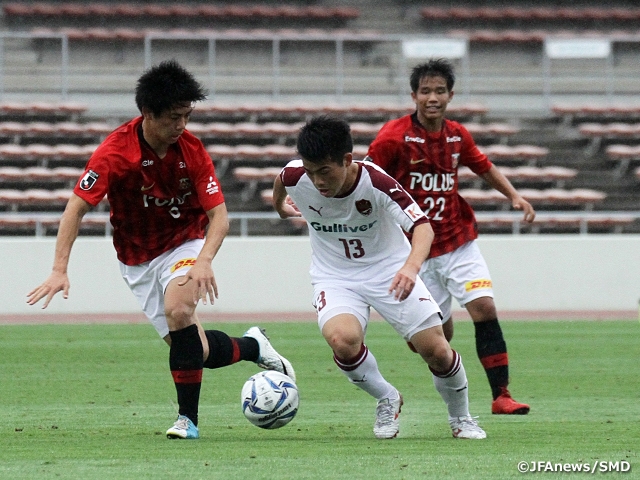 The ninth Sec. of the Prince Takamado Trophy JFA U-18 Football Premier League 2019 EAST took place on Saturday 6 and Sunday 7 July at various locations. At Urawa Komaba Stadium, Urawa Red Diamonds Youth (Saitama) drew against Shoshi High School (Fukushima) to share a point apiece.
Pick-up Match
Urawa Red Diamonds Youth 1-1 (1-1, 0-0) Shoshi High School
The match that concludes the first half of the season started off with Urawa scoring the opening goal. The goal came in the second minute of the match, when YONAHA Kowa (#7) converted the opportunity created from a corner kick.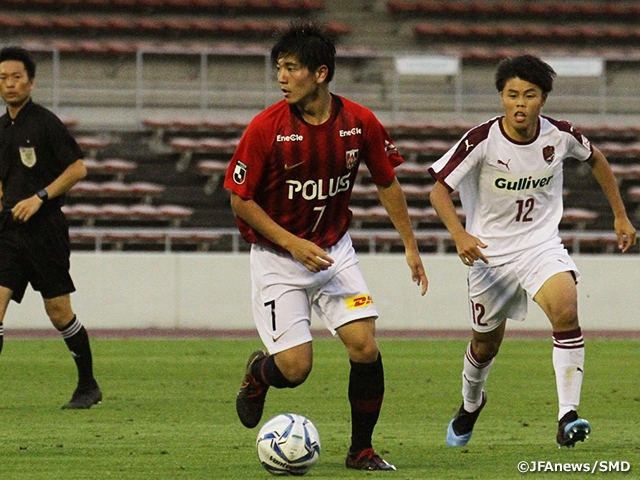 With momentum on their side, Urawa took full control of the match, but Shoshi showed great persistency to keep the home side from scoring their second goal.
Shoshi's patience gets rewarded in the 36th minute, when SOMENO Itsuki (#9) was brought down inside the Urawa penalty area to earn a penalty kick. While Urawa's goalkeeper, SUZUKI Zion (#25), who was a member of the U-20 Japan National Team at the recent FIFA U-20 World Cup Poland 2019, showed great enthusiasm to stop the shot, Someno successfully converted the spot kick to equalise the match.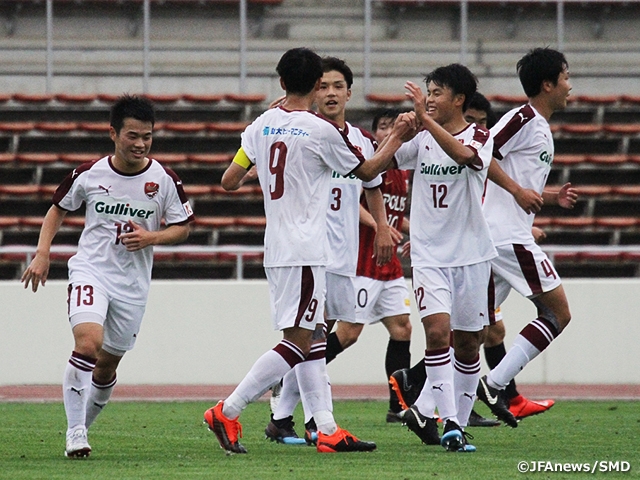 The second half saw Urawa showing their dominance over Shoshi, but as the visitor's defender SESAI Shunto (#18) later reflected, "although we gave up many opportunities, we kept our focus to defend through the half," the match entered a deadlock. Despite conceding just one shot to their opponent in the second half, Urawa fell short from scoring the go-ahead goal, ending the match in a 1-1 draw.
Following the match, Urawa's coach IKEDA Nobuyasu stated, "we are not going to say that it was a match we should've won, but rather feel fortunate that we earned a point." The coach continued by mentioning, "our players showed stronger intentions to take shots, so that's something positive we can take back from this match." On the other hand, Shoshi's coach NAKAMURA Koji praised their opponents by saying, "Urawa was a very strong team," and followed by sharing his take on the match, "our players showed great patience today."
Coaches and Players' Comments
IKEDA Nobuyasu, Coach (Urawa Red Diamonds Youth)
It is not an easy task to take over the team midway into the season, but I have an unwavering determination to develop professional football players. I have spent my time understanding each player's strong points and constructed a line-up that can showcase each character. As a coach, I also believe that a Red's player must always have a fighting spirit, so any player without that attitude shouldn't be on the pitch.
GK #25 SUZUKI Zion (Urawa Red Diamonds Youth)
I have been practicing to stop penalty kicks, so I was very disappointed when I conceded that goal. I focused on initiating the team's counter attacks from the goalkeeper's position and although I managed to create some good opportunities in the first half, I made some mistakes in the second half, so I need to improve myself in that aspect. We had to face the strong wind in the second half, so it was difficult to launch the long balls. With the FIFA U-17 World Cup Brazil 2019 scheduled in October, I must work hard not only to get selected into the team, but to play in the matches at the World Cup.
NAKAMURA Koji, Coach (Shoshi High School)
This was our first away match with a kick-off time of 17:00. Instead of staying overnight, we travelled from Fukushima on this day, so this must have been a physically tough match for our players. In that sense, I am glad we were able to earn a point from this match. This is a tough league, and although I always try to remain positive in front of my players, there are moments where I feel discouraged. However, compared to eight years ago, when we first made the appearance in this league, we are definitely making positive strides.
DF #18 SESAI Shunto (Shoshi High School)
We entered the match with the intention to showcase our strong commitment to defend the goal. Urawa had many fast players on their team. I am given the opportunity to face national team members at the Premier League, and it has given me priceless experiences to become a better player. My ability to win the aerial battles is my strong point, but I haven't scored any goals from set-plays yet, so I hope to score goals in the second half of the season.
Results of other matches
Omiya Ardija U18 0-0 (0-0, 0-0) Shimizu S-Pulse Youth
Ryutsu Keizai University Kashiwa High School 2-2 (0-0, 2-2) Kashiwa Reysol U-18
Aomori Yamada High School 3-0 (2-0, 1-0) Funabashi Municipal High School
Kashima Antlers Youth 1-1 (0-0, 1-1) Jubilo Iwata U-18
The two teams seeking to join the title race, Omiya Ardija U18 (Saitama) and Shimizu S-Pulse Youth (Shizuoka), showcased an intense battle that ended in a scoreless draw. The two Chiba sides, Ryutsu Keizai University Kashiwa High School (Chiba) and Kashiwa Reysol U-18 (Chiba), exchanged two goals apiece in the second half to share a point. League leaders, Aomori Yamada High School (Aomori), cruised past Funabashi Municipal High School (Chiba) with a 3-0 shutout victory to finish the first half undefeated. Jubilo Iwata U-18 (Shizuoka) scored the equaliser in additional time of the second half to share a point with Kashima Antlers Youth (Ibaraki).
Prince Takamado Trophy JFA U-18 Football Premier League 2019
League Duration: Sat. 6 April - Sun. 8 December 2019