NEWS
U-20 Japan National Team to face Ecuador in their first match of the FIFA U-20 World Cup Poland 2019
23 May 2019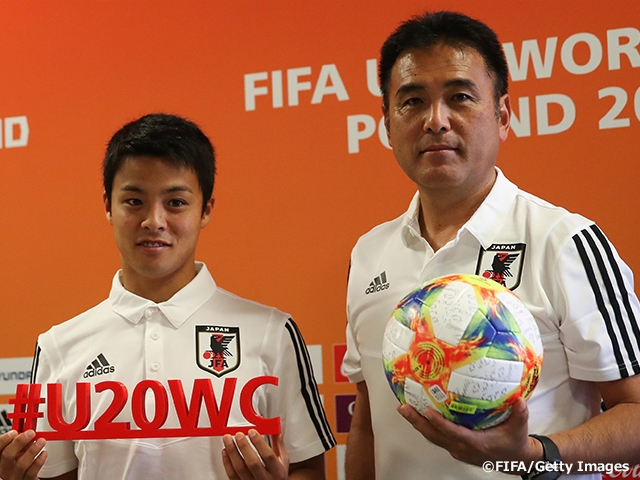 One day prior to their first match of the FIFA U-20 World Cup Poland 2019 against Ecuador, the U-20 Japan National Team held an official press conference on Wednesday 22 May, where Coach KAGEYAMA Masanaga and team captain SAITO Mitsuki took the podium.
In the press conference that took place at the match venue, Bydgoszcz Stadium, Coach Kageyama started off by mentioning, "We are so glad to be here. Our players are preparing themselves with a good amount of nervousness and they are looking very strong. You cannot find any tournament more exciting than this, so we hope to prepare ourselves in the best way possible ahead of our match tomorrow." Following the coach's speech, team captain Saito followed by sharing his aspiration towards the tournament, "Ahead of tomorrow's match, we have been able to prepare ourselves well and I am very excited for the match. We should be able to showcase an entertaining match, so please stay tuned."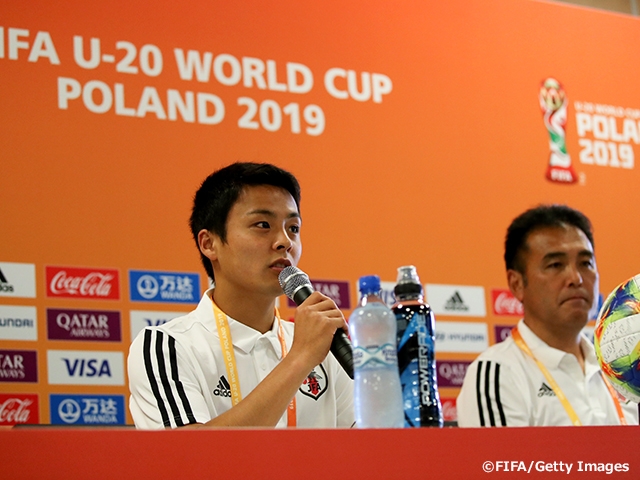 With the team facing Ecuador in their pivotal first match of the group stage, Coach Kageyama responded when asked about their opponent, "They are a very strong opponent. We must play with respect," and continued to describe their approach towards the match, "We must take an approach to contain their strengths at the team and individual level. However, there are certain variables we can't figure out until the match starts, so my job is to allow our players to play with confidence in the match tomorrow."
In regard to how he wants his players to develop through this tournament, Coach Kageyama stated, "As a team, our first priority is to advance through the group stage. We are hoping to make a deep run in this tournament while showcasing our full strengths as a team, but more importantly, I told my players to keep in mind that we are playing for our country and I want them to show their commitment to play for the team. I emphasised that our ability to contribute for the team is one of our strongest quality, so I want them to put that on display tomorrow."
When the local Polish media asked the coach on his impression on Poland, Coach Kageyama immediately answered, "It's a wonderful environment. The climate is dry and pleasant, the food is great, and the people are so kind wherever we go. We are so thankful to be given the perfect environment to focus on football."
Following the press conference, the team held a training session to get themselves ready for the final time ahead of the tournament opener. The session lasted about an hour where the players worked up a sweat with a good amount of tension.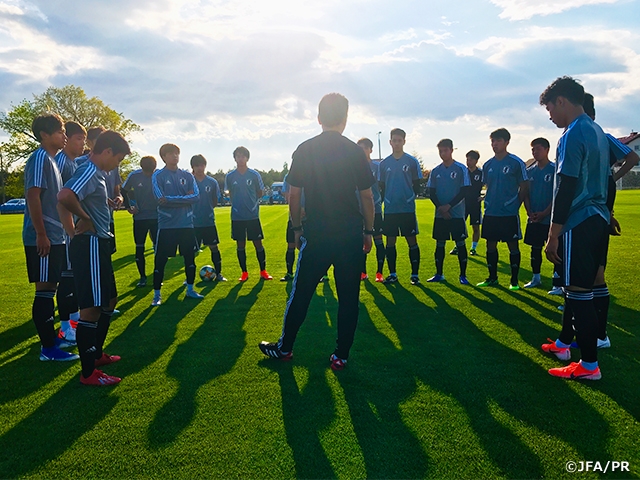 The FIFA U-20 World Cup Poland 2019 will kick-off on Thursday 23. In the group stage, Japan will face Ecuador on Thursday 23, followed by Mexico on Sunday 26, and Italy on Wednesday 29.
Players' Comments
DF #3 KOBAYASHI Yuki (Vissel Kobe)
My heart is filled with excitement right now. The first match of a tournament will always play a crucial role, so my teammates and I have been communicating with each other to give our very best efforts in the first match. Ecuador has a very solid offence and they consists skilful players with great speed in the flanks, so I hope to showcase my strengths to win the physical battles and ability to intercept the ball in tomorrow's match.
FW #11 TAGAWA Kyosuke (F.C. Tokyo)
In our match tomorrow, we might be seeing our team in the defensive end more often, but as a forward, I hope to score a goal that gives the team momentum in the first match. Even if we are forced to endure a tough match, if we can score a goal, we can defend as a team an earn the victory.
Schedule
Sun. 12 May
16:00
Training *Open to the public
Mon. 13 May
5-0
Training Match vs Ryutsu Keizai University
*Open to the public
Wed. 15 May
AM/PM
Training
Thu. 16 May
AM/PM
Training
Fri. 17 May
1-2
Friendly Match vs U-20 Colombia National Team
Sun. 19 May
AM
Training
Mon. 20 May
PM
Training
Tue. 21 May
PM
Training
Wed. 22 May
PM
Official Press-conference/Training
FIFA U-20 World Cup Poland 2019
Thu. 23 May
20:30
1st Group Stage Match vs U-20 Ecuador National Team
(Bydgoszcz Stadium, Bydgoszcz)
Fri. 24 May
AM
Training
Sat. 25 May
PM
Training
Sun. 26 May
15:30
2nd Group Stage Match vs U-20 Mexico National Team
(Gdynia Stadium, Gdynia)
Mon. 27 May
PM
Training
Tue. 28 May
PM
Training
Wed. 29 May
18:00
3rd Group Stage Match vs U-20 Italy National Team
(Bydgoszcz Stadium, Bydgoszcz)
Sun. 2 - Tue. 4 June
TBC
Round of 16
Fri. 7 or Sat. 8 June
TBC
Quarterfinals
Tue. 11 June
17:30/20:30
Semi-Finals
Fri. 14 June
20:30
3rd Place Match
Sat. 15 June
18:00
Final
*Local time
*The schedule is subject to change due to the team condition, the weather, etc.
FIFA U-20 World Cup Poland 2019
Tournament Dates: Thu. 23 May - Sat. 15 June 2019
Group Stage:
Fri. 24 May 2019 03:30 (Japan time)
vs U-20 Ecuador National Team
Sun. 26 May 2019 22:30 (Japan time)
vs U-20 Mexico National Team
Thu. 30 May 2019 01:00 (Japan time)
vs U-20 Italy National Team