NEWS
U-20 Japan National Team plays training match against Ryutsu Keizai University - FIFA U-20 World Cup Poland 2019
14 May 2019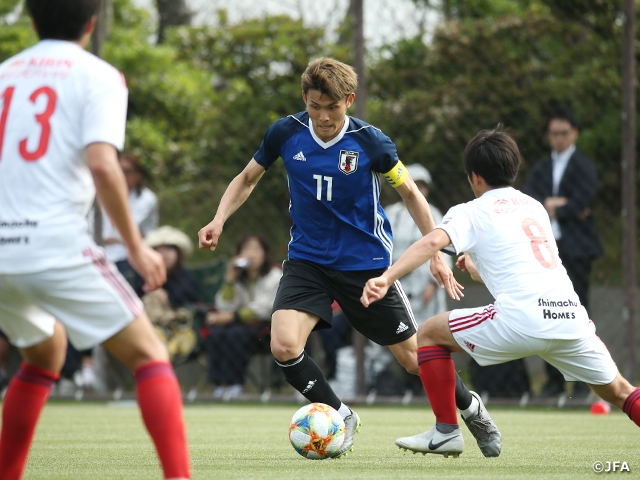 The U-20 Japan National Team, who are holding a training camp in Chiba to prepare for the FIFA U-20 World Cup scheduled to take place this month in Poland, played a training match (45minute halves, free substitution) against Ryutsu Keizai University on Monday 13 May, where they won the match 5-0.
The match kicked off under a summer like weather with the temperature rising over 28 degrees Celsius, Japan entered the match with a 4-4-2 formation. WAKAHARA Tomoya (Kyoto Sanga F.C.) started in goal, with HIGASHI Shunki (Sanfrecce Hiroshima), KOBAYASHI Yuki (Vissel Kobe), MIKUNI Kenedeiebusu (Avispa Fukuoka), and SUGAWARA Yukinari (Nagoya Grampus) forming the defence line. It was ITO Hiroki (Nagoya Grampus) and YAMADA Kota (Yokohama F・Marinos) who took the defensive midfield role, while NAKAMURA Keito (Gamba Osaka) and KIDA Hinata (Avispa Fukuoka) were positioned in the flanks. TAGAWA Kyosuke (F.C. Tokyo) and MIYASHIRO Taisei (Kawasaki Frontale) played upfront as the two strikers.
The first half saw the U-20 Japan National Team take control of the match with their quick ball movements, as Kida, Tagawa, and Sugawara aggressively took shots at goal, but Ryutsu Keizai University's goalkeeper OBI Powell Obinna, who is a member of the U-22 Japan National Team, made superb saves to keep the shots away from the goal. With the team adding more pressure upfront, the U-20 Japan National Team scored the opening goal in the 24th minute, when Ito responded to a cross delivered from a short corner and struck a volley shot into the net. Just before the end of first half, Nakamura converted the cross sent by Kida to make it 2-0 at halftime.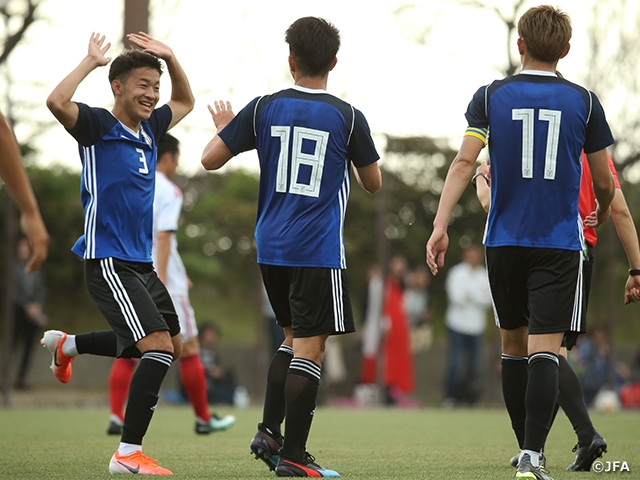 In the second half, the U-20 Japan National Team brought in MOGI Shu (Cerezo Osaka) for Wakahara, while HARA Taichi (F.C. Tokyo), who just joined the team in place for the injured TAKI Yuta (Shimizu S-Pulse), took the field as well.
The second half saw Ryutsu Keizai University creating numbers of opportunities to threaten the goal, but Mogi responded well to keep the clean sheet intact. In the 61st minute, Yamada was brought in for Kida, while Miyashiro and Hara switched their positions to try out many variations of formation. Although Hara's shot was once denied by the goalpost, Miyashiro captured the team's third goal in the 63rd minute. Tagawa followed soon after by converting a one-on-one situation against the goalkeeper to make it 4-0. In the 80th minute, Miyashiro scored again to finish off the match with a final score of 5-0.
The team will now travel to Poland ahead of the opening of the FIFA U-20 World Cup scheduled on Thursday 23 May. Placed in Group B, the U-20 Japan National Team will play against Ecuador on Thursday 23, Mexico on Sunday 26, and Italy on Wednesday 29.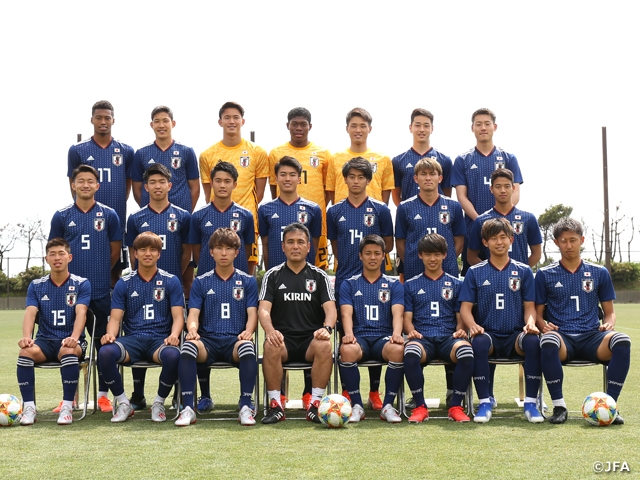 Coach and Players' Comments
Coach KAGEYAMA Masanaga
After assembling the entire squad, we went through the team strategies at our accommodation. I am very satisfied with the way our team executed the team concepts and game plans on the pitch today. Although we were only able to test two goalkeepers and 11 field players in this training match, many of our players did a great job to cover multiple positions. On this day, we saw Taki giving his farewells to the team in tears, as he was forced to leave the team with an injury. It was an emotional moment where it reminded the team that we are not only fighting for ourselves but fighting in behalf of those who missed their opportunities to be here. We have called up Hara to replace Taki, and he is a player we are very familiar with. It was evident that he has fully prepared himself for this call-up and managed to joint the team smoothly.
MF #7 ITO Hiroki (Nagoya Grampus)
I am very honoured to be selected into this squad for the U-20 World Cup. I will give my efforts in behalf of those members we fought along in the first and final round of the qualifiers, and fight with great pride to represent the nation. In today's training match, I feel like we were able to showcase what we have been working on while going over the tactical details as a team. We will now focus on preparing ourselves to win our first match against Ecuador. All players must think of the team first, unite as one so that we can earn great results at the world cup.
FW #11 TAGAWA Kyosuke (F.C. Tokyo)
We entered the training match after going over the team's concepts and managed to showcase a good collective effort on the field. I personally feel like I am in good condition and I hope to showcase more of my strengths by exploiting the space behind the defenders. I have the experience of playing in the previous tournament, so I hope to become a reliable presence to help the team win.
FW #20 NAKAMURA Keito (Gamba Osaka)
I am glad that I was able to score goals and earn positive results in today's training match. However, I still saw many aspects I must improve on, so I will do my best to make the necessary adjustments within the remaining time we have left. I strongly believe that we can compete against the top teams of the world, both as a team and as an individual. With the 21 players and staffs, we will fight as a team to represent Japan.
Schedule
Sun. 12 May
16:00
Training *Open to the public
Mon. 13 May
15:00
Training Match vs Ryutsu Keizai University
*Open to the public
Wed. 15 May
AM/PM
Training
Thu. 16 May
AM/PM
Training
Fri. 17 May
16:00
Friendly Match vs U-20 Colombia National Team
Sun. 19 May
AM
Training
Mon. 20 May
PM
Training
Tue. 21 May
PM
Training
Wed. 22 May
PM
Official Press-conference/Training
FIFA U-20 World Cup Poland 2019
Thu. 23 May
20:30
1st Group Stage Match vs U-20 Ecuador National Team
(Bydgoszcz Stadium, Bydgoszcz)
Fri. 24 May
AM
Training
Sat. 25 May
PM
Training
Sun. 26 May
15:30
2nd Group Stage Match vs U-20 Mexico National Team
(Gdynia Stadium, Gdynia)
Mon. 27 May
PM
Training
Tue. 28 May
PM
Training
Wed. 29 May
18:00
3rd Group Stage Match vs U-20 Italy National Team
(Bydgoszcz Stadium, Bydgoszcz)
Sun. 2 - Tue. 4 June
TBC
Round of 16
Fri. 7 or Sat. 8 June
TBC
Quarterfinals
Tue. 11 June
17:30/20:30
Semi-Finals
Fri. 14 June
20:30
3rd Place Match
Sat. 15 June
18:00
Final
*Local time
*The schedule is subject to change due to the team condition, the weather, etc.
FIFA U-20 World Cup Poland 2019
Tournament Dates: Thu. 23 May - Sat. 15 June 2019
Group Stage:
Fri. 24 May 2019 03:30 (Japan time)
vs U-20 Ecuador National Team
Sun. 26 May 2019 22:30 (Japan time)
vs U-20 Mexico National Team
Thu. 30 May 2019 01:00 (Japan time)
vs U-20 Italy National Team