NEWS
Nadeshiko Japan draws pivotal match against Germany 2-2 ahead of the World Cup - Europe Tour (4/1-11@France, Germany)
10 April 2019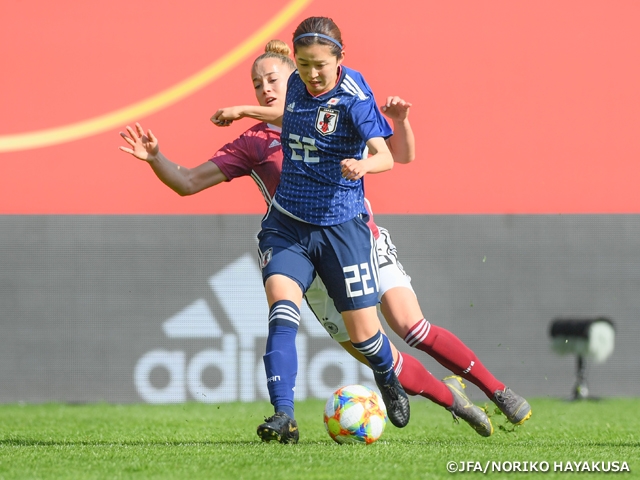 On Tuesday 9 April, the Nadeshiko Japan (Japan Women's National Team) played their second international friendly match of their Europe tour against the Germany Women's National Team. Following their match against France, Japan started off with a 4-2-3-1 formation with HIRAO Chika in goal, while SUGASAWA Yuika filled in the lone striker role with HASEGAWA Yui positioned just beneath her. Their opponents, Germany, had appointed Coach Martina VOSS-TECKLENBURG as their new coach last November, and has won two consecutive matches against France (1-0) and Sweden (2-1). During her tenure with the Switzerland Women's National Team, Coach Voss-Tecklenburg has faced the Nadeshiko Japan in the MS&AD Cup in 2017.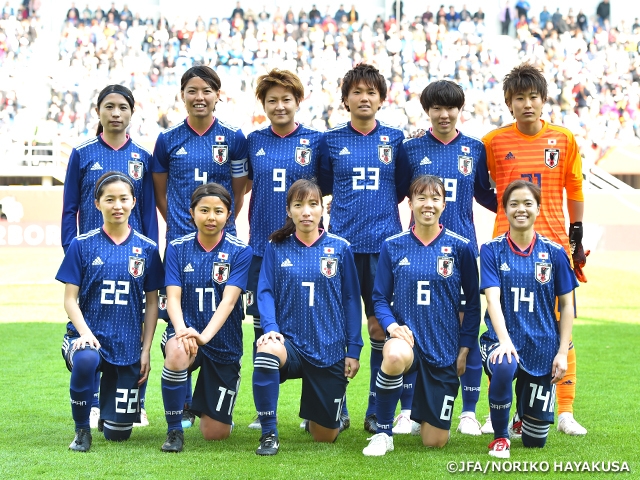 The early part of the match saw Germany take control of the match by laying out a block in the midfield and initiating their attacks through quick vertical passes. Despite giving up the initiative, the Japanese defence led by Hirao, KUMAGAI Saki and MINAMI Moeka showed great persistency to gradually gain more possession of the ball.
It was Japan who struck first in the 35th minute, when Hasegawa intercepted a pass from the German goalkeeper and delivered a lobbing shot to find the back of the net. After taking the lead, Japan sought to take control of the match, but struggled to deal with the powerful offence exerted by Germany. A close opportunity came towards Germany in the closing minutes of the first half, but the Japanese goalkeeper Hirao made a one-handed save to carry their lead into halftime.
The equaliser for Germany came in the 53rd minute, when they broke through the flank before delivering a cross towards the centre, where Alexandra POPP was there to convert the header. Following the goal, Japan made the substitutions to bring in KOBAYASHI Rikako and YOKOYAMA Kumi in place for ENDO Jun and Sugasawa in the 55th minute. Despite Japan making the tactical change, Germany continued to show their dominance on the pitch, but the Japanese goalkeeper kept on making fine saves to keep the score intact. Their persistency was paid off in the 69th minute, when NAKAJIMA Emi and Yokoyama combined with each other in front of the German goal, before Yokoyama scored the go-ahead goal to retake the lead.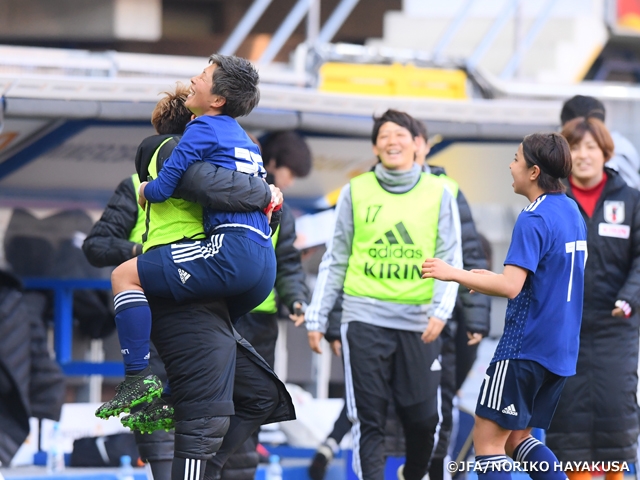 Soon after the goal, Japan was forced to make a substitution to bring out SHIMIZU Risa due to an injury, as MIYAGAWA Asato was introduced to the match. Just moments later, Germany once again levelled the match when a cross delivered from the right side went over the reach of Hirao and allowed Svenja HUTH to capitalise on the opportunity to make it 2-2.
Japan made their final efforts to score their third goal by bringing in NAOMOTO Hikaru and UEKI Riko in the 83rd minute, but the match ended with a tie score.
Following this Europe tour, the Nadeshiko Japan will announce their final roster for the FIFA Women's World Cup France 2019 and enter a training camp before playing their first group stage match against Argentina on Monday 10 June.
Coach and Players' Comments
TAKAKURA Asako, Coach of Nadeshiko Japan (Japan Women's National Team)
We had to endure a lopsided match against France, so the players did a good job to make the adjustments ahead of this match. Especially in defence, the players maintained a good distance between each other to keep Germany from executing their game plan. Although the goals we scored were helped by our opponents' mistakes, we still managed to showcase some good attacks and our substitutes also showed their potential during this match. When facing stronger opponents, our focus tends to shift towards the defence, but I want my players to emphasis more on the quality of our ball possession. Rather than rushing our plays to carry the ball upfront, we need to keep the ball in our pace so that we can give less opportunities for our opponents to build their momentum. I suspect that we will be facing matches like today at the World Cup, so it is important that our players learn how to change the dynamics of the match on the pitch. By facing strong teams like Germany, we have been able to see gradual improvements from our team.
GK #21 HIRAO Chika (Albirex Niigata Ladies)
Although we were forced to play in the defensive end for a long time, we still had to win the match after our offence managed to score two goals. (When conceding the second goal) In the Nadeshiko League, I normally don't face players coming in at me that close, so when the opposing player approached me from the blind spot, I wasn't able to make the right decision. I think I made a bad decision in that moment. After watching the match against France from the bench, I was suspecting today's match was going to be like this. With this being my second match with the national team, I am confident that I can play at this level and there were certain areas where I was able to take the upper hand against our opponents today. However, I still need to improve myself. We have many young players on this team, so we must learn from the experienced players and try to improve ourselves in the next two months.
DF #22 SHIMIZU Risa (Nippon TV Beleza)
Germany had a different style compared to France. In terms of raw strengths, they were stronger that France. The strengths I felt when fighting for the ball was something I have never felt before. With this being my first-time facing Germany, I assumed they would utilise their long balls to target their strong players upfront, but it turned out they carried out a style where they connect short passes from their defence line, so that was surprising. We played a very disappointing match against France, so we entered today's match with the intention to apply aggressive pressure to the ball in defence. There were occasions where we managed to force turnovers as a team, so that is a positive takeaway from this match. We have always focused on our overall performance, but with limited time ahead of the World Cup, I focused on earning results in our match today. I think it's important to have a winners' mentality, so in that sense, this draw was a disappointing result.
FW #19 ENDO Jun (Nippon TV Beleza)
I was too focused on our defensive tasks from our match against France, and I got a bit carried away. I entered the match with the intention to get myself more involved in both offence and defence, but I was too busy playing defence, so I need to do a better job of balancing myself out. Although I have played in international matches with the under-category teams in the past, the senior team has provided me with many tasks to work on and given me a great learning experience. When making a run into the space, I can normally get a foul from my opponent if I can place my body in between the ball and the opponent, but today the opponents were much quicker than I expected, and they managed to get even with me. That really showed how strong and quick they are, and it made me realise that I still need to work hard to improve myself.
Schedule
Tue. 2 April
AM/PM
Training
Wed. 3 April
AM
Training
PM
Official Training Session
Thu. 4 April
1-3
International Friendly vs France Women's National Team
(Stade de l'Abbe-Deschamps)
Sat. 6 April
AM
Training
Sun. 7 April
AM/PM
Training
Mon. 8 April
PM
Official Training Session
Tue. 9 April
2-2
International Friendly vs Germany Women's National Team
(Benteler Arena)
*Local Time
*The schedule is subject to change due to the team condition, the weather, etc.
International Friendly Match - Europe Tour
Tour Dates: Sun. 31 March - Thu. 11 April 2019
Venue: Stade de l'Abbe-Deschamps, Benteler Arena