NEWS
Japan Beach Soccer National Team beats their nemesis Iran, move on to Semi-finals at AFC Beach Soccer Championship Thailand 2019
15 March 2019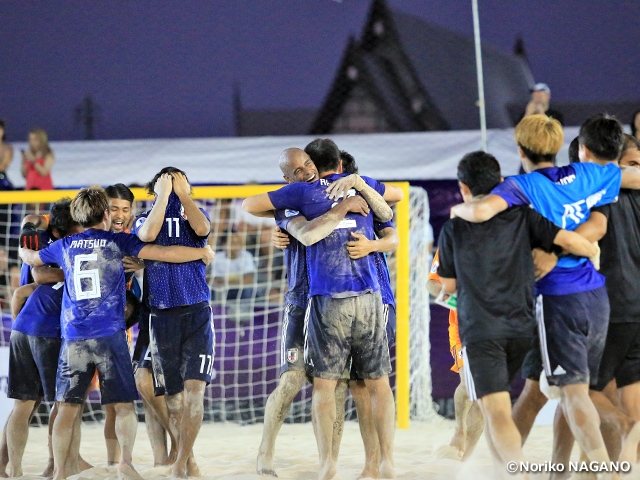 On Thursday 14 March, the Japan Beach Soccer National Team took on the Iran Beach Soccer National Team at the quarterfinals of the AFC Beach Soccer Championship Thailand 2019. Despite conceding two goals in the first period to put themselves in a tough situation, Japan managed to take the match into overtime with a 2-2 score before squeezing out a victory to advance to the semi-final.
The clash between the two World-Cup regulars, Japan and Iran, kicked off at 5:30 p.m. Although Japan's Coach RAMOS Ruy said beforehand "We would want to play Iran in the final," he had no choice but to send his players onto the quarterfinals pitch against the Iranian side with the World Cup berth at stake. Despite the pressure surrounding the match, the determination to win the battle was certainly there among the Japanese players.
In the beginning of the first period, OKUYAMA Masanori fired a shot after forcing a turnover. Although Japan attacked with great aggression, they failed to take advantage of the scoring opportunities. While Japan struggled to find their rhythm, they allowed the opening goal to Iran through a penalty-kick in the ninth minute. Just a minute later, another goal was scored by Iran when a shot taken from a free-kick took a unexpected bounce right in front of Japan's goalkeeper TERUKINA Shingo.
With the two-goal deficit, Japan's assistant coach MAKINO Shinji gathered the players after the first period to calm them down by going over their game plan to prevent the opponents from scoring further goals. Japan tried to regroup themselves by emphasising on their defence while anticipating for their opportunities to counter. The moment came in the 21st minute, when MATSUO Naoya's corner-kick was met by YAMAUCHI Shusei at the near side. After slotting the ball into the net, Yamauchi and his teammates celebrated their first goal with the fans. The second period ended with Japan cutting the deficit down to one goal at a good timing to put pressure back on Iran.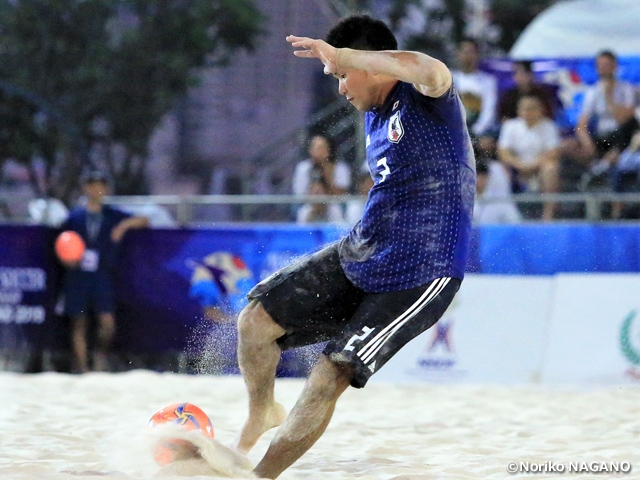 With the match entering the final period with a score of 2-1 in favour of Iran, another goal was produced from a corner-kick. In the 26th minutes, AKAGUMA Takuya reacted well to Matsuo's corner-kick from the left and put home the equaliser. While MATSUDA Kosuke had to leave the match due to an injury after colliding with an opposing player later in the period, the match went into the three-minute overtime with a tied score of 2-2.
Prior to the overtime, Coach Makino told his three pivots "We will put three of you in, giving each a minute. You will have an opportunity or two within that minute, so just focus on those chances to score a goal." Two minutes into the extra period, Akaguma did not miss his opportunity from a free-kick to give Japan the lead. Okuyama, the third pivot subbing in, effectively kept the ball to control the remaining time before hearing the final whistle.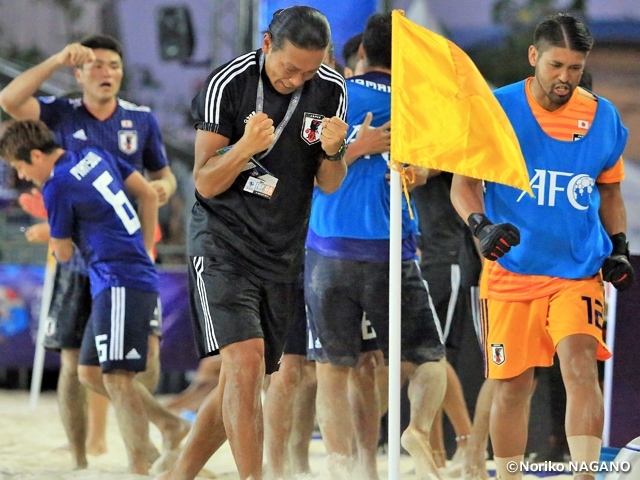 Despite mentioning that "I will never smile before winning the championship," Coach Ramos Ruy shared the celebratory moment together with his players and supporters, after defeating their biggest rivals, Iran in a dramatic fashion.
Japan's semi-final match against Palestine is scheduled to kick off at 7 p.m. local time (9 p.m. Japan time) on Friday 15.
Coach and Players' Comments
RAMOS Ruy, Coach
We weren't expecting to concede the first goal like that, and it made us rush our plays afterwards. If we had stuck with our game plan, we probably would have scored in the first period. We normally face Iran in the finals or after we have already clinched the World Cup, so this time we had to deal with the win-or-go-home pressure. However, our players showcased their Japanese spirits of never giving it up. I am very proud of my players.
FP #2 AKAGUMA Takuya (Dorsole Kitakyushu)
I am too overwhelmed and can't remember much, but I feel like I was able to contribute to the team a little. We haven't achieved anything yet, but it was one of our goals to win over Iran, so we are happy to accomplish that feat. Even when we were down by two goals, we were still confident that we can catch up, and our bench remained vocal to keep the team going. The first goal was all about Matsuo. He delivered a perfect ball, so I just had to tap the ball in. When I scored the second goal, I was nervous to take the free kick, but I was thinking of my teammates, staffs, and the supporters when striking the ball. We will continue to strive to earn our way into the World Cup and give our best so that we can celebrate as a team.
FP #8 KOMAKI Masayuki (Veertien Mie BS)
Ever since this fixture against Iran has been determined, there was a good amount of tension surrounding the team, which allowed us to enter the match with a positive vibe. With this being a match we cannot afford to lose, we told each other that it will be a very difficult match. We knew our opponents were going to take many shots, so even when we were down by two goals in the first period, we kept thinking, we still have two more periods to play. Our mentality was that, if we can get a goal back, we can change the momentum of the match. It was great to see us communicate on the pitch and pull off this victory.
FP #9 YAMAUCHI Shusei (Tokyo Verdy BS)
I have always considered myself as a clutch player who scores in tough situations, so even when we were down by two goals, I was confident that I would score a goal. And rightfully so, I scored a goal in a crucial moment of the match. In the overtime, I was letting Akaguma enter the match ahead of me so that I can score the deciding goal at the end, but it turned out he was the one who scored the winning goal. Veteran players like us can showcase a consistent performance, so we hope to allow the younger players to play with no hesitation. I feel like today's match has given us great confidence moving forward.
Schedule
AFC Beach Soccer Championship Thailand 2019
Fri. 8 March
8-1
1st Group Stage Match vs Kuwait Beach Soccer National Team (@Main Arena)
Sat. 9 March
TBC
Training
Sun. 10 March
7-1
2nd Group Stage Match vs Qatar Beach Soccer National Team (@Main Arena)
Mon. 11 March
TBC
Training
Tue. 12 March
6-2
3rd Group Stage Match vs Bahrain Beach Soccer National Team (@Main Arena)
Wed. 13 March
TBC
Training
Thu. 14 March
3-2
Quarterfinals vs Iran Beach Soccer National Team
(@Main Arena)
Fri. 15 March
19:00
Semi-Finals vs Palestine Beach Soccer National Team
(@Main Arena)
Sat. 16 March
TBC
Training
Sun. 17 March
17:00
19:00
3rd Place Match (@Main Arena)
Final (@Main Arena)
*Local time
*The schedule is subject to change due to the team condition, the weather, etc.