NEWS
Jumonji and Seisa Kokusai among the teams advancing to Semi-Finals of the 27th All Japan High School Women's Football Championship
07 January 2019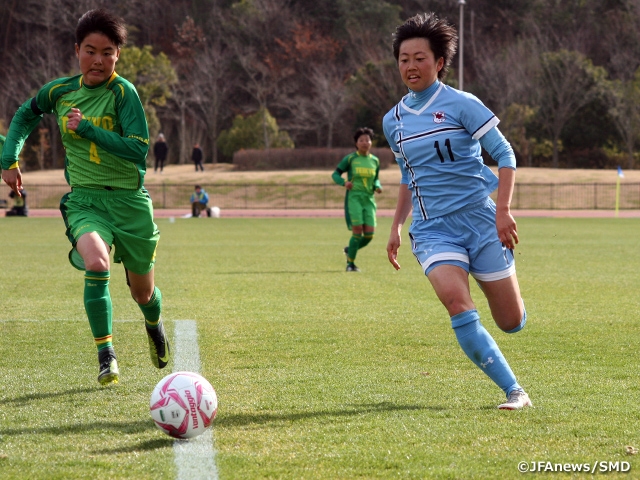 On Sunday 6 January, four quarterfinals fixtures of the 27th All Japan High School Women's Football Championship took place at Miki City, Hyogo.
Pick-up Match 1
Jumonji High School 1-0 (0-0, 1-0) Teikyo Nagaoka High School
The first match held at Miki Athletic Stadium featured the champions from two years ago, Jumonji High School (Kanto2/Tokyo) facing the tournament debutante, Teikyo Nagaoka High School (Hokushinetsu1/Niigata). Despite the pre-match expectation, Teikyo Nagaoka was the early aggressor as they applied intense pressure from the front line. Their approach almost prevailed in the 16th minute when they blocked the clearance from Jumonji twice in a row to take a shot at goal. Another opportunity came when the two Teikyo Nagaoka forwards pressured the Jumonji centre half to force a turnover in the 34th minute. It was KAWANO Eru who picked up the ball and dribbled passed the opposing goalkeeper before taking a shot at the open net, but Jumonji defender ABURAMOTO Akari made a superb effort to clear the ball.
Following a tough first half, the Jumonji side gradually took over the match in the second half, as their players started to take advantage of the aggressive pressure applied by their opponents. In the 52nd minute, a long ball was delivered to switch the side, allowing HAMADA Megu to break through the flank before sending the last pass to ISHITANI Yuika, who converted the opportunity to score the opening goal.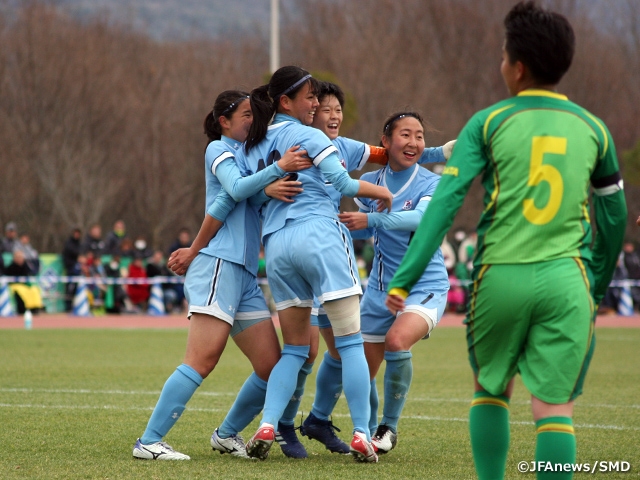 Now trailing by a goal, Teikyo Nagaoka made tactical changes in efforts to level the match. The Niigata side applied more numbers upfront to rally back, as SHINOHARA Saya came close to equalising the match in the 78th minute and in additional time, but the score remained at 1-0, sending Jumonji High School to the semi-finals.
Pick-up Match 2
Seisa Kokusai High School Shonan 2-1 (0-0, 2-1) Hanasaki Tokuharu High School
The match between Seisa Kokusai High School Shonan (Kanto3/Kanagawa) and Hanasaki Tokuharu High School (Kanto4/Saitama) was held as the second match at Miki Athletic Stadium, with both sides making their first ever quarterfinals appearance.
The two teams have faced each other at the third-place match of the Kanto qualifiers, in which Seisa Shonan prevailed with a 1-0 victory. With the bitter memory still fresh in their minds, Hanasaki Tokuharu came out man-marking the opposing three forwards to contain the attacking threats of Seisa Shonan. The strategy taken by Hanasaki Tokuharu kept the score at 0-0 at halftime.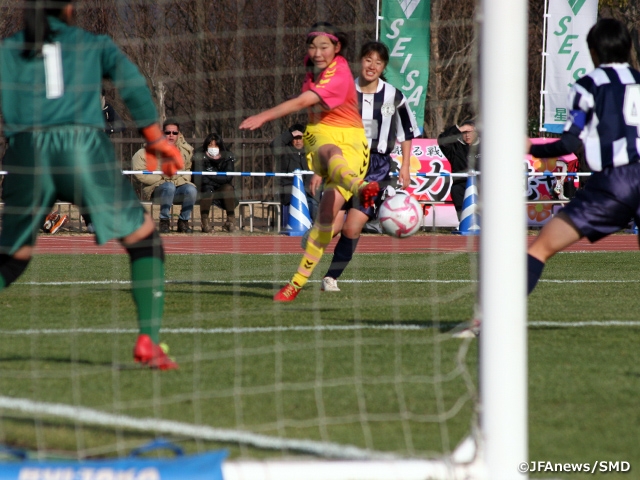 However, Seisa Shonan would not stay quiet, as they shifted their formation and brought in new players during halftime to change the dynamics of their attack. In the 46th minute, Seisa Shonan utilised the width of the field effectively to switch sides, allowing KOKUBU Midori to capture the opening goal. With momentum on their side, they went onto double their lead five minutes later, when ENDO Sakura converted a cut back from the right side.
In efforts to rally back, Hanasaki Tokuharu utilised their third substitution just one minute after conceding the second goal. The late substitute, ARAI Yuki capitalised on a corner kick in the 66th minute to cut their deficit in half. However, their come back will end their, as the match ended with a final score of 2-1 to send Seisa Shonan into their first ever semi-finals.
Coach and Players' Comments
TAKIZAWA Chise (Jumonji High School)
We were expecting our opponents to come out aggressively, but their aggression exceeded our expectations. It made us play passively in the first half. Our midfield was forced to drop down to join the defence line and we couldn't force turnovers. However, as time progressed, we managed to win the ball and initiate counter attacks. During this tournament, we have gradually been able to showcase our strengths to win the ball and our persistency, so we hope to keep this trend going.
MATSUNO Tomoki, Coach (Teikyo Nagaoka High School)
We are playing a sport where we strive to capitalise on the one opportunity. In that sense, Jumonji High School was better than us. We weren't able to convert the chances we were given. It made us realise that this is the type of match we have been working for. We must not just forget this bitterness and feed off of this experience. We will remember this match and continue to work hard. It wasn't just the players, but I personally had a weakness as well, so we will all strive to get better.
ENDO Sakura (Seisa Kokusai High School Shonan)
We knew our opponents were going to play tenaciously, so we kept on talking to each other to play our style of football and win the match. We struggled against the tight man-mark applied by our opponents, but once we added numbers to our midfield, we managed to apply more pressure upfront. In the scene where I scored the goal, it was a shot that I usually miss, but today I focused on striking the ball solidly, and luckily it went in. Last year's team featured many players with individual talent, but this year we have focused on the team unity. We will face another tough match in the next round, but we will continue to showcase our style of football and win the match as a team.
ONUMA Ayuka (Hanasaki Tokuharu High School)
We conceded two goals after we started to get tired in the second half, but we kept on talking to each other to stay in the game. In the past, we weren't the type of team that can rally back after conceding two goals. We conceded six goals against Seisa Shonan at the Inter High School Championships Kanto Qualifiers, and from that moment, we have all strived to become a stronger team. Since then, we have managed to win matches from behind at this tournament's qualification round, and today we were able to score back a goal. I strongly feel like this team has improved over the year. We were really eager to achieve something we have never done in the history of Hanasaki Tokuharu, and we were really striving for the national title, so this was a disappointing result. However, the team has fought hard until the very end and we have no regrets with our performance.
The 27th All Japan High School Women's Football Championship
Tournament Dates: Thu. 3 - Sun. 13 January 2019[Free Admission to all matches]
Tournament Venue: Miki Athletic Stadium, Goshikidai Sports Park, Ibuki no Mori Athletic Field, Kobe Sports Park
Tournament Information