NEWS
Nojima and INAC Kobe advances to Semi-Finals of JFA 22nd U-18 Japan Women's football championship JOC Junior Olympic Cup
05 January 2019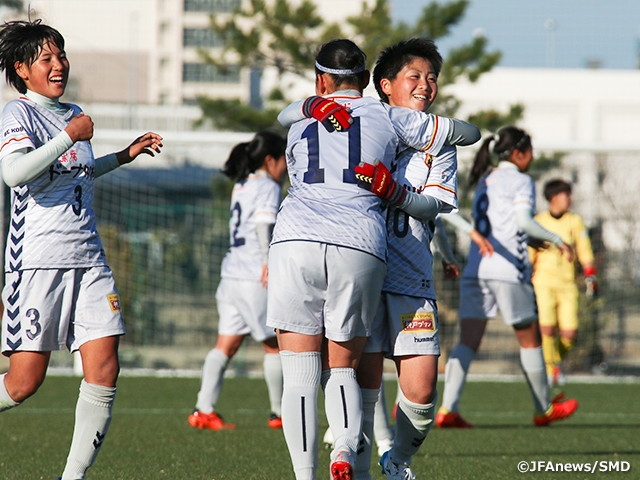 On Friday 4 January, four second round fixtures of the JFA 22nd U-18 Japan Women's football championship JOC Junior Olympic Cup took place at J-GREEN Sakai.
Pick-up Match 1
Nojima Stella Kanagawa Sagamihara DUE 1-1 (1-1, 0-0, PK4-2) SFIDA Setagaya FC Youth
The match between Nojima Stella Kanagawa Sagamihara DUE (Kanto4/Kanagawa) and SFIDA Setagaya FC Youth (Kanto3/Tokyo) saw an early development, as SFIDA's URABE Mizuki struck the opening goal in the ninth minute. However, Nojima levelled the match in the 18th minute when MIAKI Shoko fired a long-range shot that went over the opposing goalkeeper's head and shook the net.
It was the Nojima side who took control of the match then on but struggled to convert their opportunities. As Nojima's Coach NODA Akemi later reflected, "It wasn't that we were missing our shots, but rather the SFIDA players denied our opportunities. They played superbly," the SFIDA defence showcased persistent efforts to keep Nojima from taking the lead, sending the match into penalty shootouts.
With SFIDA missing their first spot kick and Nojima's goalkeeper TAKAHASHI Anna making a save on the fourth kick, it was the Nojima side who prevailed in the shootouts, advancing into the semi-finals in their first tournament appearance. They will now face Nippon TV Menina (Kanto1/Tokyo) in the semi-finals.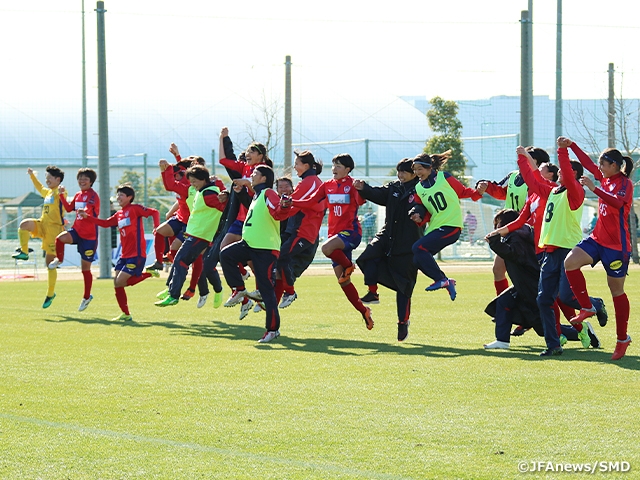 Pick-up Match 2
Chifure AS Elfen Saitama MARI 0-3 (0-2, 0-1) INAC Kobe Leoncina
In another fixture, Chifure AS Elfen Saitama MARI (Kanto2/Saitama) faced INAC Kobe Leoncina (Kansai2/Hyogo), where the Kobe side took the initiative of the match. After Kobe's YAMASAKI Aimi scoring the opening goal in the 10th minute, HARA Miina converted a penalty kick in the 16th minute to take an early 2-0 lead.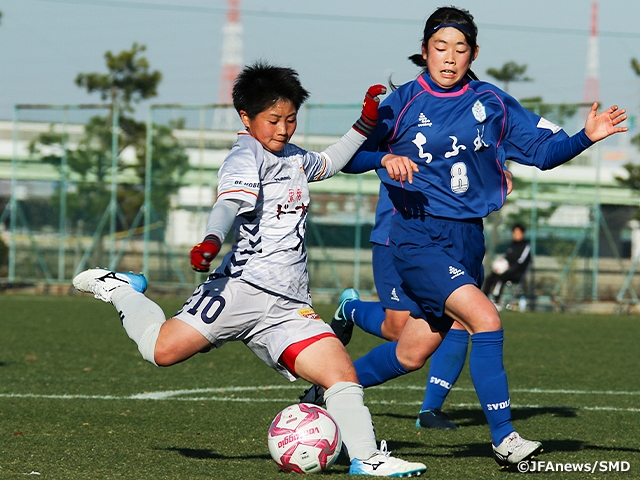 Despite conceding two early goals, Chifure gradually picked up their pace as Coach OSUGA Maki encouraged his side, "It wasn't like we weren't able to take any shots, so I kept telling my players to finish off their plays with a shot."
The match intensified in the second half, as both teams fought tenaciously to win the ball. While both sides struggled to carry the ball to the other end, it was INAC Kobe who captured the next goal, as Coach TANIGUCHI Hiroshi later reflected, "We have focused on capitalising the few chances we were given," Yamasaki scored a right-footed shot in the 78th minute to extend their lead and winning the match with a final score of 3-0. INAC Kobe will face Cerezo Osaka Sakai Girls (Kansai1/Osaka) in their first ever semi-finals appearance.
Coaches and Player's Comments
MIAKI Shoko (Nojima Stella Kanagawa Sagamihara DUE)
I kept in mind that the opposing goalkeeper was not so tall, so when I received the ball in open space, I struck a long-range shot. I usually tend to select a high percentage route, such as passing the ball in space or using the space behind the opponents, so it's been a while since taking a long shot. My teammates are great rivals in our training sessions, but when playing a match together, we become a great team. We weren't able to finish off the match in 80 minutes, and we have many aspects to improve on. We must communicate with each other and prepare ahead of the semi-final match.
YAMADA Takeaki, Coach (SFIDA Setagaya FC Youth)
We had many players with great physiques, so we focused on nurturing the team tactics over the year. I have told my players to keep their usual routines so that we can enter the match the way we always do. Facing a team who we are not so compatible with, we expected a difficult match, but even so, we had to create more opportunities. The players did well to fight through until the end and play with great composure. We gave all we've got, so we just have to accept this result.
OSUGA Maki, Coach (Chifure AS Elfen Saitama MARI)
We entered the match to give our very best. Looking back on the match, it made us realise that we have to heighten the quality of each and every play to advance to the final four. Although we weren't able to earn the result we wanted, we still were able to showcase plays that went well. I still believe in what we have worked on thus far. The players did well to give their very best on the pitch.
TANIGUCHI Hiroshi, Coach (INAC Kobe Leoncina)
We knew we would have to spend a lot of time in defence, but we gave up the ball too easily and allowed our opponents to take control of the match. We have faced Cerezo Osaka Sakai many times before and lost to them at the Challenge League play-offs, so we hope to win against them at the semi-finals. I have played with the opposing coach in my career, so I am looking forward for the match. We will enter the match with a challenger's mentality and give our very best.

2nd Round Highlights
JFA 22nd U-18 Japan Women's Football Championship JOC Junior Olympic Cup
Tournament Dates: Thu. 3 - Mon. 7 January 2019
Tournament Venue: J-GREEN Sakai, Osaka