NEWS
Tokiwagi Gakuen advances through 1st Round of the 27th All Japan High School Women's Football Championship
04 January 2019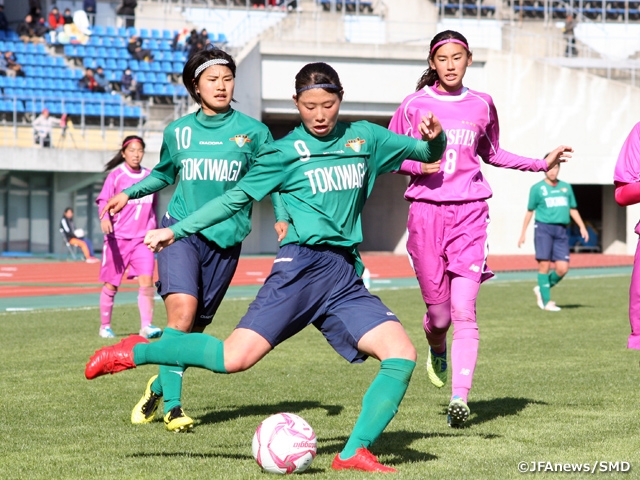 The 27th All Japan High School Women's Football Championship opened on Wednesday 3 January, as 16 fixtures of the first round took place in various locations in Hyogo Prefecture.
Pick-up Match 1
Fujieda Junshin High School 0-0 (0-0, 0-0, PK2-4) Tokiwagi Gakuen High School
The first match held at Miki Athletic Stadium was between Fujieda Junshin High School (Tokai1/Shizuoka) and Tokiwagi Gakuen High School (Tohoku1/Miyagi), a matchup between this year and last year's Inter High School Sports Festival champions.
Just one minute into the match, Fujieda Junshin was forced to utilise their substitute, as IKEGUCHI Kyoko injured herself. The unexpected incident was a huge blow for the Shizuoka side, as they lost their key player who Coach TATARA Kazuyuki describe as, "A player that can settle the ball and plays a central role in our attack." On the other hand, Tokiwagi Gakuen showcased quick attacks to exploit the space behind the opposing defence while showcasing solid defence in their own end.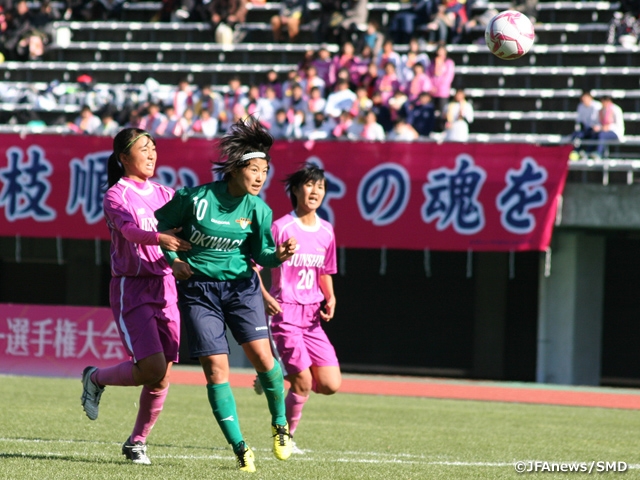 Tokiwagi Gakuen came close to scoring a goal early in the second half, when NAKAMURA Megumi received the ball in front of the opposing goal and struck a shot, but the shot was deflected by Fujieda Junshin's goalkeeper KONOMI Runa. The second half saw Fujieda Junshin regain their momentum as they created more chances but fell short from creating a clear goal scoring opportunity. It was Tokiwagi Gakuen who controlled the match towards the end of regulation time, but the match ended scoreless and entered into penalty shootouts.
With both team's goalkeeper making a save each, Fujieda Junshin failed to convert their third kick, while Tokiwagi Gakuen successfully scored the remaining spot kicks to come out victorious.
Pick-up Match 2
Hokkaido Bunkyo University Meisei High School 0-1 (0-1, 0-0) Hinomoto Gakuen Senior High School
Hokkaido Bunkyo University Meisei High School (Hokkaido1) and Hinomoto Gakuen Senior High School (Kansai2/Hyogo) featured the second match held at Miki Athletic Stadium, where Hinomoto Gakuen took the initiative of the match early on. Through their quick ball movement, the local side dominated the ball possession, and took the lead when TAKAHASHI Hina scored the opening goal in the 24th minute.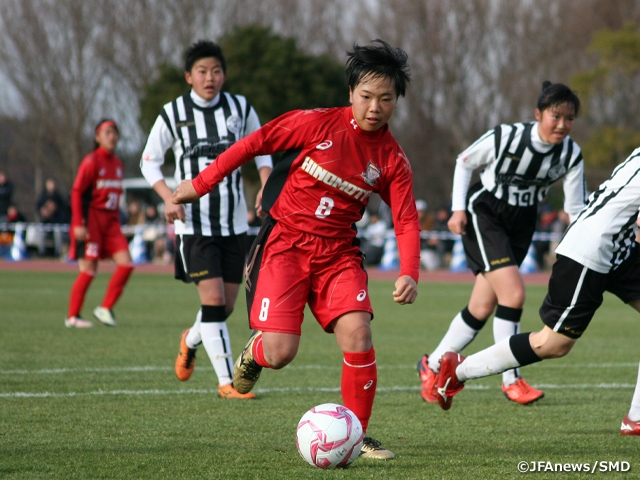 Despite taking zero shots in the first half, Bunkyo University Meisei gradually picked up their pace in the second half. The Hokkaido side applied aggressive pressure and showcased persistent efforts in defence to seek for their opportunity to equalise the match. While Hinomoto Gakuen utilised two of their substitutes during halftime, Bunkyo University Meisei waited until the 77th minute to make their first move, as they showcased great endurance and created more opportunities to take shots.
However, the match would see no further action as the score remained at 1-0 at the final whistle, giving Hinomoto Gakuen the victory.
Coaches and Players' Comments
TATARA Kazuyuki, Coach (Fujieda Junshin High School)
The early injury substitution of Ikeguchi had a deep impact on us. But the players did well to keep their composure and fight with great persistence. Towards the end of the match, we were okay with not taking too much risks, and entering the penalty shootouts. We have practiced taking penalties, but it's different from taking the spot kick in a real match. We gave up too many opportunities and our opponents had the upper hand in terms of the overall performance as well. Tokiwagi Gakuen showcased great intensity. We ended up losing in the first round, but we just have to accept the result and move on, as there will be good times and bad times.
IMAI Yuka (Tokiwagi Gakuen High School)
We won against them at this year's Inter High School Sports Festival, so we expected Fujieda Junshin to be coming out with a chip on their shoulders. Despite facing last year's champions, we were just focused on winning the match in front of us to win the tournament title. In that sense, we were able to play without feeling too much pressure, so that was a positive thing. However, we lacked quality in our plays in the final third and gave up too many opportunities to our opponents. We must feed off of this experience and strive for a better result than last year.
KAWANA Minori (Hinomoto Gakuen Senior High School)
We were able to control the ball and create opportunities from our crosses but failed to convert the chances we were given. In order to make a deep run in this tournament, we must be able to score more goals. I personally had to sub out during halftime, but I feel like I could have contributed more for the team. We will now face Shutoku High School, who are ranked number one in the Kanto league. It will certainly be a tough match for us, but we are carrying a positive vibe right now and our conditions has been getting better since the Kansai qualification rounds, so we are focused on winning the next match as well.
SEINO Kuniyasu, Coach (Hokkaido Bunkyo University Meisei High School)
Our players defended well and showed great persistence. However, it was disappointing that we couldn't score goals today. I told my players to enter the match as if it was the tournament final, and they managed to start off the match smoothly. We tend to rush ourselves in crucial moments and spoil the opportunities. It was evident in today's match as well, but I feel like our team has gained so much from this match. It made me realise the joy and difficulties of high school football. We will learn from this experience and strive to build a stronger team.
The 27th All Japan High School Women's Football Championship
Tournament Dates: Thu. 3 - Sun. 13 January 2019[Free Admission to all matches]
Tournament Venue: Miki Athletic Stadium, Goshikidai Sports Park, Ibuki no Mori Athletic Field, Kobe Sports Park
Tournament Information