NEWS
ACL Champions Kashima Antlers overpowers Ventforet Kofu to advance to Semi-finals of the 98th Emperor's Cup
22 November 2018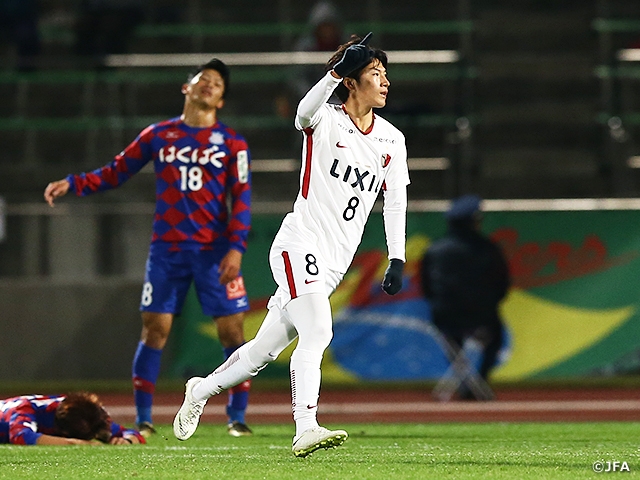 On Wednesday 21 November, the last quarterfinals match was played between the AFC Champions League (ACL) champions Kashima Antlers and Ventforet Kofu who finished ninth place in J2. Although it was expected that Kashima will dominate the match, in search for their first ever semi-final appearance, Kofu showed great resilience to make it a highly entertaining match with great intensity.
It was Kofu who took the initiative at the beginning of the match. The J2 side threaded passes in the gaps between the Kashima defence while utilising long balls to threaten the opposing goal. In the 24th minute, Kofu's TAKANO Ryo penetrated the left flank before sending a superb cut back towards the centre, however, it barely missed DIEGO who was making the run in the box. In the 38th minute, MICHIBUCHI Ryohei responded to a long ball to break through, but his shot was denied by Kashima's defender ANZAI Koki.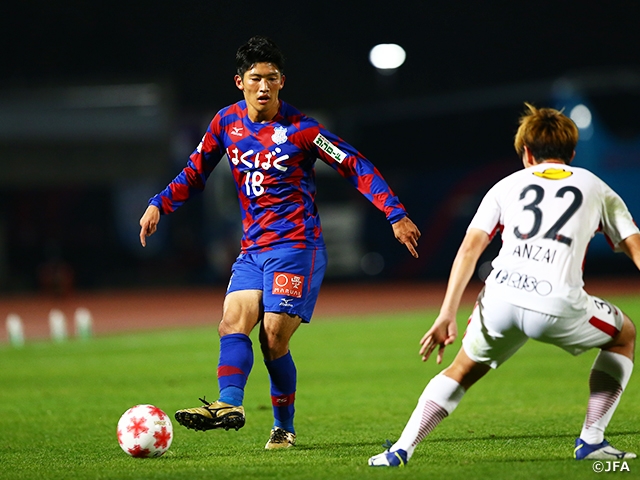 Led by their defender SHOJI Gen, Kashima showed great performance in defence to gradually pick up their pace. Their patience was finally paid off in the 76th minute when NAGAKI Ryota initiated a fast break off a counter attack. The ball was passed to DOI Shoma in the left side who struck a powerful shot with his right foot that struck the crossbar before landing inside the goal. Reflecting on the opening goal, Doi later reflected, "I was determined to take a shot. I managed to loosen up when striking the ball."
After his team managed to secure the 1-0 victory and earned their spot into the semi-final for the first time in two years, Kashima's Coach OIWA Go showed a sign of relief as he mentioned, "Following our victory run (at the ACL), it was a very difficult match in a mental aspect. We are relieved to make it through to the next round." On the other hand, Kofu's Coach UENO Nobuhiro praised his players, "Despite the tough match schedule and with all the injuries, the players did well to fight through. The result was not unfortunate, but I am happy with our performance."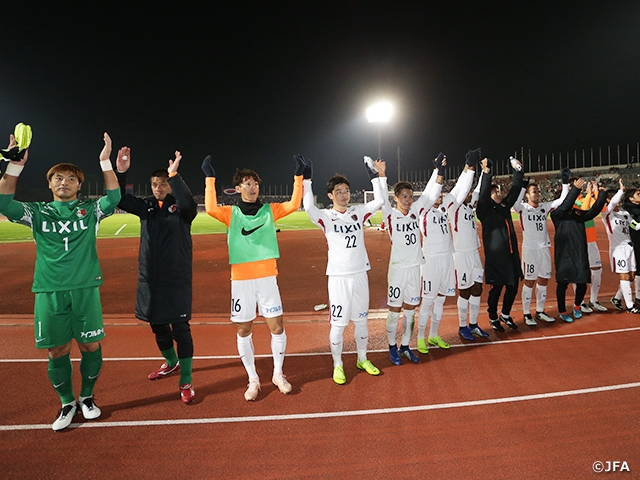 Coaches and Players' Comments
OIWA Go, Coach (Kashima Antlers)
It was a difficult match to enter, but the players did well to keep a good focus ahead of the match. Facing a very well organised Kofu side, we tried to break through with our fundamental base. It was a very important match, so we are happy to win through. There are many ways to look at it, but for us, it was very difficult to change our mind set following our winning campaign (at the ACL). We knew Kofu would come out attacking aggressively to force an upset and the media attention was very high. In many aspects, it was a difficult match, so I am proud of my players for winning the match.
FW #8 DOI Shoma (Kashima Antlers)
(Reflecting on the goal scene) I usually get tensed up when taking a shot with my right foot, but today I was able to stay relaxed and take the shot. My dad has always told me not to take a shot with full strengths, and I his words helped me in that moment I struck the ball. In the first half, I wasn't able to settle the ball well and even after scoring the opening goal, we made many mistakes as a team. We didn't have our composure for most of the match today, and if we have conceded the goal first, it could have been a really tough match, so we are glad it didn't go that way.
UENO Nobuhiro, Coach (Ventforet Kofu)
The players did well despite coming off a league match played just four days ago, and they applied great pressure. They did exactly what they were asked to do. There are some aspects we could have done better, but overall, I am happy with my players' performance and I am proud of them. SONEDA Yutaka (who left the match due to injury) probably broke his collarbone and although we could have stopped the match by kicking the ball out, we held onto the ball too long and as a result stranded three players. Diego made many runs at the crosses for us, but we might have kept him on too long. We switched to a 4-4-2 formation at the end with MORI Kota entering the match. It took us a while to make that decision because we wanted to give Diego as many opportunities as possible.
MF #40 OGURA Shohei (Ventforet Kofu)
In the scene where we conceded the goal, we had to stop that shot whatever it took. We played too many players at the flank, and we could have at least knocked the ball out of bounds. Once we turned over the ball, I was hesitant to commit a tactical foul, but that was the moment I had to commit myself, even if it meant a yellow card. Kashima did well to stop us at the crucial moments, while we conceded in that moment. It felt like the players of Kashima knew exactly when they had to pick up their pace in the match.

【1st Round】Sat. 26, Sun. 27 May
【2nd Round】Wed. 6 June
【3rd Round】Wed. 11 July
【Round of 16】Wed. 22 August (Reserve date Wed. 26 September)
【Quarterfinals】Wed. 24 October, Wed. 21 November
【Semi-final】Sun. 16 December
【Final】Mon. 24 December