NEWS
Nadeshiko Japan (Japan Women's National Team) squad, schedule - 2018 Tournament of Nations (7/26-8/2@USA)
13 July 2018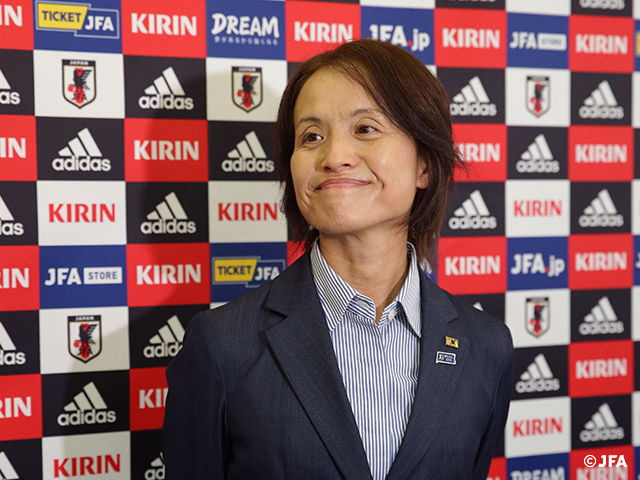 Staff
Coach: TAKAKURA Asako (JFA National Coaching Staff)
Assistant Coach: OBE Yumi (JFA National Coaching Staff)
GK Coach: OHASHI Akiyoshi (JFA National Coaching Staff)
Physical Coach: HIROSE Norikazu (JFA National Coaching Staff/Waseda University)
Squad
GK
1 IKEDA Sakiko (Urawa Red Diamonds Ladies)
18 YAMASHITA Ayaka (Nippon TV Beleza)
21 HIRAO Chika (Albirex Niigata Ladies)
DF
3 SAMESHIMA Aya (INAC Kobe Leonessa)
6 ARIYOSHI Saori (Nippon TV Beleza)
2 UTSUGI Rumi (Seattle Reign FC/USA) *1
4 MIYAKE Shiori (INAC Kobe Leonessa)
22 SHIMIZU Risa (Nippon TV Beleza)
23 KUNITAKE Aimi (Nojima Stella Kanagawa Sagamihara) *2
5 ICHISE Nana (Mynavi Vegalta Sendai Ladies)
MF
7 NAKAJIMA Emi (INAC Kobe Leonessa)
15 SAKAGUCHI Moeno (Albirex Niigata Ladies)
12 NAOMOTO Hikaru(SC Freiburg/Germany)*1
19 MASUYA Rika (INAC Kobe Leonessa)
16 SUMIDA Rin (Nippon TV Beleza)
17 MOMIKI Yuka (Nippon TV Beleza)
14 HASEGAWA Yui (Nippon TV Beleza)
24 MIURA Narumi (Nippon TV Beleza)
FW
9 KAWASUMI Nahomi (Seattle Reign FC/USA) *1
13 SUGASAWA Yuika (Urawa Red Diamonds Ladies)
8 IWABUCHI Mana (INAC Kobe Leonessa)
20 YOKOYAMA Kumi (AC Nagano Parceiro Ladies)
11 TANAKA Mina (Nippon TV Beleza)
*1 UTSUGI, NAOMOTO, and KAWASUMI are scheduled to join the team on Mon. 23 July at Denver
*2 KUNITAKE called up to NADESHIKO JAPAN for the first time
Players Changes (7/23)
UTSUGI Rumi
DF Club: Seattle Reign FC (USA) Sidelined due to injury
ICHISE Nana
DF Club: Mynavi VEGALTA SENDAI LADIES Sidelined due to injury
NAOMOTO Hikaru
MF Club: SC Freiburg (Germany) Changed due to the Unwell Physical Condition

DOKO Mayo
DF #2 Club: NIPPON TV BELEZA DOB: 3 May 1996 164cm/54kg
SUGITA Hina
MF #12 Club: INAC Kobe Leonessa DOB: 31 January 1997 162cm/53kg
Comment of TAKAKURA Asako, Coach of Nadeshiko Japan (Japan Women's National Team)
Following last year, we will once again participate in the Tournament of Nations and I have announced the squad for the tournament. After watching her performance in the league matches, I have elected to call up a national team debutante defender KUNITAKE Aimi (Nojima Stella Kanagawa Sagamihara). She presents the potential to exert individual strengths during a match, and I wanted to give her a try in this squad. Most of the other players are usual faces, but we excluded KUMAGAI Saki (Olympique Lyonnais/France) due to schedule conflicts with her club, and SAKAGUCHI Mizuho (Nippon TV Beleza) due to injury. I am looking forward to seeing who steps up in that leader role, as we are lacking our core players. Last year, we failed to play our game and came back empty handed, so we would like to show the world just how much we have improved since. This is a restart ahead of next year's World Cup and we will continue to look for new talents and build up on what we have worked on thus far.
Schedule
Tue. 24 July
AM/PM
Training
2018 Tournament of Nations
Wed. 25 July
PM
Official Training
Thu. 26 July
18:15
vs USA Women's National Team (Children's Mercy Park)
Sat. 28 July
PM
Official Training
Sun. 29 July
16:20
vs Brazil Women's National Team (Pratt & Whitney Stadium)
Mon. 30 July
AM
Training
Tue. 31 July
AM
Training
Wed. 1 August
PM
Official Training
Thu. 2 August
16:50
vs Australia Women's National Team (Toyota Park)
*Local Time
*The schedule is subject to change due to the team condition, the weather, etc.
2018 Tournament of Nations
Thu. 26 July - Thu. 2 August 2018
Tournament Information