NEWS
Coach Nishino of SAMURAI BLUE (Japan National Team) shows confidence ahead of the Poland match
28 June 2018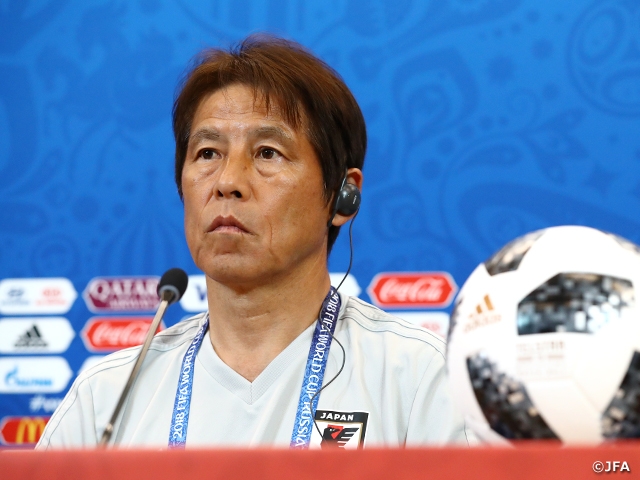 On Wednesday 27 June, the SAMURAI BLUE (Japan National Team) held their final training session at the match venue in Volgograd ahead of their clash against Poland. With their advancement to the round of 16 in the 2018 FIFA World Cup Russia at stake, Coach Nishino Akira shared his aspiration, "The team has lots of energy left. We want to play a good match."
With four points under their belt after winning and drawing a match apiece, Japan can clinch their spot into the round of 16 with a draw or better against Poland. They can also make their first knockout stage appearance since 2010 with a loss, if Senegal beats Colombia in the other Group H match. If Japan and Senegal both loses their next match, the tiebreaker regulation will be employed, where goal differentials, total goals scored, and fair play points will determine who advances to the next round. Japan will not advance if they lose their match while the other match ends in a draw, since Colombia currently has an advantage in goal differentials.
Poland has lost two matches already and they are out of contention to advance through the group stage. However, Coach Nishino made it clear that, "There are no matches that doesn't count in the World Cup."
He also stated that, "They are not a team we cannot cope with. We would like to strive for the goal by displaying a football style that best suits us, where quick movements of the ball and players are evident."
Poland's Coach Adam NAWALKA mentioned that he was not surprised by the results put up by the Japanese side, while sharing his take of the match, "We are fully aware of the abilities and quality of Japanese players. We are also knowledgeable of their play style, strengths, and weaknesses. They are a tough opponent to face, but we are confident in our own abilities."
The coach who has led Poland into the quarterfinals at the EURO 2016 and brought their team up to eighth place in the FIFA Rankins spoke of his aspiration towards their final match in this World Cup, "We will fight for our pride and our fans."
Both teams were given the opportunity to hold an official training session at the match venue, Volgograd Arena on this day. The players of the SAMURAI BLUE were seen stretching up before going through passing drills with groups of two or four, as they checked the pitch condition while exchanging passes. The three goalkeepers were seen practicing shot blocking from close range. The session was closed to the public after the initial 15 minutes, as the team went through their tactics for the match.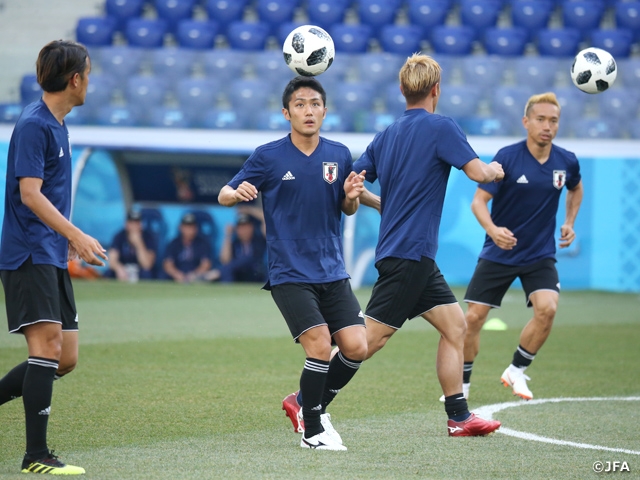 There were incidents in the earlier matches where swarm of bugs invaded the arena, but on this day there were no signs of it, while the temperature remained high, ventilators were seen on the side of the pitch.
In regards to the climate of the match site, Coach Nishino said, "It feels a lot more humid than we expected, but it's not a concern for our players' condition." KAGAWA Shinji (Borussia Dortmund) also pointed out that the pitch will be covered behind the shades made by the stands, as he mentioned, "It didn't feel as hot than we previously have thought."
Regarding the fact that the team is facing a match on a three-day rest since their clash against Senegal at Ekaterinburg, Kagawa waived off the concerns by stating that the players are used to such conditions and that, "The World Cup can exhaust the players both physically and mentally, but our players have not been affected by the weather as much." He also shared his confidence ahead of the next match, "Poland will come out to fight for their pride. They have nothing to lose, so they can exert their style of football with great aggression. But we have prepared ourselves well enough to face them."
INUI Takashi (Real Betis) shared his sense of urgency as he spoke, "There are no easy matches in the World Cup. If we lose there is a chance we must go home. We are all entering the match with the intention that it is a must win match. I really want to win."
The match will kick-off at 17:00 local time on Thursday 28 June.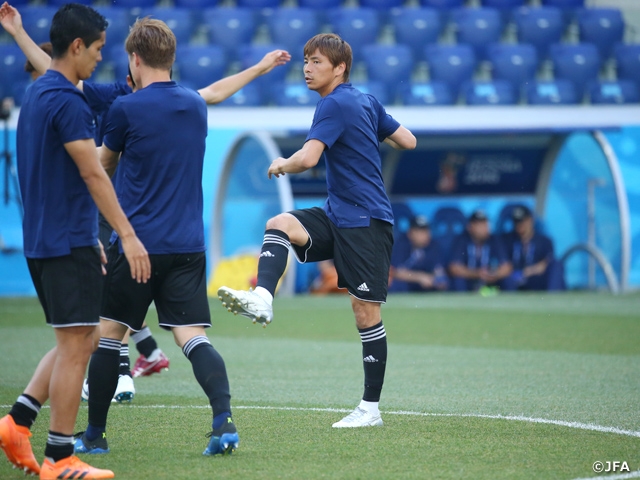 Coaches' and Players' Comments
NISHINO Akira, Coach of SAMURAI BLUE (Japan National Team)
There are no matches that doesn't count in the World Cup. Even though Poland is out of the contention to advance through, they will enter the match with a strong intention to win against Japan. Their ace, Robert LEWANDOWSKI, is a world class striker, and he will certainly enter the match eager to score a goal. Tomorrow we will face a strong Poland side for sure, so we must carry a stronger spirit than our opponents. We have gained strong confidence over the past two matches, as we managed to earn points against tough opponents. We have no concerns in our conditions. We would like to possess the ball and display our style of football to perform a high-level match. They are not a team we cannot cope with. We would like to strive for the goal by displaying a football style that best suits us, where quick movements of the ball and players are evident.
In our first match, the Colombian supporters overwhelmed the stadium in numbers, but the chants sent by the Japanese supporters were heard. We were supported by many fans in our second match as well, and we are very thankful of your support. We are informed that our team is gaining more attention and interests from people in Japan. That gives us more motivation to perform well. We would like to provide more excitement and hope to the Japanese people. The team has plenty of energy left, so we would like to showcase an exciting match tomorrow.
GK #1 KAWASHIMA Eiji (Football Club de Metz)
Poland is a very well organised team. We must counter their individual efforts with a collective approach. In terms of conditions, we both share a similar situation. Poland has trained in the southern area, so they are used to this humid climate as well. We need to make sure what we must do in critical moments, while we control the match. If we can manage to do so, that would turn into our strengths. It's important to keep in mind what we can do better from our previous match. I hope to play well so that I can contribute to the team.
FP #10 KAGAWA Shinji (Borussia Dortmund)
We are informed that some of the players from the opposing side will retire after this match, so they have all the motivations in the world to come out and play hard. They also have many experienced players, making this match that much more difficult for us to play. However, we have strived towards the same direction as a team thus far, and I feel that anyone is in great condition. We must prepare well ahead of the match and improve ourselves from what we have learned in our previous match. I also believe that there will be situations where we must take risks in our next match.
FP #13 MUTO Yoshinori (1.FSV Mainz 05)
If I am given the opportunity to play in the match, I will run for the team. For players playing in the front line, scoring and assisting goals are the obvious results we look for, and if I can contribute to the team victory in that way, I can't ask for anything more. Having played in Germany, I am fully aware of how the VAR works.
FP #14 INUI Takashi (Real Betis)
The players in the right side of the opposing line-ups consists many good players, so when facing them, I must focus on defence first while anticipating my chance to attack. It is very hot, but the conditions are equal to our opponents as well, so I will prepare myself so that I can run through the entire match. I am glad I was able to score in our previous match, but it was disappointing that we couldn't win the match. This time, I would like to score and win the match. With that being said, I really don't care if I couldn't score, as long as the team wins. I just want to dedicate myself to the team.
Adam NAWALKA, Coach (Poland National Team)
We are who we are. It is true that we have let our fans and ourselves down with our own performance. However, there will be no more "what if." Tomorrow we will go out and play for our pride and our fans, even though it may have a different meaning than we originally had. The team knows that, and we will give our best in this match. The team has recovered mentally, so we should be able to showcase a good match.
Schedule
2018 FIFA World Cup Russia
Tue. 19 June
2-1
1st Match vs Colombia (Mordovia Arena)
Wed. 20 June
PM
Training
Thu. 21 June
PM
Training
Fri. 22 June
AM
Training
Sat. 23 June
PM
Official Conference・Official Training
Sun. 24 June
2-2
2nd Match vs Senegal (Ekaterinburg Arena)
Mon. 25 June
PM
Training
Tue. 26 June
AM
Training
Wed. 27 June
PM
Official Conference・Official Training
Thu. 28 June
17:00
3rd Match vs Poland (Volgograd Arena)
*Local Time
*The schedule is subject to change due to the team condition, the weather, etc.
2018 FIFA World Cup Russia
Tournament Dates: 14 June - 15 July 2018

Group stage
1st Match Tue. 19 June Kickoff at 15:00 vs Colombia National Team (Mordovia Arena)
(21:00 Japan time)
2nd Match Sun. 24 June Kickoff at 20:00 vs Senegal National Team (Ekaterinburg Arena)
(Mon. 25 June, 0:00 Japan time)
3rd Match Thu. 28 June Kickoff at 17:00 vs Poland National Team (Volgograd Arena)
(23:00 Japan time)