NEWS
SAMURAI BLUE (Japan National Team) conducts morning and afternoon training sessions
05 June 2018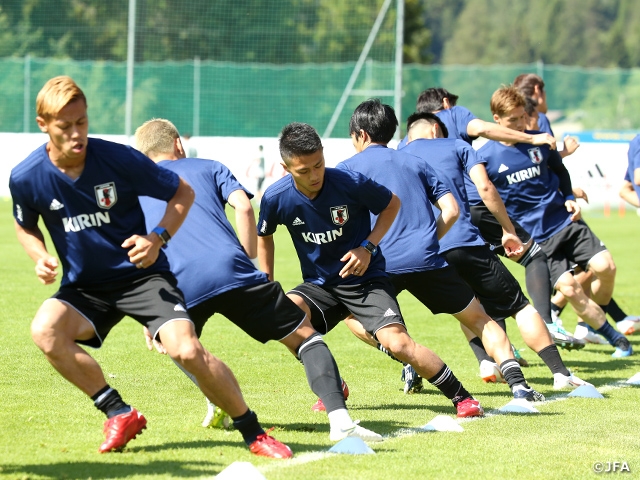 On their third day in Seefeld, Austria, SAMURAI BLUE (Japan National Team) held two team practice sessions, one in the morning and one in the afternoon.
The morning session focused on various physical training exercise targeted to raise their condition level. The training menu consisted not only simple running, but it involved change of pace, quick jumps and lateral steps as well as menus requiring them to control the ball. The players went through the session while vocally communicating with each other.
The afternoon session on the other hand, focused mainly on tactical trainings. The team reviewed various aspects of game plans such as how to move the ball and how to collectively break through opponents' defence.
Seefeld is located in the middle of the Alps. As it is said that the weather in the mountains can change easily, cloudless morning turned into pouring rain in the afternoon during their session, making the training session that much tougher for the players.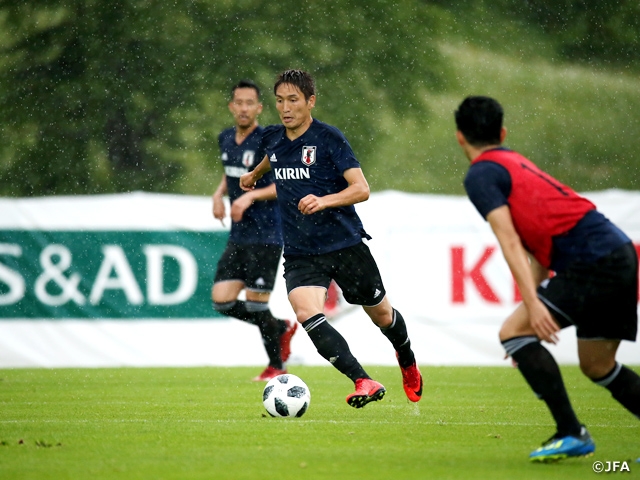 Despite the pouring rain, the players kept their enthusiasm high, discussing topics on how to make the team better after their training session, even during their way back to the hotel they spoke about tasks they newly found during the sessions. The camp in Seefeld will be held until Wednesday 6 June, and then the team will move to Switzerland on Thursday 7 June. The team will face Switzerland National Team on Friday 8 June.
Players' Comment
GK #1 KAWASHIMA Eiji(Football Club de Metz)
While we have only limited amount of time before the World Cup, the most important thing is to have everyone on the same page. Combinations and little things we do together show up in the result of the matches, so we want to pay attention to details. Considering where we are at now, all we can do is just play hard. We want to do everything within our power during this limited preparation time. Our commitment from now on will reflect the outcome at the World Cup. Even though I have been selected into the 23-man roster, we didn't get here with just the 23 players alone. We have (ASANO) Takuma and (IDEGUCHI) Yosuke with us, and there are also other players who had played for the national team in the past. We are here because of those many players who fought with us and wanted to be here. Every one of us must not take that for granted and keep in mind of all those players who couldn't be here. It doesn't affect us that people think we are the underdog in the group. I understand that there are people who can't see us very positively. What matters is what we show on the pitch, and all we have to do is to prove those people wrong with our plays.
FP #19 SAKAI Hiroki(Olympique de Marseille)
We are putting emphasis on tactics in our training session. We've tried out different variations such as playing three defenders, four defenders and five defenders at back. Every players were using their head and remained focused during the session. The training session was surrounded with a very positive mood. I am getting in better shape as I am aiming to get in top form when we face Columbia. This is my second World Cup and I want to be able to say, "it was a great tournament," when everything is all set and done. More than anything, I want to put up good results and make this team strong enough to earn points no matter how difficult the situation is.
FP #9 OKAZAKI Shinji(Leicester City Football Club)
As a team, we are going through productive workouts and the mood is great. I am personally a little behind condition-wise, but I am feeling good about where I am at this moment. This World Cup is the third time for me. I still remember the bitterness I tasted last time and we haven't been able to produce solid results in international tournaments. We haven't been able to meet the expectations from the people in Japan in the recent matches, either. We want to display a performance where we can give hope and courage to the people who watches on and support us. To do that, we need better results. I am expected to score goals when it matters. I want to keep preparing myself and utilise my experience to help the team when they are in trouble.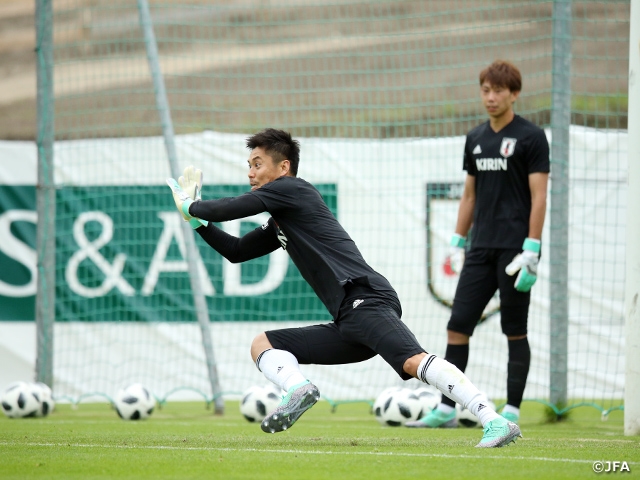 Morining Training Session
OKAZAKI Shinji (Leicester City Football Club/England) Interview
Afternoon Training Session
KAWASHIMA Eiji (Football Club de Metz/France) Interview

SAKAI Hiroki (Olympique de Marseille/France) Interview
Schedule
Sun. 3 June
PM
Training
Mon. 4 June
PM
Training
Tue. 5 June
PM
Training
Wed. 6 June
PM
Training
Thu. 7 June
PM
Official Training
Fri. 8 June
19:00
International Friendly Match
vs Switzerland (Stadium Cornaredo)
Sat. 9 June
PM
Training
Sun. 10 June
PM
Training
Mon. 11 June
PM
Official Training
Tue. 12 June
15:05
International Friendly Match
vs Paraguay (Tivoli Stadion)
Wed. 13 June
AM
Training
Thu. 14 June
PM
Training
Fri. 15 June
PM
Training
Sat. 16 June
PM
Training
Sun. 17 June
AM
Training
Mon. 18 June
PM
Official Conference・Official Training
2018 FIFA World Cup Russia
Tue. 19 June
15:00
1st Match vs Colombia (Mordovia Arena)
Wed. 20 June
PM
Training
Thu. 21 June
PM
Training
Fri. 22 June
AM
Training
Sat. 23 June
PM
Official Conference・Official Training
Sun. 24 June
20:00
2nd Match vs Senegal (Ekaterinburg Arena)
Mon. 25 June
PM
Training
Tue. 26 June
AM
Training
Wed. 27 June
PM
Official Conference・Official Training
Thu. 28 June
17:00
3rd Match vs Poland (Volgograd Arena)
*Local Time
*The schedule is subject to change due to the team condition, the weather, etc.
2018 FIFA World Cup Russia
Tournament Dates: 14 June - 15 July 2018

Group stage
1st Match Tue. 19 June Kickoff at 15:00 vs Colombia National Team (Mordovia Arena)
(21:00 Japan time)
2nd Match Sun. 24 June Kickoff at 20:00 vs Senegal National Team (Ekaterinburg Arena)
(Mon. 25 June, 0:00 Japan time)
3rd Match Thu. 28 June Kickoff at 17:00 vs Poland National Team (Volgograd Arena)
(23:00 Japan time)