NEWS
35 people from Asian countries attended JFA International Coaching Course 2018
23 May 2018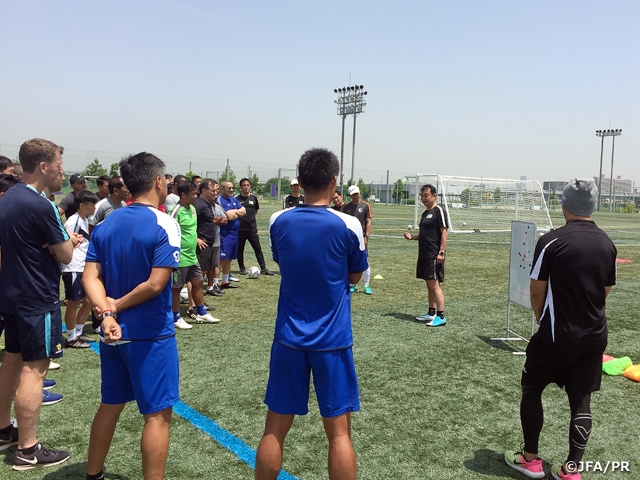 With the support of the Japan Foundation Asia Center, Japan Football Association (JFA) held the JFA International Coaching Course 2018 from Monday 14 to Sunday 20 of May at J-GREEN Sakai in Osaka.
The purpose of the course is to improve the level of football coaches in Asia, and this year marked the 10th time the course has been held. This year's course focused particularly on coach development, and a total of 35 trainees from 19 Asian countries and regions participated. The participants included technical directors and coach development directors from these countries and regions.
The course carried out lectures, discussions, and group-works, as well as practical trainings on the pitch. J.League match analysis and a visit to Cerezo Osaka was also conducted. To facilitate multilateral information exchange, the trainees gave out presentations regarding their own countries' coach development programmes.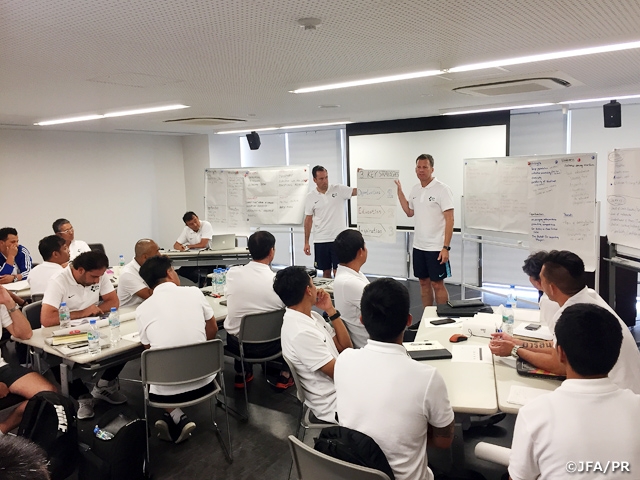 With the support of the Japan Foundation Asia Center, this Coaching Course was conducted as part of the programmes to promote cultural exchange among Asian countries including those of ASEAN. Through their slogan, 'WA Project' ~Toward Interactive Asia through 'Fusion and Harmony'~, the Japan Foundation Asia Center has conducted a wide range of activities to promote and strengthen two-way cultural exchanges between Japan and Asian countries.
Instructor's Comment
ONO Takeshi, JFA Instructor
In efforts to contribute to countries in Asia, this coaching course was established in 2006. Initially basing its course on the JFA official class C coach development training, the course aimed to heighten the level of coaches in Asia while providing a network among the Asian football community. The course also served a role in implementing an international perspective among Japanese coaches as well. Over the years, the course has evolved to attract future leaders from Asian countries as it provided opportunities for the participants to observe the Japanese youth development system, coach development and grassroots activities. Sharing a mutual goal to heighten the overall quality of Asian football, starting from 2015, the course started to invite individuals taking an active part in specific fields, such as youth development, goalkeeper coach, and women's football to promote information exchange and discussions at a higher level.
With coach development being highlighted for this course, we attracted more participants than we expected, as 35 trainees joined us from 19 associations in Asia. It shows how highly the course was anticipated among the Asian countries. The course began from sharing the global viewpoint in coach development followed by introduction of the coach development system in Japan. The concept of having the Technical House serve as the hub was also shared, where the national team, youth development, and coach development all contributed to construct a structure to straighten the overall level of Japanese football. Then the trainees took part in group-works such as game analysis, SWOT analysis of Asian football, and constructing a development plan for Asian football. With many of the participants being an active technical director or coach development director, the group-works, discussions, and presentations were at a very high level, and combined with the height of their awareness level, it was very impressive.
During the course, we mentioned to each other, "There has been only eight countries from two continents who has won the World Cup. Asia will be the third continent! When that happens, we will all share the joy as our success together." The network we have developed throughout the course will serve as a major role in the future development of Asian Football. It was such an inspiring week.
I would like to express our sincere gratitude towards Cerezo Osaka for accepting our visit, the Japan Foundation Asia Center for supporting the entire course, J-GREEN Sakai, and all other people who supported us. Thank you very much.
Participants' Comments
Yahya Al-Ayafi, Coach Development Director (Saudi Arabia)
I'm impressed about the course as it was really interesting and beneficial. Also, the contents were very intense and great which share the football knowledge in Japan since 40 years back. The organizing was very professional here and it was very good experience to learn about how to organize such a tremendous event. We came here to exchange and share ideas and thoughts and learn from Japan along with the other participating countries from Asia; at the same time, we are looking to open new windows with many countries in Asia. Thanks to JFA who made this precious opportunity to let us get some thoughts and bring them back home to improve our football more and more.
Ross Awa, GK Coach Development Officer (Guam)
Over all this course's contents are very relevant to what MAs are dealing with in coach education. Also, it was not only that they provided vast of information to us, but also gave new opportunities to others who needs to bridge the gap in terms of Asian football. Personally, this course has helped me a lot because football coach education department in our association is kind of new and we are in need for any new knowledge to improve our coaches in Guam. I love Japan as I always like to come here and love the culture; it is really amazing and brilliant. I really appreciate JFA for what they are doing to improve football in Asia.
Seyed Mirshad Majedi, Coach Development Director (Iran)
Personally I was here last 2 months and I think I could take and learn many important things about JFA as well as this course to help us in improving the football in Iran. I think if any country wants to improve it's football they should share and exchange with others as we are doing here. I can't take things and copy and paste, but we can take those important info and adapt them to work effectively in my country. I liked everything here in Japan and I'm happy about this great course. We really appreciate Japan for their great cooperation, support and nice work.