NEWS
Japan Women's Futsal National Team finishes as runners-up after loss against Iran in the AFC Women's Futsal Championship Thailand 2018
14 May 2018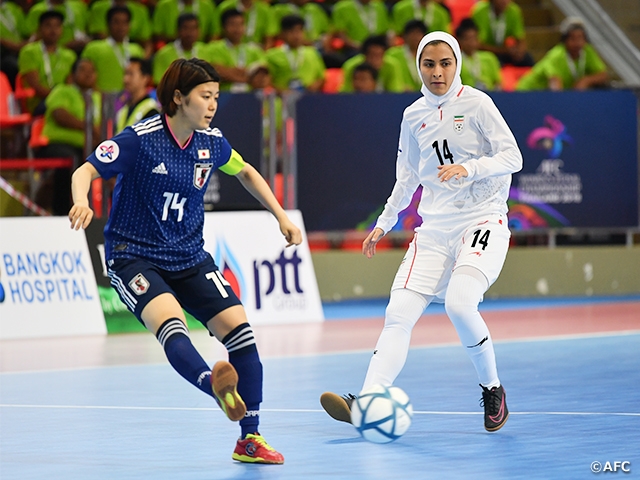 AFC Women's Futsal Championship Thailand 2018
Final vs Iran Women's Futsal National Team
Sat. 12 May 18:00 Kick-off Playing Time 40mins. (20mins.x2)
Indoor Stadium Hua Mak (Bangkok, Thailand)
Japan Women's Futsal National Team 2-5 (0-0, 2-5) Iran Women's Futsal National Team
Scores
27' Goal against (Iran Women's Futsal National Team)
30' Goal against (Iran Women's Futsal National Team)
30' Goal against (Iran Women's Futsal National Team)
31' Goal against (Iran Women's Futsal National Team)
31' EGUCHI Mika (Japan Women's Futsal National Team)
36' Goal against (Iran Women's Futsal National Team)
40' AMISHIRO Anna (Japan Women's Futsal National Team)
Starting Line-ups
GK: YAMAMOTO Ayaka
FP: AMISHIRO Anna, EGAWA Ryo, NAKAJIMA Shiori, FUJITA Mio
Reserves
GK: SUGIYAMA Aiko
FP: KOMURA Misato, WAKABAYASHI Eri, TAKEMURA Junko, KATO Masami, KATSUMATA Riho, EGUCHI Mika, YOTSUI Saki, CHIDA Hinako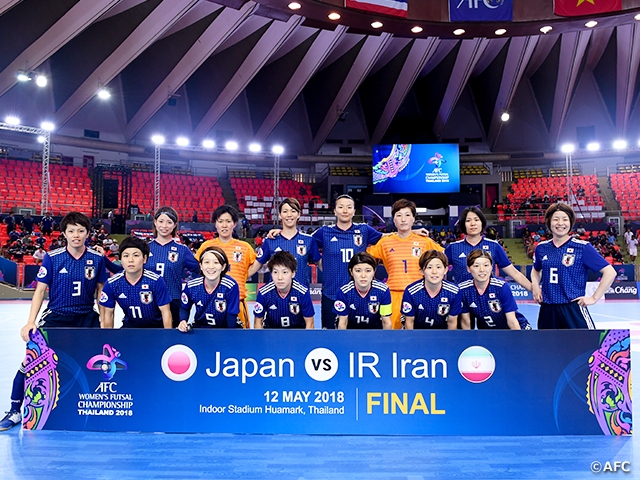 Match Report
On Saturday 12 May, the Japan Women's Futsal National Team faced the Iran Women's Futsal National Team at Indoor Stadium Hua Mak in the final of the AFC Women's Futsal Championship Thailand 2018.
The two teams squared off against each other in the 2015 AFC Women's Futsal Championship final, where Iran took down the title with a 1-0 victory. The Japanese side entered the match with a strong intention to seek revenge this year.
Japan took the initiative in the early minutes of the match, as they approached the opposing goal through their aggressive attacks. However, Iran showcased a solid defence to deny Japan's goal scoring opportunities. The match entered halftime scoreless.
In the 27th minute, Japanese goalkeeper YAMAMOTO Ayaka was beaten by an Iranian player, conceding the opening goal. Iran went onto scoring three more goals within the next four minutes, as they scored two goals in the 30th minute, followed by another goal in the 31st minute. In efforts to get back in to the game, Japan enforced their power play to score goals. EGUCHI Mika launched a powerful shot from the right side to give Japan their first goal, but soon concedes another goal to Iran. In the 40th minute, AMISHIRO Anna scored a goal from the half-way line to cut the deficit for Japan, but their rally ends there, as the match ended with a final score of 2-5.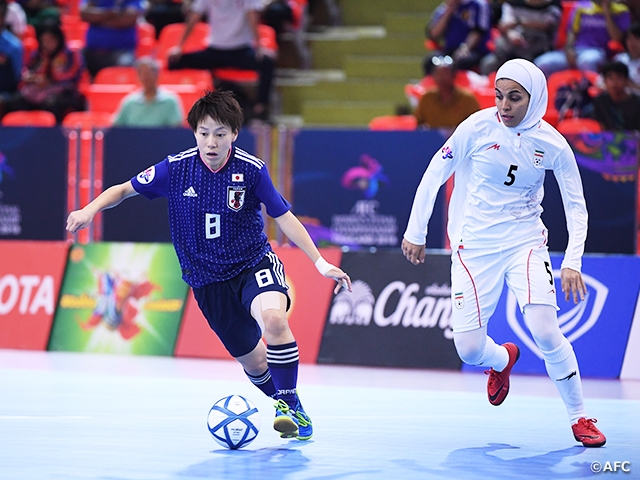 With this result, Japan finished as the runners-up for the second tournament in a row.
Coach's and Players' Comments
KOGURE Kenichiro, Coach (Japan Women's Futsal National Team)
I am proud of the players for giving their best even though we had very limited preparation time. However, we made it tough on ourselves in today's match by committing numbers of mistakes. There are very few opportunities for us to work together as a team, so we must cherish these experience and achieve good results when we are given the opportunity. These experience is vital for the development of women's soccer. We must believe and continuously work hard, players and staffs side by side to make this happen. Players must take back what they have experienced through this tournament and implement what they have learned into their daily routine.
FP #6 KOMURA Misato (arco-iris KOBE)
First of all, I would like to thank everyone who has supported us. Despite losing to Iran in the final, I am glad we made it this far as a team, players and staffs all together. It's been 20 days since we started our activities, but I have learned so much. We failed to accomplish our goal of winning the championship, but this is a new start for us. We must embrace the result and utilise this experience to help women's futsal develop as a whole. I will take back what I have felt during this tournament and improve myself ahead of our next gathering.
FP #14 FUJITA Mio (FUCHU ATHLETIC F.C. PRIMEIRA)
I would like to thank everyone who has supported us until the very end. Thank you very much. It is truly regretful that we couldn't achieve the very best result, and couldn't bring back the title for our supporters. Throughout this championship, I have learned and felt so much. I will not forget this feeling of disappointment and work hard to improve myself. I'd like to thank all of my teammates, staffs, and everybody involved with the Japan Women's Futsal National Team.
Schedule
AFC Women's Futsal Championship Thailand 2018
Wed. 2 May
AM/PM
Training
Thu. 3 May
5-1
1st Group League Match
vs Lebanon (Bangkok Arena)
Fri. 4 May
AM/PM
Training
Sat. 5 May
13-0
2nd Group League Match
vs Bahrain (Bangkok Arena)
Sun. 6 May
AM/PM
Training
Mon. 7 May
6-4
3rd Group League Match
vs China PR (Bangkok Arena)
Tue. 8 May
AM/PM
Training
Wed. 9 May
5-1
Quarterfinals vs Uzbekistan (Indoor Stadium Hua Mak)
Thu. 10 May
2-1
Semi-final vs Thailand (Indoor Stadium Hua Mak)
Fri. 11 May
AM/PM
Training
Sat. 12 May
2-5
Final vs Iran (Indoor Stadium Hua Mak)
*Local Time
*The schedule is subject to change due to the team condition, the weather, etc.
AFC Women's Futsal Championship Thailand 2018
Tournament Period: 2 May 2018 (Wed.) - 12 May 2018 (Sat.)
For more information