NEWS
U-16 Japan Women's National Team wins their opener in the 3rd Delle Nazioni Tournament
26 April 2018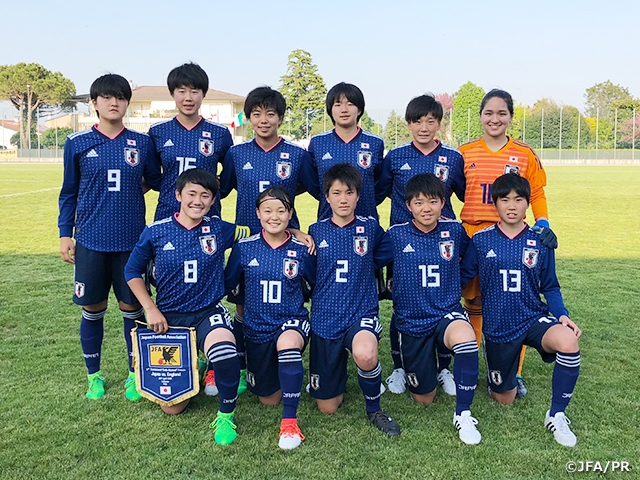 The 3rd Delle Nazioni Tournament 1st Match vs U-17 England Women's National Team
Wed. 25 April 18:00 kick-off Playing Time 70min. (35min.×2)
Latisana, Italy
U-17 England Women's National Team 1-2 (1-1, 0-1) U-16 Japan Women's National Team
Scores
6' Goal against (U-17 England Women's National Team)
24' IWASAKI Kokona (U-16 Japan Women's National Team)
44' SHIROWA Reina (U-16 Japan Women's National Team)
Starting Line-ups
GK: NAKAZONO Karen
DF: TAMAGAWA Mina, TABATA Haruna, SUGISAWA Mihoshi, TOKUNAGA Miyabi
MF: ITO Megumi, TAKAWA Serika, TSUKIJI Iku, IWASAKI Kokona
FW: SHIMADA Mei, SHIROWA Reina
Reserves
GK: ISHIDA Kokona
DF: KAWAGISHI Emika
MF: WATANABE Urara, ONISHI Wakana, IDO Keito
FW: YAMASAKI Aimi, NODA Miyuu, MOMONO Miyuka
Substitutions
HT TAMAGAWA Mina → KAWAGISHI Emika
HT TAKAWA Serika → ONISHI Wakana
HT TOKUNAGA Miyabi → YAMASAKI Aimi
43' SHIMADA Mei → WATANABE Urara
Match Report
Day three in Italy, the U-16 Japan Women's National Team went through their set plays during their early training session, before kicking off their opening match against U-17 England Women's National Team at 18:00.
Japan conceded early when they gave up a penalty kick in the sixth minute. Trailing by a goal, Japan's TAKAWA Serika responded to a clear ball from the opposing goalkeeper and took a shot in the 15th minute, but her effort came short from leveling the match. However, Japan would go onto take the initiative from there on. After received the ball in the centre, midfielder IWASAKI Kokona scored the equaliser in the 24th minute. The match will enter halftime with a score of 1-1.
In the 38th minute, SUGISAWA Mihoshi delivered a through ball towards SHIMADA Mei, who then passed the ball to ITO Megumi, allowing her to take a shot from distance. Her shot came close, but couldn't find the back of the net. In the 44th minute, Japanese forward SHIROWA Reina scored the go-ahead goal off a corner kick delivered by YAMASAKI Aimi. Japan kept pressing for another goal, but the game ended at 2-1.
Japan will now face Russia in their second group league match on Thursday 26 April.
Players' Comments
GK #18 NAKAZONO Karen (Cerezo Osaka Sakai Girls)
It was nerve wracking since it was our opening match of the tournament, and I am glad we were able to win the match. It was evident that our offence has many things to be worked on, and I personally felt the need to improve on my decision makings, but overall it was a great experience for us. I was able to showcase my style as we played defence, and everybody showed great heart as we faced a physically bigger team. We will continue to play hard so that we can win our next match.
MF #8 TSUKIJI Iku (Tokoha University Tachibana High School)
We managed to win our first match. Although we conceded the first goal, the team kept playing hard to pull off this win, and I think this gives us great confidence moving forward. We were a little hesitant in the first half, facing an England side that are faster and stronger. But we managed to build our rhythm by catching them off-guard and exploiting the opportunities. We listened in closely to what Coach Kusunose had to say during half time, and every single player did what they had to do in order for us to win the match. I think that led to this result. We have another match tomorrow, so we will continue to take one match at a time, while further deepening our understanding among each other, so that we can perform to our fullest potential. We also must not take for granted how lucky we are to be here in such great surroundings and to be able to play against foreign teams in such great conditions.
MF #13 IWASAKI Kokona (Nippon TV Menina)
It was my first time playing against foreign players. I knew they were faster and stronger, but their physical abilities exceeded my expectations. We gave up the initiative in the first half and conceded a goal from a penalty kick. But our team fought back to force turnovers and scored a goal under tough circumstances. In the second half we managed to control the ball well, creating numbers of opportunities to take shots. Once we took control of the game, we scored the go-ahead goal from a corner kick. We would like to carry this momentum into tomorrow's match against Russia.
Schedule
The 3rd Delle Nazioni Tournament
Wed. 25 April
2-1
vs U-17 England Women's National Team (Latisana, Italy)
Thu. 26 April
18:00
vs U-17 Russia Women's National Team (Palazzolo, Italy)
Fri. 27 April
AM/PM
Training
Sat. 28 April
18:00
vs U-17 Norway Women's National Team (Marano, Italy)
Sun. 29 April
TBC
Play-offs
*Local Time
*The schedule is subject to change due to the team condition, the weather, etc.
The 3rd Delle Nazioni Tournament
Tournament dates: Wed. 25 April - Sun. 29 April 2018
Tournament information