NEWS
Kashima advances to Round of 16, while Cerezo Osaka moves into second place in fifth Sec. of ACL group stage
04 April 2018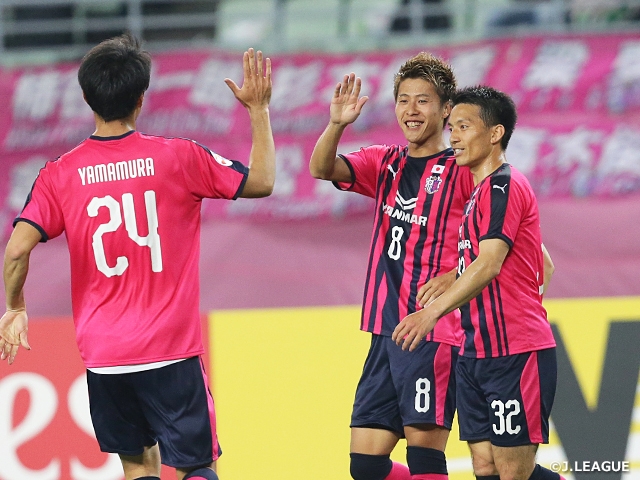 Tuesday 3 April saw the fifth Sec. of the group stage in the AFC Champions League 2018 (ACL). Kashima Antlers in Group H drew with Shanghai Shenhua (China PR) 2-2 in an away game, clinching a spot in the Round of 16 for the second year in a row, while Cerezo Osaka in Group G beat Jeju United (Korea Republic) 2-1 at home, moving into second place.
C Osaka wins after scoring two goals in the first half
With Cerezo Osaka desperately needing a win ahead of their final match of the group league, midfielders FUKUMITSU Takaki and TANAKA Atomu penetrated the flanks aggressively to initiate chances from the early minutes of the match.
In the 16th minute, Tanaka delivered the ball towards the goal mouth off a corner kick which he earned himself. Defender KATAYAMA Eiichi found his way into the mix, connecting with the ball with his left foot. The defender who was making his first start in the ACL, later spoke that, "I thought set-plays were going to play a key role," scored the opener as his shot hit the crossbar before finding the net.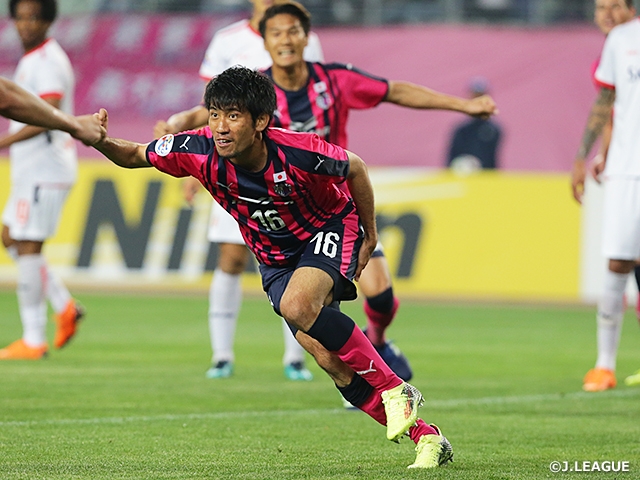 Jeju, who made their way into the Round of 16 in the previous championship, came back threatening the Osaka side's goal. In the 21st minute, forward Magno CRUZ delivered a through ball to Tiago MARQUES who launched a powerful shot, but his shot was blocked by Cerezo's goalkeeper KIM Jin Hyeon. The Korean national team goalkeeper continued to produce superb saves as he denied midfielder LEE Chang-min's free kick in the 27th minute and forward RYU Seung-uh's shot in the 28th minute.
C Osaka would go onto pick up their momentum after earning consecutive corner kicks just passed the 30 minute mark. Then in the 34th minute, Fukumitsu received a long feed in the right flank before sending the ball to YAMAMURA Kazuya who was making a run into the box. Yamamura go to the end of this pass before cutting the ball back to allow forward KAKITANI Yoichiro to score his first gaol of the tournament. C Osaka would go into halftime with a 2-0 lead.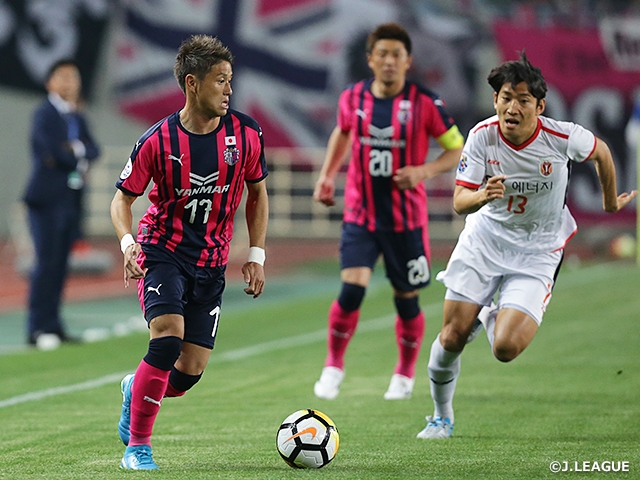 Jeju, who would be eliminated with a loss here, came out attacking aggressively in the second half, but could not get passed the Cerezo defence.
In the 59th minute, Kakitani reacted to a cross and fired a shot. Shortly afterwards, forward SUGIMOTO Kenyu also came close to scoring.
In efforts to turn the match around, Jeju replaced one of their five defenders with a forward in the 66th minute. The substitute forward JIN Seong-uk would go onto score after his team initiated a counter attack from an interception in additional time. But they came short of tying the match as C Osaka won with the final score of 2-1. With their second win, Cerezo increased their tally to eight points.
Buriram United (Thailand), who was sitting in second place of the group, drew against the group leader Guangzhou Evergrande (China PR) 1-1 at home, leaving themselves with six points. With this result, C Osaka now moves into second place, putting themselves in position to get through the group stage with a win in the final Sec. The deciding match will be held on Tuesday 17 April, against Guangzhou in an away match. If Cerezo advances to the round of 16, it will be their first time in four years.
Kashima scores two in the second half to tie the match
Heading into the match, Group H leader Kashima were in position to secure a spot into the next round with a draw or better against Shanghai Shenhua. However, the team gave away a penalty kick in the 13th minute, which was converted by the Colombian midfielder Giovanni MORENO. Kashima would then go onto concede another goal in the 28th minute, when the newly substituted forward MAO Jianqing scored off a corner kick. The Antlers were put into a tough spot after trailing two goals.
Needing to recover from a two goal deficit, Kashima replaced forward Pedro JUNIOR for KANAZAKI Mu in the 38th minute and the team would go onto show their resilience in the second half. In the 58th minute, Leo SILVA penetrated the penalty area before making a cut back, forcing a deflection off a Shenhua defender. Forward SUZUKI Yuma reacted to the loose ball and calmly slotted it into the goal, closing the gap to one goal.
The match would level just five minutes later, when Suzuki delivered a cross after receiving a pass from Kanazaki. Midfielder LEANDRO came running into the box to fire the equaliser with his left foot.
With this draw, Kashima extended their tally to nine points and became the first Japanese team to get through the group stage. They will square off against the second place Suwon Samsung Bluewings (Korean Republic) at home on Tuesday 17 April. Despite losing to Sydney FC (Australia) 1-4 on the same day, Suwon remained in second place with seven points, meaning the winner of next Sec.'s match will advance to the round of 16 as group leader. Sydney FC, who had earned their first win in this championship, moved up to third place with five points, while Shanghai Shenhua are now out of contention after today's loss, with four points.
On Wednesday 4 April, Kashiwa Reysol will meet Jeonbuk Hyundai Motors (Korea Republic) at home, while Kawasaki Frontale will play an away match against Shanghai SIPG (China PR).
Coaches' and Players' Comments
YOON Jong-Hwan, Coach (Cerezo Osaka)
Due to our tight schedule with the league matches, we were forced to rotate many of our players in this last home match of the group stage. But all of our players kept a high level of concentration throughout the match. I think we gained great momentum from great goals. Following our previous league match, I am glad to see our team perform with a good atmosphere, and I believe this will continue. I have tried new players today, and they have performed excellently. When the team is under tough situations, these new players help us get through. And I think every players contributed to create this good atmosphere.
DF KATAYAMA Eiichi (Cerezo Osaka)
I was prepared to perform, so when I was given the opportunity, I had no worries going into the match. In the scene where I scored, I was able to shake off the opponent through the movements leading to the ball, so all I had to do was to score at the end. It was a goal that came from my heart. The fact that we won a match that we had to win is a huge accomplishment for us. But we did allow a goal at the end, when we should have kept a clean sheet, so we will keep that in mind and prepare for our next match.
FW KAKITANI Yoichiro (Cerezo Osaka)
I knew Yamamura was going to pass to me. We all shared a same vision. The result reflects the fact all of us had capitalised on our given opportunities, and that we shared a mutual game plan as a team. Even when we have so many injured players, we can still perform like we did today, as long as we keep a high intention as a team. We can still heighten the level from here.
JO Seung-hwan, Coach (Jeju United)
We rotated many players from our league match, and utilised many of our reserve players. C Osaka played well, but it was more about us not responding well. We prepared well through the winter camp, but we lost our focus during our opening match, and ever since that loss, we went into a negative spiral up to this point. The biggest reason for our slump is our inability to switch our minds.

Tournament Period:30 January 2018 (Tue.) ~ 10 November 2018 (Sat.)