NEWS
Nakajima and Honda called-up for SAMURAI BLUE's Belgium Tour
16 March 2018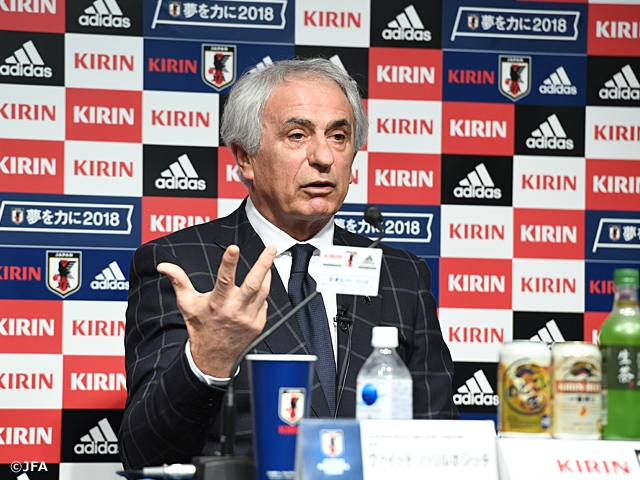 On 15 March, Coach Vahid HALILHODZIC of the SAMURAI BLUE (Japan National Team) announced the squad for the upcoming International Friendly Match against the Mali National Team on 23 March, and the KIRIN CHALLENGE CUP 2018 in EUROPE against the Ukraine National Team on 27 March. Both matches will take place in Belgium. Forward NAKAJIMA Shoya (Portimonense S.C./ Portugal) has been called-up for the first time.
With just three months until the FIFA World Cup Russia 2018, these matches will serve as an important test match for Japan, simulating the scheduled World Cup opponents, Senegal and Poland. The final roster for the World Cup will be determined after this trip.
The 26 players selected in the squad consists those who currently plays abroad, and it has been since last November's Europe Tour these players were considered into the squad. Forward HONDA Keisuke (CF Pachuca/ Mexico) was called-up for the first time since the final round of the World Cup qualifier held last September. Midfielder SHIBASAKI Gaku (Getafe C.F./ Spain) who has recovered from injury, has been called-up for the first time in six months, whereas defender MORISHIGE Masato (F.C. Tokyo) returned to the squad after being left out for nearly a year. Forward USAMI Takashi (Fortuna Düsseldorf/ Germany) and his club teammate forward HARAGUCHI Genki were also selected.
The EAFF E-1 Football Championship 2017 held last December, exclusively featured players from the domestic leagues, and those who made their debuts at this tournament continued to be listed on the roster as Midfielder MISAO Kento (Kashima Antlers) and goalkeeper NAKAMURA Kosuke (Kashiwa Reysol) were once again called-up. Midfielder MORIOKA Ryota (R.S.C. Anderlecht/ Belgium) who currently plays in Belgium, defender NAGATOMO Yuto (Galatasaray S.K./ Turkey) who has recently moved to the Turkish league, and midfielder HASEBE Makoto (Eintracht Frankfurt/ Germany) has also been called-up.
Regarding Nakajima, who has registered nine goals and six assists in the Portuguese league this season, Halilhodzic commented, "He is explosive. He has been displaying strengths in one-on-one situations at his club, and I want to take a close look to see if he can do the same at the national team level."
Commenting of Honda, "I want him to play well, score goals, and create goals. He's a forward, but his role in defence is also important. I want him to display his ability to the fullest."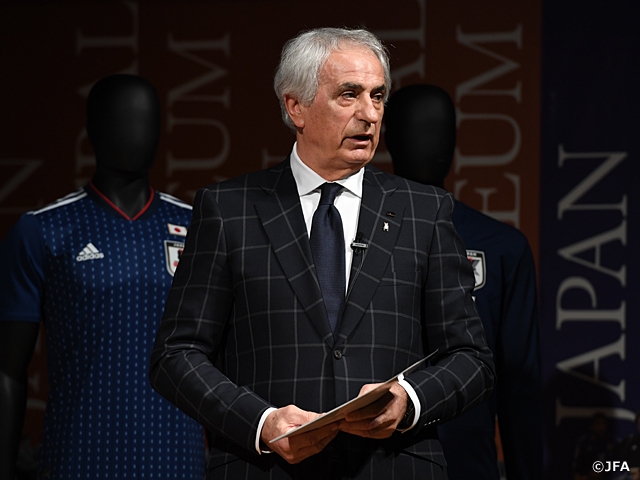 Japan will face Colombia, Senegal, and Poland in the Group Stage of the World Cup. The matches against Mali and Ukraine will serve as simulation matches against Senegal and Poland.
"We will face teams with similar traits as our opponents at the World Cup. Neither Senegal's Mané nor Poland's Lewandowski will be there, but both teams will present us with similar players. We need to face these matches as it's the real deal and get good results. We want to win." Halilhodzic mentioned regarding the two matches.
The first match against Mali will kick-off at 1:20 pm on 23 March, while the second match against Ukraine will be held at 2:20 pm (both local time) on 27 March. Both matches will be played at the Stade Maurice Dufrasne in Liege.
Comments
Vahid HALILHODZIC, Coach of SAMURAI BLUE (Japan National Team)
The FIFA World Cup Russia 2018 is fast approaching. In our course of preparation, we have been analysing many of our opponents' matches. All three teams present us with different types of football, and we need to prepare three different tactics according to their style. We have also taken a look at the match from four years ago, when Japan faced Colombia, and we need to play differently from how we played then. Japan is ranked lower than the other teams, but at the World Cup anything can happen. The result does not always reflect the rankings. But we need to make sure we convert the chances we are given. In the past three years, I have strived to plant a winning mentality on top of the great Japanese traits of discipline and dedication. We must prepare ourselves in the best way possible not only in tactics and physical conditions, but also in our mental conditions. We will prepare ourselves with detail, train hard to accomplish our goal, and fight with ambition and courage.
I strongly believe that Japan will accomplish their aspiration. We will select the players that would make that possible, and work hard to achieve our goal. We will face great challenges at the World Cup, but if we can cope with those challenges, good results should follow. I need my players to play with responsibility, fight with courage, and work hard to obtain our hope. We will face the test matches with all of that in mind. We have five matches left to prepare ourselves, and we will play against teams with similar traits as our opponents at the World Cup. We must play with a strong mentality, serve each match as it's the actual cup matches, and get good results. We want to win.
The last six months heading into the World Cup is crucial. We must maintain high quality performance while continuing to play in high level competitions. In Russia, our endurance and speed will be challenged, and the ability to change rhythms will also be required in many occasions. However, many players are yet to reach their top performance at this moment. I have selected the squad for this trip with a message for them, that they each need to regain their top performance. The forwards must score and create goals. Not only do they need to drop down to the midfield to receive the ball, they also need to create threats behind the opponents back. I need players who can singlehandedly create the difference. I will continue to seek for players with such quality.
NISHINO Akira, JFA Technical Director
The year of the World Cup is finally here, and I am glad of the fact that we were able to fix matches in this trip that simulate our group league opponents, Senegal and Poland. I would like to thank the soccer associations of both Mali and Ukraine. It has been a while since we last gathered players playing abroad, so we would like to make sure the team plays as one, and we will do our best to support our squad to obtain the best possible preparation as possible.
Schedule
Mon. 19 March
PM
Training
Tue. 20 March
PM
Training
Wed. 21 March
PM
Training
Thu. 22 March
PM
Official Training
Fri. 23 March
13:20
International Friendly Match
vs Mali National Team (Stade Maurice Dufrasne)
Sat. 24 March
AM
Training
Sun. 25 March
PM
Training
Mond 26 March
PM
Official Training
Tue. 27 March
14:20
KIRIN CHALLENGE CUP 2018 in EUROPE
vs Ukraine National Team (Stade Maurice Dufrasne)
*Local Time
*The schedule is subject to change due to the team condition, the weather, etc.

International Friendly Match
SAMURAI BLUE (Japan National Team) vs Mali National Team
Friday, 23 March 2018 Kickoff at 13:20 local time (21:20 Japan time)
Belgium/Stade Maurice Dufrasne
For more information

SAMURAI BLUE (Japan National Team) vs Ukraine National Team
Tuesday, 27 March 2018 Kickoff at 14:20 local time (21:20 Japan time)
Belgium/Stade Maurice Dufrasne
For more information