NEWS
Ramos Ruy named as coach of Japan Beach Soccer National Team
15 February 2018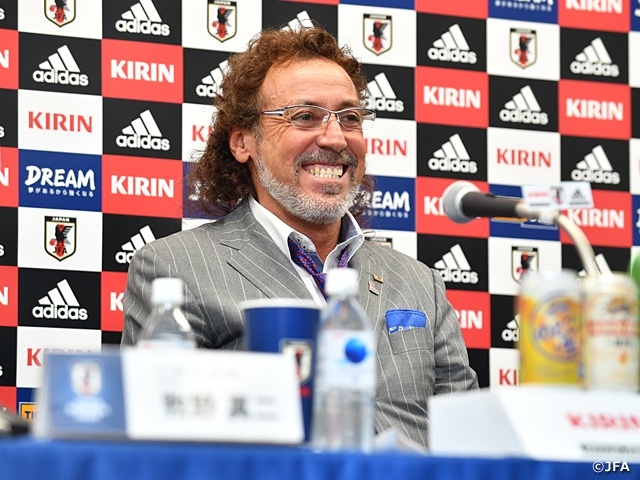 On Wednesday 14 February, JFA announced the appointment of Ramos Ruy as coach and MAKINO Shinji as assistant coach for the Japan Beach Soccer National Team. President of JFA TASHIMA Kohzo and Chairman of JFA Futsal Committee KITAZAWA Tsuyoshi joined the introductory press conference along with the appointees.
It will be Ramos's third tenure as head coach for the Beach Soccer National Team. JFA Futsal Committee Kitazawa explained the reasoning behind the selection, pointing out the fact coach Ramos has posted the best results for the Beach Soccer National Team in the past. He has led Japan into their first ever fourth-place finish at the FIFA Beach Soccer World Cup in 2005.
Japan has been a major force in Asia ever since, making 9 consecutive World Cup appearances. However, they haven't got past the quarterfinals at the World Cup since 2005. Newly appointed coach Ramos pointed out that the Japanese players lacked tenaciousness. Also pointing out the fact that there just aren't enough places to play beach soccer. He stated, "I still remember the bitterness I felt from my last tenure as coach. So I will aim to make it back to the Semis. I promise that I will give 120% of what I've got, so please support us and the beach soccer community."
Assistant coach Makino, who has played in seven World Cups, has seen it all as a player. From his experience, he proclaimed that the burden carried by the coach has been overwhelming, and that he would like to take off some of that weight off coach Ramos. He also stated that he has a high expectation for the team, and he would like to guide the players so that they can compete in good conditions. During the press conference, Ramos casted a few questions to Makino, and they showed their degree of trust as they conversed in front of the press.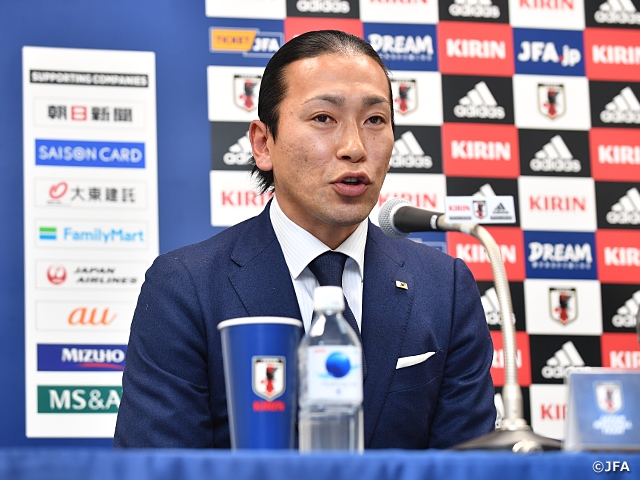 In 2009, Ramos made headlines when he called up MAEZONO Masakiyo, a former Japan National Team player, and HIGA Ricardo, a well-established soccer and futsal player, for the World Cup in Dubai. The two players became part of the driving force for the team's appearance in the top eight of the tournament. When he was asked if non-beach soccer players will be considered for the selection, Ramos replied, "yes I am considering it. As long as they are willing to play beach soccer." He also mentioned regarding the selection that, " as much as I would like to assemble the team ASAP, I also want to see the young players. There're chances for anyone, as long as they are serious about making the team. I will keep my eye out for wide range of players."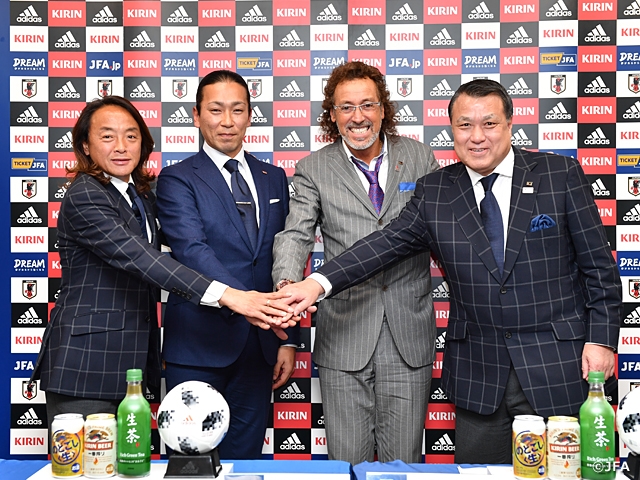 Comments
TASHIMA Kohzo, President of JFA
This has been a long awaited day for us. The Carioca (a boy from Rio in Portuguese) once again puts on the JFA emblem, returning as head coach of the beach soccer team. I am grateful both as a football fan and the president of JFA. He has presented us with a great magnitude of commitment, so we will do our best to support him in efforts to become world number one. With the help of assistant coach Makino, this will be a new era for beach soccer in this country.
KITAZAWA Tsuyoshi, Chairman of JFA Futsal Committee
The reality is, it's getting more and more difficult to get through the Asian qualification rounds in beach soccer. So I am a little hesitant to throw out the word "world number one." With that being said, I also know coach Ramos's passion and charisma, and his strong affection towards the Japanese flag. I am hoping that his traits will translate over to the players, so that they will also fight hard for the national team. Coach Makino will not only serve as Coach Ramos's assistant, but he will also carry the role to deepen the player-pool for the national team. We would also like him to be the leader in coach development as the player population of the game increases.
Ramos Ruy, Coach of Japan National Beach Soccer Team
I've always wanted to come back and play a role to bring excitement to beach soccer. I feel like it's my obligation to get the young players interest to the sport and improve the playing environment of the sport. I will work along with coach Makino to develop the young players and win the Asian qualifiers. It's not an easy task to qualify for the World Cup, but as long as we can secure a spot in the tournament we are in contention to win it. As president Tashima and chairman Kitazawa noted, it's not easy to win in Asia. It will not be accomplished just because I am here. I need everyone's help. I am not here just to send our team to the World Cup. I want to contribute to the Japanese football community all together. I want my players to be proud to represent their country. I want them to realise how honorable it is to put on the national flag.
MAKINO Shinji, Assistant Coach of Japan National Beach Soccer Team
It has always been a honor to be selected into the national squad as a player, and I feel the same way being selected as a coach. I can really tell that I love the Japanese National team. (On his impression on head coach Ramos) He utilises the carrot and stick approach very well. At first I couldn't understand why he was yelling at me, but as we played along, I started to realise what he was trying to convey. He provides a good amount of tension to the team. As a person who has always been involved in beach soccer, I'm glad Mr. Ramos is back in our sport.
(Japanese version only)