NEWS
Japan Futsal National Team opens the AFC Futsal Championship Chinese Taipei 2018 with a win against Tajikistan
02 February 2018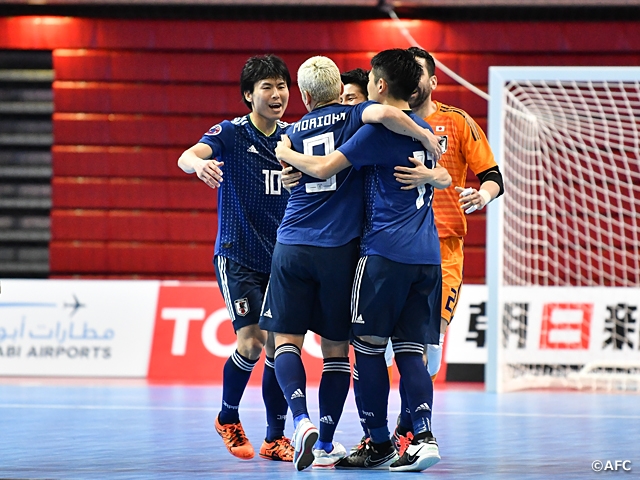 AFC Futsal Championship Chinese Taipei 2018
Group stage 1st Match vs Tajikistan Futsal National team
1 February 2018 (Thu) Kick-off 18:00(Local Time) Playing Time 40min.(20min.×2)
University of Taipei (Chinese Taipei, Taipei)
Japan Futsal National Team 4-2 (3-2 ,1-0) Tajikistan Futsal National team
Scores
1' SHIMIZU Kazuya (Japan Futsal National Team)
6' goal against (Tajikistan Futsal National team)
9' NIBUYA Kazuhiro (Japan Futsal National Team)
11' HOSHI Shota (Japan Futsal National Team)
13' goal against (Tajikistan Futsal National team)
37' MORIOKA Kaoru (Japan Futsal National Team)
Starting Line-ups
GK:PIRES Higor
FP:NISHITANI Ryosuke, HOSHI Shota, YOSHIKAWA Tomoki, SHIMIZU Kazuya
Reserves
GK:SEKIGUCHI Yushi
FP:MUROTA Yuki, SAITO Koichi, MINAMOTO Akira, HENMI Katsutoshi Rafael, TAKITA Manabu, MORIOKA Kaoru, NIBUYA Kazuhiro, WATANABE Tomoaki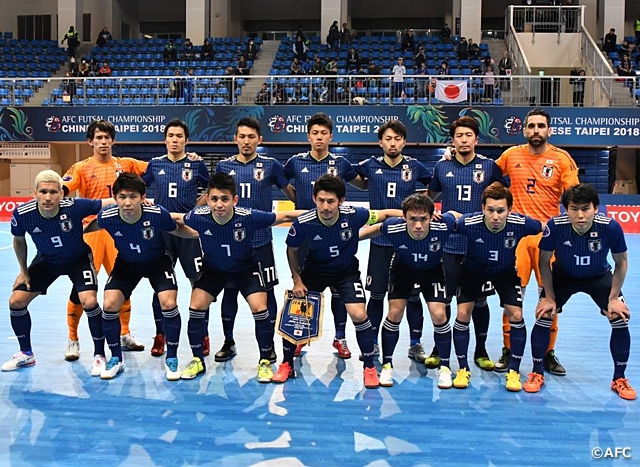 Match Report
The Japan Futsal National Team won the first group-stage match of the AFC Futsal Championship Chinese Taipei 2018 against Tajikistan 4-2 on Thursday 1 February.
Just after five seconds into the match, SHIMIZU Kazuya scored from the right side with a right footed shot to give Japan the go-ahead lead. Although Japan got off to a promising start, Tajikistan didn't miss on their opportunity. In the sixth minute, Tajikistan forced a turnover in their own area, scoring from a counter attack to level the match. Two teams played an equally matched game until the 9th minute, when NIBUYA Kazuhiro received a pass from WATANABE Tomoaki and struck a goal to put Japan in the lead again. Two minutes later, HOSHI Shota reacted from the right side to a feed from YOSHIKAWA Tomoki, slotting the ball into the goal with a sliding effort. Although Japan seemed to gain control of the match, a critical turnover in their defensive end led to another conceded goal in the 13th minute. The match went into halftime at 3-2.
In hopes to rediscovering their rhythm in the match, Japan's coach Bruno GARCIA encouraged the players during halftime. Before sending the players back to the pitch, he told them to grab the win despite the unique atmosphere entering a tournament.
Tajikistan came out in the second half displaying their individual strengths, but the Japanese defence led by goalkeeper PIRES Higor kept them out from scoring. Then on the 37th minute, MORIOKA Kaoru intercepted the ball during a power-play from the Tajikistan side, passing the ball into the open goal. Japan won the match 4-2.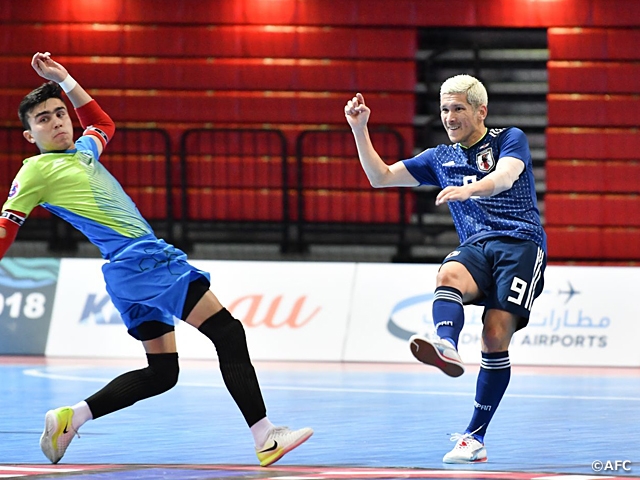 Following their victory in the opening match, Japan Futsal National Team will now face Korea Republic Futsal National Team in the second group stage match on Saturday 3 February.
Coaches' and Players' Comments
Bruno GARCIA, Coach (Japan Futsal National Team)
We knew going into the game that the opening match was going to be tough. Especially against a team like today, where they dropped deep and waited for our mistakes. Their counter attacking style made things more difficult for sure. Having said that, we managed to concentrate on the match as it progressed, and gradually found our rhythm. We'd like to prepare for the coming game against Korea Republic to earn another victory and enough points to get through the group stage.
GK #2 PIRES Higor (Pescadola Machida)
It is my first time playing in this tournament, but the level of competition is much higher than I expected. Our opponents played physical and the game was tough, but we were able to adjust accordingly to their style, and play well against it. We knew that wining the first match was essential, so it's truly great that we pulled off a win. I'd like to keep improving my performance, so that we can win the championship.
FP #11 HOSHI Shota (Bardral Urayasu)
It was a difficult match not just because it was the opening match, but because both teams were eager to win. But at the end, I'm glad our strength overcame our opponents' strength. Personally, I am just happy that I am once again competing in this kind of setting. I've been able to really dial-in to our teams victory, so I'd like to keep my focus and play every game as though it is the tournament final.
FP #12 SHIMIZU Kazuya (Fugador Sumida)
Despite the rough stretches we faced early in the match, we managed to earn three points. As there are still plenty of room to improve as a team, we'd like to fix our problems. We will rest up and prepare for the coming match against Korea Republic!
Schedule
AFC Futsal Championship Chinese Taipei 2018 For more information
Thu. 1 February
AM
Training
4-2
vs Tajikistan (University of Taipei Gymnasium)
Fri. 2 February
AM
Training
Sat. 3 February
AM
Training
19:00
vs Korea Rep. (University of Taipei Gymnasium)
Sun. 4 February
AM
Training
Mon. 5 February
16:30
vs Uzbekistan (University of Taipei Gymnasium)
Tue. 6 February
AM
Training
Wed. 7 February
AM
Training
Thu. 8 February
AM
Training
19:00
Quarter-Finals (TBD)
Fri. 9 February
TBC
Semi-Finals (Xinzhuang Gymnasium)
Sat. 10 February
AM
Training
Sun. 11 February
AM
Training
19:00
Final (Xinzhuang Gymnasium)
*Local Time
*The schedule is subject to change due to the team condition, the weather, etc.
AFC Futsal Championship Chinese Taipei 2018
Tournament Period: Thu. 1 - Sun. 11 February 2018
Group stage 2nd Match
Japan Futsal National Team vs Korea Rep. Futsal National Team
3 February 2018 (Sat) Kick-off 19:00(Local Time)