NEWS
Kashiwa advances to ACL group stage with 3-0 win over Muangthong
31 January 2018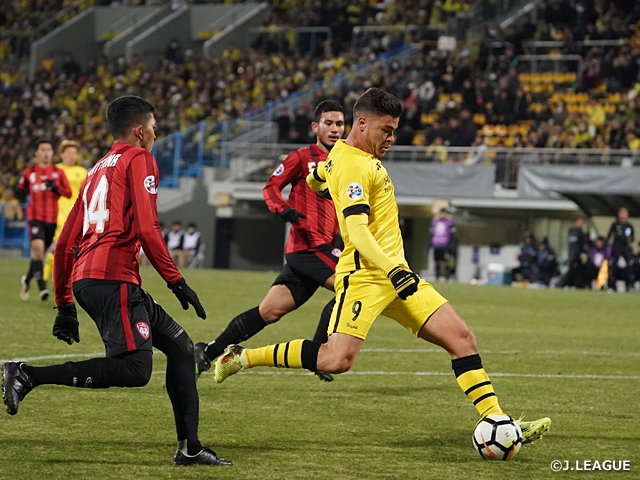 East Region playoff match for the AFC Champions League 2018 was held on Tuesday 30 January at Hitachi Kashiwa Soccer Stadium in Chiba Prefecture. Kashiwa Reysol defeated Muangthong United of Thailand 3-0, and secured their first group stage appearance in three years.
Forward Cristiano was named the Player of the Match with his two goals. Forward ITO Junya also shined in the match, recording a goal and two assists.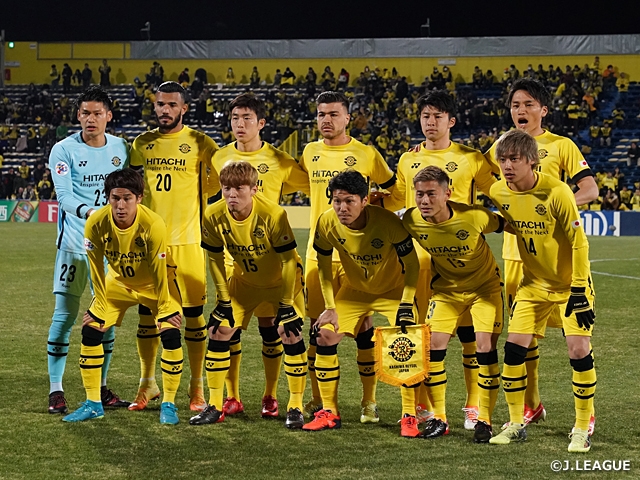 It was Kashiwa's first official competition following the off-season, in which they only had 20 days to prepare for. And Kashiwa had to win this match in order to advance to the group stage. Kashiwa's coach SHIMOTAIRA Takahiro described that the team "looked a lot stiffer than expected" in the first half, as they could not find their rhythm in the attacking end.
Kashiwa, however, found ways to threaten the Thailand side, as midfielder ESAKA Ataru, new addition from Omiya Ardija, took a volley shot in the 23rd minute and Cristiano struck a shot from a Esaka's feed in the 32nd minute.
After finishing the first half 0-0, coach Shimotaira told his team to "play simple and create attacking points on the flank." His players did just that from the beginning of the second half. Their movement became more fluid, and they gained momentum from their side attacks.
Their long-awaited goal came in the 51st minute. Ito dribbled up the right flank before delivering a pass to Cristiano who slotted the ball into the net with his right foot to open the scoring for the Japanese side.
Kashiwa showed dominance in offence, persistently penetrating the flanks. Five minutes after the opening goal, Esaka took a volley shot off Ramon Lopes' cross. In the 61st minute, Esaka once again showed his timeliness, connecting with a cross delivered by defender KOIKE Ryuta.
The second goal came on the 62nd minute, when Cristiano received a through ball from Ito. With one defender to beat, Cristiano got passed the defender before netting with his right foot to make it 2-0.
The third goal came in the 89th minute when Cristiano posted up a long feed, leaving the ball to Yun Suk Young who then delivered a cross towards the centre. Ito got to the end of the cross and found the back of the net with his right foot.
Muangthong who reached the round of 16 last year, struggled to create opportunities against Kashiwa's solid defence. They also faced tough stretches defensively, being forced to substitute their defender Celio Santos with an injury in the 30th minute.
Muangthong's best chance came in the 71st minute when forward Teerasil Dangda, who is set to play for Hiroshima this season, broke loose in the centre and fired a shot. His shot got passed the goalkeeper, but defender NAKATANI Shinnosuke cleared the ball in front of the open goal. Three minutes later, forward Heberty tried a long range shot, but goalkeeper NAKAMURA Kosuke was able to deny it.
Kashiwa kept a clean sheet, securing their first ACL group stage appearance since 2015 with the 3-0 victory.
Match details (Japanese version only)
Kashiwa were drawn into Group E with K League Classic champions Jeonbuk Hyundai Motors, Hong Kong Premier League champions Kitchee, and Chinese side Tianjin Quanjian, who beat Ceres Negros FC of the Philippines 2-0 in the playoff. Kashiwa will open their champions league campaign at home against Jeonbuk Hyundai on Tuesday 13 February.
Following the results of the playoffs held elsewhere, in Group F, Kawasaki Frontale will now face Shanghai SIPG (China), who defeated Chiangrai United (Thailand) 1-0. In Group H, Kashima Antlers will play an away game on Wednesday 21 February for their second match of the group stage, against Suwon Samsung Bluewings (Korea Republic), who has beaten FLC Thanh Hoa (Vietnam) 5-1.
In the West Region playoffs, Al Ain (UAE), Zob Ahan (Iran), Nasaf (Uzbekistan) and Al Gharafa (Qatar) qualified for the group stage.
The East Region's group stage will begin on 13 February and end on 18 April, after six matches in the home-and-away format. Top two teams from each group will advance to the round of 16, with the first leg to be held on 7-9 May and the second leg on 14-16 May. The quarterfinals will take place on 27-29 August, before the semi-finals set to be played on 1-3 and 22-24 October. The finals will be held on 3rd and 10th of November.
Coaches' and Players' Comments
SHIMOTAIRA Takahiro, Coach (Kashiwa Reysol)
I'm really happy to qualify for the ACL finals. Fans showed great support in our first match at Hitachidai. We only had about 20 days to prepare, but we managed to prepare ourselves very well for the match. Muangthong is a great team, well organised, and has players with great skills up front. I knew it wasn't going to be an easy game, so I'm satisfied with this result. We are the fourth team to qualify, but we'll do our best as a representative of Japanese teams. We will work hard to win the championship. Our next opponent is the Korean champions Jeonbuk Hyundai, so we'll try to get a good preparation in before the match.
Cristiano, FW (Kashiwa Reysol)
Coming into the match, I knew this was going to be a very important match for us. Because it was our first match of the season, we couldn't play our game in the first half. But as time progressed, we were able to find our rhythm in the second half. We showed variety of attacks from both the flanks and centre of the field. Muangthong played well, but we were able to maintain a good performance throughout the match, and I'm very satisfied with the result. I'm also glad we were able to show what we worked on in training camp.
ITO Junya, FW (Kashiwa Reysol)
We had our chances in the first half, so I knew the goals were coming as long as we don't rush it. I'm glad I got to contribute to our goals. The assist from the first goal, I wanted to make sure we scored, so I passed the ball to Cristiano knowing he can score for us. Now we can focus on the ACL finals. We will work hard as a team so that we can win the ACL.
Totchtawan Sripan, Coach (Muangthong United)
We played well both offensively and defensively in the first half. But we couldn't maintain the same performance in the second half, partially due to the cold weather. We knew Kashiwa is a very strong team, and we have planned to make necessary adjustments to face them. However, missing players with injury, including AOYAMA Naoaki, really had a big effect. Having said that, I have to say that Kashiwa was the better team. They are much more skilled, and we are just not at that level yet.

Tournament Period:30 January 2018 (Tue.) ~ 10 November 2018 (Sat.)