NEWS
Japan Futsal National Team comes back from behind but loses to Argentina – International Friendly Series Match #1
26 January 2018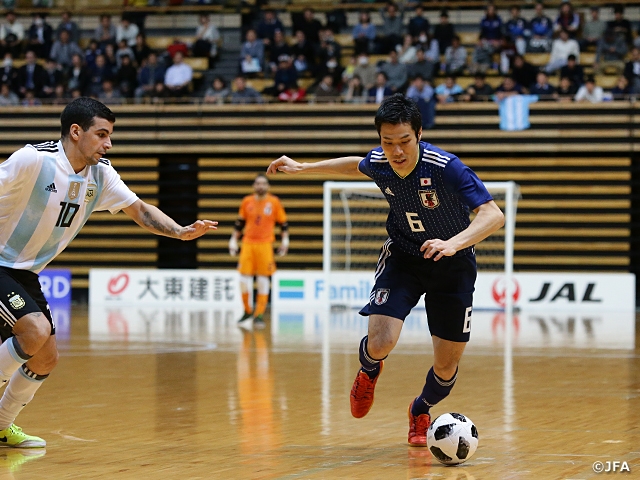 On Thursday 25 January, Japan Futsal National Team held an international friendly match against Argentina at Ota-City General Gymnasium. It was the first of two international friendly matches scheduled against the world champions.
Argentina, who won the FIFA Futsal World Cup for the first time in 2016, came out strong as if they had something to prove. The game started with Argentina dropping the ball to their captain Leandro CUZZOLINO, who then sent a long ball forward. Cristian BORRUTO was on the receiving end of this feed, successfully sneaking the ball through the legs of the Japanese goalkeeper SEKIGUCHI Yushi (NAGOYA OCEANS) to give the reigning champs a goal lead.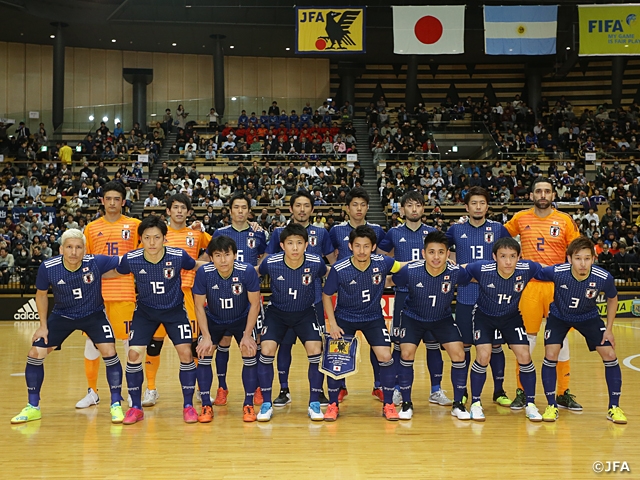 After conceding a goal in just seven seconds into the game, Japan came out aggressively to rally back. Within the first minute, SHIMIZU Kazuya (Fugador Sumida) fired a powerful shot following a corner kick from YOSHIKAWA Tomoki (NAGOYA OCEANS). In the fourth minute, WATANABE Tomoaki (FUCHU ATHLETIC F.C.) tries a toe-poke, and HOSHI Shota (Bardral Urayasu Futbol Sala) attempts a shot in the 12th minute, but both were denied by the Argentinian goalkeeper Nicolas SARMIENTO's great saves.
Japan's best chance of the half came on the 15th minute, as MUROTA Yuki (Pescadola Machida) forced a turnover in the attacking end, sending a pass to Shimizu, however, Shimizu's shot went wide of the open goal.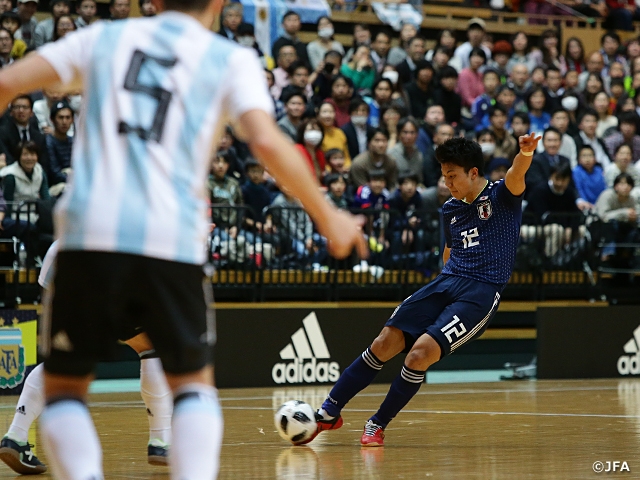 The Japanese side's inability to capitalize on their chances gave Argentina momentum. In the 16th minute, Japan conceded another goal as Lucas BOLO ALEMANY's followed up his own shot that was once denied by goalkeeper Sekiguchi. Two minutes later Luciano AVELINO scored their third goal, assisted by Alan BRANDI's individual effort, ending the half at 3-0.
Despite being three goals behind, Japan showcased an equal match-up in the second half. In the 33rd minute, goalkeeper PIRES Higor (Pescadola Machida) stopped Cuzzolino's shot with his face and got the crowd going.
Minutes later, Japan would concede another goal, but with the roaring home crowd on their back, the Japanese side showed their spirit. In the 34th minute, Yoshikawa scored Japan's first goal after playing a give-and-go with Shimizu.
In the last four minutes of the game, Yoshikawa subbed in for the goalkeeper to initiate the power-play. In the 39th minute, after receiving the ball from Yoshikawa, Shimizu struck the ball with his left foot to narrow the gap to two goals. However, Japan's come-back would end there. Japan came short of the world champions, losing 4-2 in the first match of the international friendly series.
The second match will be held on Sunday 28 January at Toyama City Gymnasium in Toyama Prefecture.
Coaches' and Players' Comments
Bruno GARCIA, Coach (Japan Futsal National Team)
This international friendly was part of our preparation for the AFC Futsal Championship Chinese Taipei 2018, and in that sense, it was a very meaningful match for us. We would like to thank Argentina Futsal National Team for that. We have dominated the match in many aspects, but our opponent was much more critical in the final third, and they didn't give us much chances to score neither. We will reflect on this match, analyse where we need adjustments, and try to make the next match more productive, in order to continue our preparation for the AFC Championship.
SAITO Koichi, FP #4 (Japan Futsal National Team / NAGOYA OCEANS)
As one of the few lefties on the team, I need to take many shots for the team. Also, playing physical as a Fixo is my style, and I think I was able to show those aspects. But I am responsible for the fourth goal we allowed, so that's something I need to correct. It was certainly a disappointing loss, but I will keep my head up and keep fighting hard. Even a small mistake can be crucial playing against a team like Argentina. You can really tell that they have been playing against many teams, as our offensive press seemed to work in some occasions, but they were able to avoid the crucial situations, and I felt like that was a huge difference.
YOSHIKAWA Tomoki, FP #6 (Japan Futsal National Team / NAGOYA OCEANS)
The opening goal we allowed blew away our composure, and we couldn't start off the match well. To be honest, the pressure by Argentina was not as strong as I thought. There were plenty of situations where we were able to play freely, so we just need to play with more poise. I was part of the set with the younger players, so I tried to maintain the balance and calmed the match down, but there were still things that needs to improve. If you give out a small mistake or even the slightest chance, the world champions will punish you, so we'll give our best from the very first second of the next match.
SHIMIZU Kazuya, FP #12 (Japan National Futsal Team / Fugador Sumida)
I think the match could have gone either way, only if I had scored in those situation I was supposed to score. We scored with our power-play and that's one of the positive things we gained from this match. Before the match I reminded myself of the physical strength the South American players possessed, recalling from the time we played an international friendly against Colombia. In the second half, we were able to gain momentum by focusing on how we possessed the ball under pressure. The time I assisted Yoshikawa Tomoki's goal, I made a good decision on how I trapped the ball. I realised that chances can be created if I do what I am supposed to do, and adjust according to each situations.
WATANABE Tomoaki, FP #13 (Japan Futsal National Team / FUCHU ATHLETIC F.C.)
I think we were equally matched or even better playing against Argentina. But the result says it all, they were able to capitalize on their chances. It's definitely disappointing to lose the match, but we need to keep our heads up. We just need to finish our chances and win our next match. We were able to showcase good defense, as we efficiently switched between dropping deep and pressing forward. Overall we had lots of positive takeaways from this match.
Diego GIUSTOZZI, Coach (Argentina National Futsal Team)
I am very happy with the positive result. I think both Japan and Argentina were able to deliver a spectacular match. We played this match after twenty hours of traveling and one practice session. Our players showed great performance considering the circumstance. In many situations in the match, Japan dominated us, but we expected the match to be that way. We were able to score in the critical moments, and that helped us get this result.
(Japanese version only)
Schedule
Mon. 22 January
10:00
18:00
Training (ARENA TACHIKAWA TACHIHI) *open to the public
Training (ARENA TACHIKAWA TACHIHI) *closed‐door
Tue. 23 January
10:30
18:00
Training (ARENA TACHIKAWA TACHIHI) *open to the public
Wed. 24 January
10:00
PM
Training (ARENA TACHIKAWA TACHIHI) *open to the public
Official Training *closed‐door
Thu. 25 January
10:00

Training (ARENA TACHIKAWA TACHIHI) *open to the public
2-4
International Friendly Match vs Argentina
(Tokyo / Ota-City General Gymnasium)
For more information
Fri. 26 January
18:00
Training *open to the public
Sat. 27 January
AM
PM
Training*closed‐door
Official Training *closed‐door
Sun. 28 January
15:10

International Friendly Match vs Argentina
(Toyama / Toyama City Gymnasium)
For more information
*The schedule is subject to change due to the team condition, the weather, etc.