NEWS
U-21 Japan National Team win first match with Itakura's goal - AFC U-23 Championship China 2018
11 January 2018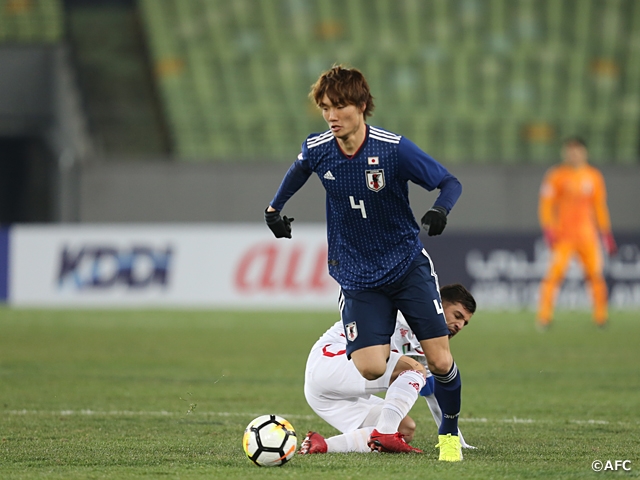 The U-21 Japan National Team had their first match of Group B in the AFC U-23 Championship China 2018 on Wednesday 10 January in Jiangyin, China, as they won against the U-23 Palestine National Team 1-0 with defender ITAKURA Kou's goal.
Coach MORIYASU Hajime has tried to improve players' physical condition and instil his concept since the team was launched on Tuesday 2 January. "Have courage and try your best, " Moriyasu said to his players before sending them onto the pitch. He started KOJIMA Ryosuke as the goalkeeper, SYOUJI Honoya, TATSUTA Yugo and Itakura at the defensive line, FUJITANI So on the right flank and URATA Itsuki on the left, KAMIYA Yuta as defensive midfielders, MIYOSHI Koji and IWASAKI Yuto as offensive midfielders and KOMATSU Ren as a striker.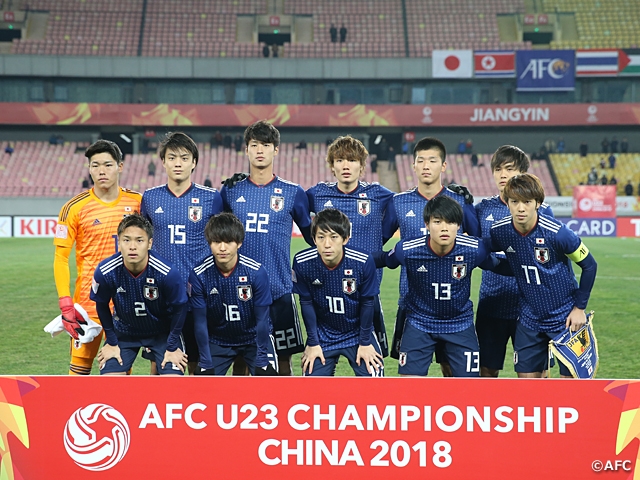 Japan possessed the ball and looked for attacking chances early in the match. In the 5th minute, Komatsu controlled Fujitani's cross for Inoue who fired a shot in the end, which hit off the bar. In the 11th minute, Itakura dribbled up and launched his own. Miyoshi met a cross from Fujitani running up on the side in the 13th minute but could not convert it. Palestine started to park the bus not to give spaces to Japan. Then in the 20th minute, Itakura went up with the ball from the defensive and played a one-two with Inoue ahead to the edge of the box before driving a shot into the left corner of the net to make it 1-0. Japan, scoring the important opening goal, tried to further break through Palestine as Fujitani responded to a deflection in the 38th minute, but his effort could not add to the scoreline before the break.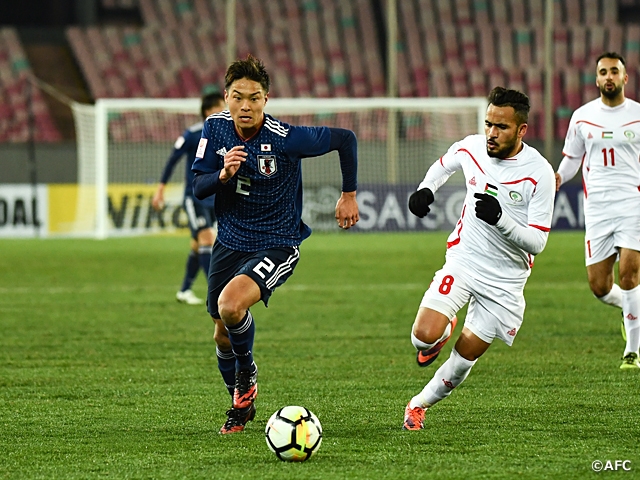 Entering into the second half, Palestine, who looked for an equaliser, put more pressure on Japan and enhanced intensity to come forward. Palestine did not find any critical chance but had aggressive efforts at goal by picking up a second ball by taking advantage of mistakes from the Japanese side. In the 63rd minute, up front TAGAWA Kyosuke replaced Komatsu. In the 76th minute, Tagawa ran in behind the defence and went forward to the goalmouth, but his left-footed shot went wide of the right post. Then, TAKAGI Akito drove a shot in the box off Tagawa's lay-off, but the Palestine goalkeeper kept it out from the net. After robbing a back pass in the 85th minute, Palestine's Yousef got straight through behind Japan's defence and found himself one-on-one with the goalkeeper. His shot flew off target as Japan got out of trouble. Holding on to the slim lead, Japan won their first match 1-0 to earn three points.
Moriyasu gave praise to his players despite pointing out a couple of problems such as quality of play, condition and the offence in the second half. "My players tried to show (what we've worked on) in the match. They were tenacious and battled it out."
DPR Korea beat Thailand 1-0 in the other match of Group B. The second matches will be held on Saturday 13 as the U-21 Japan National Team face the U-23 Thailand National Team at Jiangyin Sports Center at 7:30 pm (8:30 Japan Time).
Coach's and Players' Comments
MORIYASU Hajime, Coach
The first match is difficult in any age-group tournament. My players kept up with the intense training in the run-up period to the tournament and tried hard today as well. In the first half, we created a couple of chances by moving the ball around, but the opponents started to retreat midway through the match. It's tough to break through with passing moves when the opponents stay back like that, but my players were thinking about how to resolve it with patience. We on the bench didn't also feel rushed. In the second half when Palestine started to press harder, we made some mistakes and couldn't create chances in offence like the first half. We've got to improve the quality including up front.
DF #2 FUJITANI So (Vissel Kobe)
The first match was important, so I'm glad to get three points. As we dominated possession and had short defending stretches, I was able to focus on offence. My coach also told me to attack aggressively, so I believe I was able to showcase myself in that sense. I couldn't mark any assist. That's what I've got to work on it. We all will figure out and improve what we couldn't make today before coming out to the next one three days later.
DF #4 ITAKURA Kou (Vegalta Sendai)
I was expecting a difficult match as it was the first one. It was tough, but I'm happy to win it out. The opponent on my side was staying back and the player at a higher position was being marked, so I knew we can create a chance by me running up with the ball. It resulted in the goal. But we should have gone for more goals after scoring the first one. We will focus on and come out for the Thailand match with this momentum.
DF #22 TATSUTA Yugo (Shimizu S-Pulse)
I want to think positively about the fact we kept the clean sheet. Talking about the defensive line, the distance between defenders was good, and we took a challenge and covered each other well. We will improve the quality and keep it up even if the members and the positions change. In terms of our offence, we needed to push up more so that the midfield could keep high and the offence could have more variations. We could have scored more goals.
MF #17 KAMIYA Yuta (Ehime FC)
It's big we played at our pace in a game where opponents' pressing was not so intense. We kept them scoreless, but it would have been good if we had scored more. We have an ability to cope with any situation including the pitch condition and were able to play in our favour by good combination and possession from the back. There were some situations where I couldn't make my passes timed nicely with up front, but I will make adjustments in a short period of preparation time to combine better and feed more forward passes in the next one. We need to play both fast and slow in offence, so I want to share my ideas with my teammates.
Schedule
AFC U-23 Championship China 2018
Tue. 9 January
AM/PM
Training
Wed. 10 January
1-0
vs Palestine(Jiangyin Sports Center)
Thu. 11 January
TBC
Training
Fri. 12 January
TBC
Training
Sat. 13 January
19:30
vs Thailand(Jiangyin Sports Center)
Sun. 14 January
TBC
Training
Mon. 15 January
TBC
Training
Tue. 16 January
16:00
vs DPR Korea(Jiangyin Sports Center)
Wed. 17 January
TBC
Training
Thu. 18 January
TBC
Training
Fri. 19 January
16:00/19:30
Quarter-Finals(Jiangyin/Changzhou)
Sat. 20 January
TBC
Training
Sun. 21 January
TBC
Training
Mon. 22 January
TBC
Training
Tue. 23 January
16:00/19:30
Semi-Finals(Changzhou/Kunshan)
Wed. 24 January
TBC
Training
Thu. 25 January
TBC
Training
Fri. 26 January
16:00
3/4 Place Playoff(Kunshan Sports Center)
Sat. 27 January
16:00
Final(Changzhou Olympic Sports Center)
*Local Time
*The schedule is subject to change due to the team condition, the weather, etc.
AFC U-23 Championship China 2018
Tournament Period: Wed. 10 - Sat. 27 January 2018
Japan's Matches:
Match 1st Wed. 10 January vs Palestine
Match 2nd Sat. 13 January vs Thailand
Match 3rd Tue. 16 January vs DPR Korea