NEWS
Vol.7 The World Cup year is a good opportunity to begin reforming
01 January 2018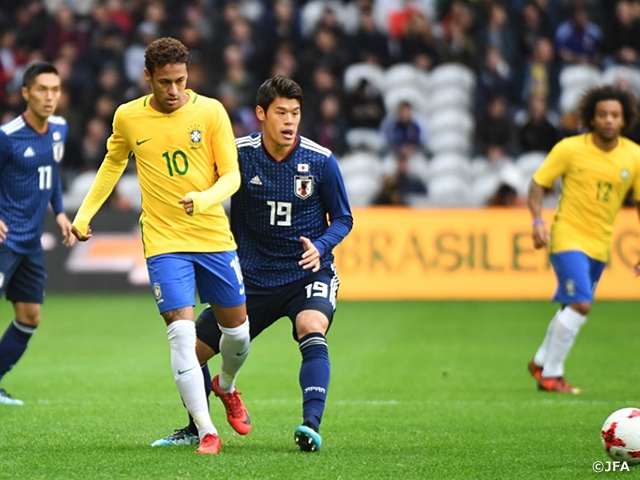 Remaining on World Stage
To the football family and everyone concerned, I would like to wish you a happy new year.
Since 2016, the Japan Football Association (JFA) has focused on strengthening national teams of every age group with the key word of "Global Standard", including setting up matches against world's top teams.
With regard to youth development, we assigned former coaches of national teams and J.League clubs and academy specialists as "Regional Chief Youth Directors" in nine different regions. Furthermore, we launched "JFA Training Centre Certification System" to provide quality coaching allocating an appropriate number of coaches. We worked on improving skills of coaches by sending youth coaches to overseas top clubs as part of the JFA-J.League Cooperated Development Programme so as to build the system where we can realise "Revitalising Japan Way of Development" and "Global Standard."
Japan national teams have had more opportunities to compete at a high level by taking overseas tours and playing against world's top teams for international experiences from young age.
Those efforts paid off, and the national teams from all age groups won through the Asian qualifiers last year. J.League side Urawa Reds won the Asian title for the first time in 10 years and played in the FIFA Club World Cup.
Japan U-20s advanced to their first world stage in five years, while U-17s played their first World Cup in two years. Beach soccer national team also took part in the World Cup. Japan U-17s were regarded as the favourites to lift the trophy and attracted overseas media attention during the tournament.
The young squad made great efforts under coach MORIYAMA Yoshiro and put up a great battle against England in the final round (round16), which went into the penalty shootout, but there was a large barrier to the world level in terms of individual skills such as speed, physical strength and skills. It was a disappointing experience, but we were given an opportunity to figure it out because we actually experienced the World Cup. It was meaningful that the players realised first-hand what it means to continue to take part in the world championships. I have been reminded that we all must persevere in our efforts and challenges this year to continuously compete in the world championships.
Thoroughly Preparing for FIFA World Cup Russia 2018
As the World Cup Russia pairing was determined, the preparation for the finals has begun. Japan were drawn in Group H along with Colombia, Senegal and Poland. Since we were placed in Pot 4, every opposing team is ranked higher than us regardless of the groups.
Colombia beat us 4-1 in the final match of the group stage of the last World Cup Brazil, while Senegal came through the continental qualifiers on top. Poland may be unfamiliar for Japanese but are the fiercest opponents of the group, being ranked 7th in the FIFA rankings (as of 21 December 2017). It goes without saying that Japan will be forced to fight uphill battles in the group with teams having different traits.
The key is how much we can close the gap in the remaining half year until the tournament. It's hard to improve to the world top-level overnight, but we can create a better chance for ourselves if we keep doing for 80 or 90 minutes what we successfully did for 70 minutes against Belgium in November.
The first opponents are Colombia. As Japan will focus on the first match, I hope we can get well prepared for the important day.
Our base camp location has been determined as Kazan in central Russia. We chose the city as our base because access to the sites for the three group-stage matches is manageable, and the accommodation and training facility are located on the same premises.
In this coming World Cup, five Asian teams are participating for the first time in history. The results may affect the number of spots for Asia in the World Cups after 2026, so you can say we are responsible as the representative of Asia. The team will start preparations with full support from the association to get better results.
Aiming at "World Standard" in All Categories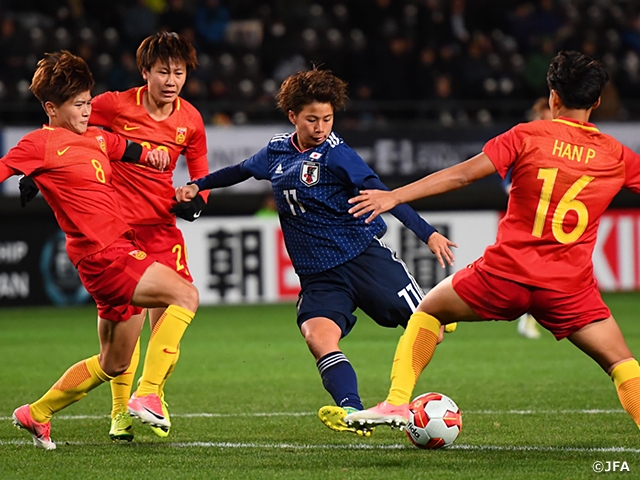 Nadeshiko Japan have undergone difficult rebuilding and now move on to the AFC Women's Asian Cup under coach TAKAKURA Asako. The spot in the Women's World Cup France in 2019 is at stake while the Tokyo Olympics is only two years away now. We will develop the team to get back to the world champions by working together with U-20 and U-17 squads.
Our men's U-21 led by coach MORIYASU Hajime played in the M-150 CUP in Thailand last December and went off to a good start by winning the second place against opposing U-23 teams. This year, after participating in the AFC U-23 Championship in China starting on 9 January, the squad will go on for two international trips before playing in the Asian Games in Indonesia in August. With their eye on winning a medal in the Tokyo Olympics, they will work hard to win the championship there.
U-19s and U-16s are aiming at the respective AFC Championship to get back to the world tournament. Elite teams in the world have youth players already blossoming in top leagues. Teams like England who won the U-20 and U-17 World Cups last year are playing matured football just as top teams do. Japan have players such as HIRAKAWA Rei and KUBO Takehusa making J. League debut and coming into fashion. We as the association need to work with J.League to make the environment better for such young players to gain meaningful experience to become able to match up with worlds' elite players.
Our futsal national team will continue developing under Bruno GARCIA. This year, Futsal and beach soccer will not have any world tournaments and Asian qualifiers. Therefore, we would like to establish the great foundation of the team now. Women's futsal started the national league in full scale last year. Hopefully the effect will show in the upcoming AFC Championship in April.
World Cup Year Being Opportunity for Reforming
There must be countless number of youngsters who look at SAMURAI BLUE players challenge the world's highest stage and dream to be a football player and a national team player. Our national team being great and attractive can increase the number of people playing football and that wealth of player pool can create better talents for our future. In that sense, we regard this World Cup year as a good opportunity to begin reforming in various ways because it attracts attention especially from children.
While we continue the activities we started already, our player development focuses on reorganising the developing scheme of U-10 and U-12 generations. For our country to match up well against worlds' elite countries, it is necessary to provide coaching based on the world standard to players of elementary school age. This is something we learned after doing research on player development in France and England who made it to the U-17 World Cup.
They call it "Fun & Quality" and teach both fun part of playing football and decent skills at the same time. The JFA will look once again into the optimal coaching according to player's age and attempt to reorganise the coaching system that suits this country.
We will spend more time and efforts on training coaches as well. This year, we will send coaches overseas for a considerable length of time for training and hold the UEFA License training as well as bring coaching instructors from overseas. Those measures will provide our coaches with opportunities to improve at a high level. Female coaches will have a new Class B coaching training. In addition, we will try to increase the overall number of female coaches by holding more Class D coaching training for female coaches as rookie coaches training for the Nadeshiko League.
The national trend of having less children in this country as a whole is obvious in the decrease in our number of U-12 player registration and kids programme participants. In cooperation with our 47 prefectural football associations, more events such as kids festivals and supports sessions for elementary schools' PE class will be held.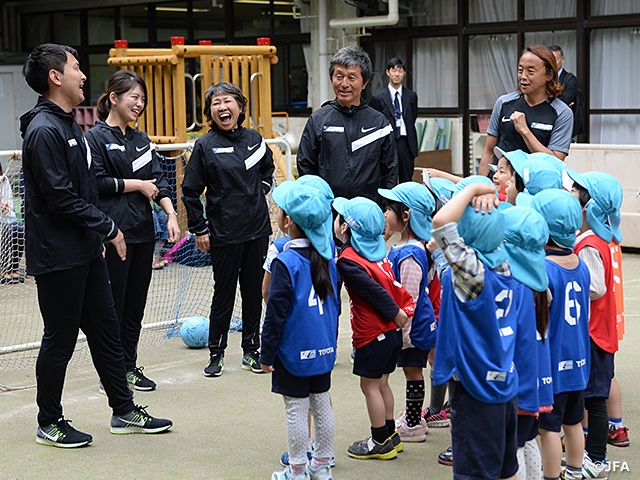 Promoting football is beneficial not only for developing our football world but also for providing opportunities for children to grow healthily and find joy in life and for the population as a whole to live longer.
As modern technologies such as IT an AI are changing our lifestyle, the role of sports is becoming bigger and bigger in terms of promoting good health and enriching our leisure time. With the Tokyo Olympics and Paralympics only two years away, we as the football world need to seriously look at the sports industry of so-called "Post 2020". Together with the 47 prefectural associations and other sports organisations, the JFA will continue conveying the joy and the value of sports and creating more opportunities of "playing", "watching" and "taking an active role" in sports. Of course, our ongoing CSR projects such as "JFA Kokoro no Project" and assisting disaster reconstruction efforts will remain active as well.

The JFA would like to wish a wonderful year 2018 to everyone in our football family and sincerely ask for continuous support to Japanese football.