NEWS
Yokohama Marinos win close match against Kashiwa Reysol and advance to first final of Emperor's Cup in four years — The 97th Emperor's Cup All Japan Football Championship
24 December 2017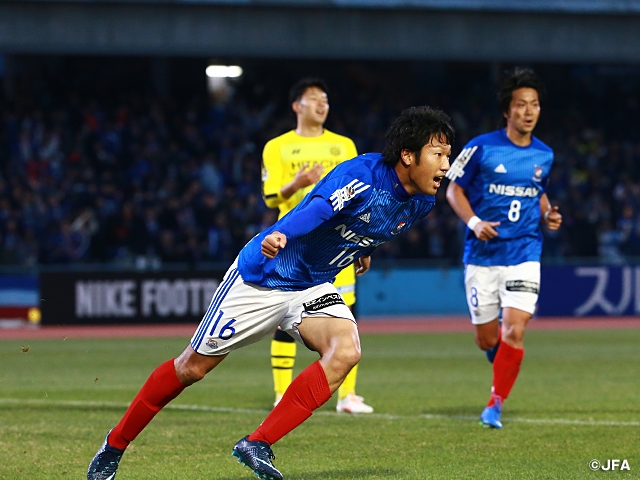 Two semi-final matches of the 97th Emperor's Cup All Japan Football Championship took place on Saturday 23 December,
Yokohama F・Marinos(J1) 2-1(0-1,1-0 ext. 0-0, 1-0)Kashiwa Reysol(J1)
Yokohama F・Marinos, making their semi-final appearance for two straight years, went head to head against Kashiwa Reysol, who reached the semi-final for the first time in two years. The battle between two J.League clubs based in the Kanto Region sold out its ticket the day before the matchday and drew more than 20,000 fans to Todoroki Stadium.
While the match kicked off with both teams employing a 4-2-3-1 formation, Kashiwa Reysol started off strongly and took the early initiative. After a pair of unsuccessful attempts from NAKAGAWA Hiroto in the 8th minute and ITO Junya a minute later, Ramon LOPES fired a shot near the centre circle with his left foot on 11 minutes and his effort went over the opposing goalkeeper and into the net to give his side an early lead. Another goal-scoring chance for the Kashiwa club came one minute later, when Ito Junya aimed a header off a cross from Lopes, but was denied by a superb save by Yokohama's goalkeeper IIKURA Hiroki.
On the other hand, Yokohama FM failed to create many scoring chances in the first half against the Kashiwa side with compact and effective defence. More bad news came in the early part of the second half, as OHGIHARA Takahiro injured his left leg and had to leave the pitch. Coach Erick MOMBAERTS brought on forward ITO Sho and shifted AMANO Jun from second striker to central midfielder, and changed to a more attacking 4-4-2 system.
The substitution had reenergised Marinos and they began to put stronger pressure from the frontline and orchestrated several promising chances by delivering effective crosses from both flanks. Then, they finally capitalised on the goal-scoring opportunity in the 69th minute, when SHIMOHIRA Takumi sent a cross ball from the left side and Ito Sho ran past the Kashiwa defenders and found himself unguarded inside the box to level the match with a header.
YOKOHAMA FM kept their momentum and fashioned another chance to score from a counter-attack in the 87th minute. After an exchange of pass between MARTINUS and YAMANAKA Ryosuke, Hugo VIEIRA collected the ball and made a right-footed attempt, but his effort could not find the back of the net. In the closing minutes of the game, Yamanaka fired a free-kick, but was unable to put his team ahead. With both sides failing to net a decisive goal to secure a win in regulation time, the match went into overtime.
It was Kashiwa who threatened the Yokohama club in extra time. In the 97th and 101st minutes, TAKETOMI Kosuke came close to scoring, but goalkeeper Iikura protected the goal by anticipating the course of the shots and parring them away from danger. Kashiwa continued to dominate the match with shots from OTSU Yuki and CRISTIAN, but Yokohama FM displayed their strength in defence and did not allow them to score any goals.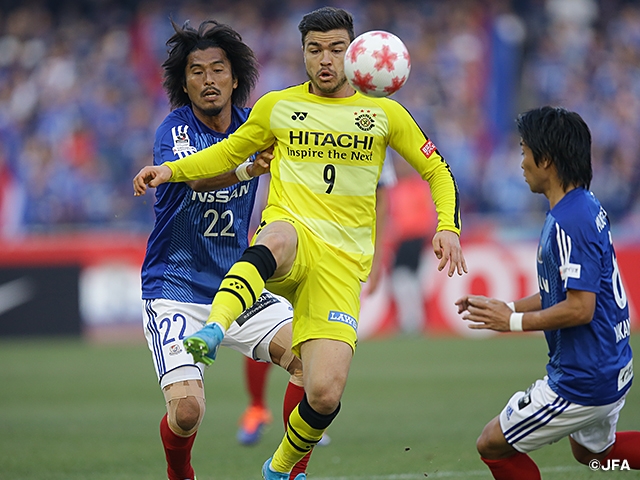 Yokohama FM on the back foot waited patiently for their chance and scored a decisive breakaway goal in the 118th minute. ENDO Keita combined with MATSUBARA Ken to feed the ball to Hugo Vieira who struck a right-footed shot into the net.

Kashiwa had KIM Bokyung make one last attempt with a bicycle shot just before the final whistle, but once again Iikura firmly guarded the Yokohama's goal. As the result, Yokohama FM grabbed a come-from-behind 2-1 win to reach the final for the first time in four years.
Match Report (Japanese version only)
Yokohama FM will face the winners of the other semi-final fixture, Cerezo Osaka (J1), in the final of the Emperor's Cup on Monday 1 January 2018.
Coaches' and Players' Comments
Erick MOMBAERTS, Coach (Yokohama F・Marinos)
I believe it was a game where both side displayed their full strength. We started off well, but our opponents fired a wonderful shot and scored an opener. In the second half, we had better control of the match and substitute Ito invigorated the team's attacks. Then, we levelled the match with a superb goal as well. In overtime, I felt that our bench could make a difference. Another substitute Endo made an excellent move and orchestrated a fine goal. We might have had some luck on our side in the end, but I must say that we played an excellent game. For the coming final, we are looking to take this momentum and make a good preparation as well.
DF #22 NAKAZAWA Yuji (Yokohama F・Marinos)
I think in today's match we displayed what we have been working all season long. We conceded a goal and it put us in a difficult situation. However, we quickly shifted our mind and kept our focus, and did not allow it to adversely affect us. As long as we protected the goal, we trusted Hugo (Vieira) to score a goal for us. I kept reminding myself of this as I believe this is the way Marinos played throughout this season. For the final, we will keep our style of play and compete in the match. I believe that the team with better performance in the final will win the tournament. We will make the necessary preparations next week to put forth such performance as well. If we can display our brand of football, then we have a good chance of winning the final.
SHIMOTAIRA Takahiro, Coach (Kashiwa Reysol)
In the first half, Marinos performed well both offensively and defensively and we struggled as they did not allow us to play to our strength. During such time, Lopes made an excellent shot from range and gave us the first goal of the match. Since then, the match saw a seesaw struggle until Marinos exploited a gap in our defence and levelled the game. Furthermore, we allowed them to get ahead in overtime. I believe that we had more chances to score, but were unable to capitalise on them and lost the match. During the regular season, we suffered similar defeats where we had control of the match, but allowed the opponents to score from counter-attacks. However, I must also say that our players fought hard until the end of the match. We will be reminded of the bitter loss that we suffered today and capitalise on this experience to create a stronger team for the next season.
MF #7 OTANI Hidekazu (Kashiwa Reysol)
I had a good image of what we were trying to do as a team. We put pressure from the frontline, but Marinos built up their attacks well starting from goalkeeper Iikura and did not allow us to intercept the ball easily. We kept our focus even when our opponents had possession of the ball and played with composure. However, we also made simple passing errors that made us difficult to play with good rhythm. I believe that we did well to fight with competitive spirit until the end of the match, but could not keep the opponents from scoring. I must admit that we were under-strength. Next year we need to strengthen our team to come through at the crucial moments to win the game.
Other Fixture
Vissel Kobe(J1) 1-3(0-0, 1-1 ext. 0-1, 0-1) Cerezo Osaka (J1)
Match Report (Japanese version only)

【First Round】Saturday 22, Sunday 23 April
【Second Round】Wednesday 21 June
【Third Round】Wednesday 12 July
【Round of16(Fourth Round)】Wednesday 20 September
【Quarter-finals】Wednesday 25 October
【Semi-finals】Saturday 23 December (National Holiday) 
【Final】Monday 1 January 2018 (New Year's Day)