NEWS
Nadeshiko Japan draw with Belgium
14 June 2017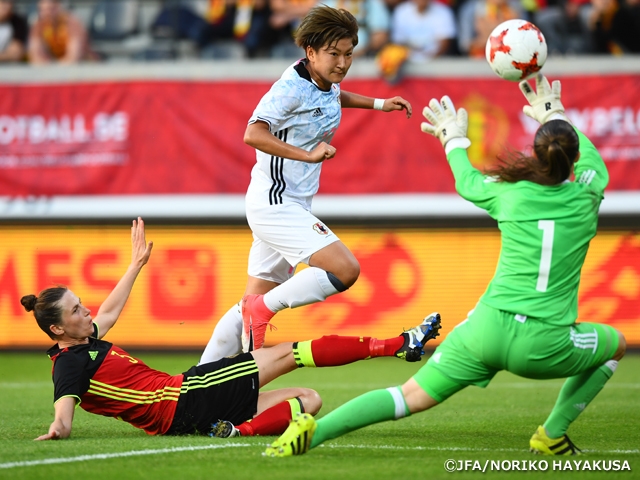 International Friendly Match vs Belgium Women's National Team
13 June 2017 (Tue.) Kick-off 20:00(Local time)Playing time 90min.(45min x 2)
Stadium Den Dreef Leuven(Lueven, Belgium)
Belgium Women's National Team 1-1(0-0, 1-1)Japan Women's National Team
Scores
69' SUGASAWA Yuika (Japan Women's National Team)
72' goal against (Belgium Women's National Team)
Starting Line-ups
GK:YAMANE Erina
DF:ICHISE Nana, KUMAGAI Saki (C), TAKAGI Hikari
MF:SAKAGUCHI Mizuho, NAKASATO Yu, SUGITA Ami, HASEGAWA Yui, NAKAJIMA Emi
FW:TANAKA Mina, YOKOYAMA Kumi
Reserves
GK:YAMASHITA Ayaka
DF:SAMESHIMA Aya, NAKAMURA Kaede, SASAKI Mayu, OYA Ayumi
MF:NAOMOTO Hikaru, SUMIDA Rin
FW:SUGASAWA Yuika, MOMIKI Yuka, UENO Mami
Substitutions
46' ICHISE Nana → SAMESHIMA Aya
46' TANAKA Mina → SUGASAWA Yuika
46' SUGITA Ami → SASAKI Mayu
67' YOKOYAMA Kumi → MOMIKI Yuka
74' NAKAJIMA Emi → OYA Ayumi
91' NAKASATO Yu → NAOMOTO Hikaru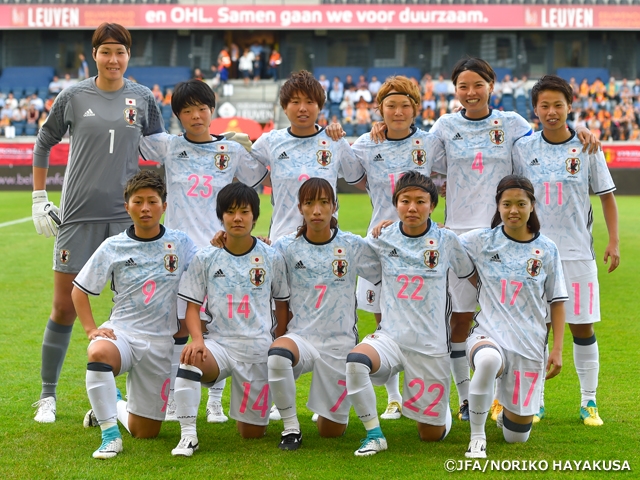 Match Report
On Tuesday 13 June, Nadeshiko Japan (Japan Women's National Team) drew 1-1 with Belgium Women's National Team in an international friendly match.
In the game held at Leuven in Belgium, TAKAKURA Asako for the first time used the back-three system after she became the national team coach and started with goalkeeper YAMANE Erina, defenders ICHISE Nana, KUMAGAI Saki and TAKAGI Hikari aligned from left to right, defensive midfielders SAKAGUCHI Mizuho and NAKASATO Yu, left halfback SUGITA Ami, right halfback NAKAJIMA Emi, attacking midfielder HASEGAWA Yui, and forwards TANAKA Mina and YOKOYAMA Kumi to face Belgium.
Japan came close to the opponents' goal early in the game with forward Yokohama's volley shot hitting the crossbar in the 8th minute. Then, moments later Yokohama delivered a pass to forward Tanaka waiting in front of the goal, but the Japanese striker failed to make a scoring attempt. Thereafter, the Japanese squad continued to threaten Belgium with midfielders Nakajima and Hasegawa fashioning few chances on the attacks, but the Takakura's women could not find the net before halftime ending scoreless.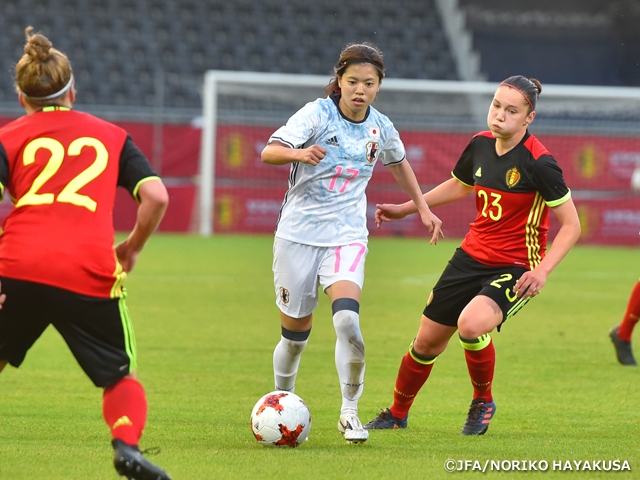 Defender SAMESHIMA Aya, midfielder SASAKI Mayu and forward SUGASAWA Yuika were brought on from the beginning of the second half to create scoring chances for Nadeshiko. Then, Japan earned a free kick to the left just outside of the penalty area in the 69th minute and Sugasawa swiftly reacted to the missed clearance to strike a left-footer into the back of the net to open the scoring for her side. However, Belgium came back soon with an equaliser in the 72th minute with a header off a right cross. Both Japan and Belgium looked for a go-ahead goal in the last quarter of play and threatened each side's goal, but did not have the finishing touch to break the tie in a match ending in 1-1.
Nadeshiko Japan ended their Netherlands-Belgium tour with one win and one draw. They are scheduled to make another tour in the United States this late July to participate in the four-country competition "Tournament of Nations". In the following tourney, they will face Brazil, Australia and USA and strive further to strengthen the team.
Coach's and Players' Comments
TAKAKURA Asako, Coach
We couldn't inject enough pace in our attacks, and we ended up wasting the first half. After the Netherlands match, my played worked hard on trying out new formations, and I believed we were ready to take this team to a new level, but unfortunately it did not go easily as I hoped. This experience of drawing the match became a positive takeaway, after the team shared how not to make the same mistake again and allow the opponents to level the game. Lastly, I expect my players to fully understand the meaning of playing for Nadeshiko and work hard to improve the quality of their plays before coming back to join the national squad again.
MF#17 HASEGAWA Yui (NIPPON TV BELEZA)
It was for the most part a disappointing match. We scored first, and should have kept the opponents from scoring. I was positioned as an attacking midfielder today. I consider one of my signature plays is to create easy pathways to send passes for my teammates by finding space between the opponents or with good off-the-ball movements, and I capitalised on this strength to connect excellent forward passes with my club teammates Sakaguchi and Nakazato. Once I return to Japan, I will be more aggressive in challenging the opposing defence and finding myself in position to attempt a shot in the Nadeshiko league.
DF #4 KUMAGAI Saki (Olympique Lyonnais)
It was a disappointing result. Not scoring in the first half came back to haunt us. As we have more training and matches together, we are finally getting to bring out the strength of each other more often on the pitch. I hope the team will be playing at a higher level before gathering for the next tournament.
FW #13 SUGASAWA Yuika (Urawa Red Diamonds Ladies)
In regards to the goal I scored, the opponent's miss-kicked ball dropped just in front of me, and I struck it at full force. I believe I need to be more clinical in my finishes when chances arrive in future matches.
Schedule
Mon. 5 June
TBC
Training
Tue. 6 June
AM/PM
Training
Wed. 7 June
AM/PM
Training
Thu. 8 June
AM/PM
Training
Fri. 9 June
1-0
International Friendly Match vs Netherlands
(Rat Verlegh Stadion)
Sat. 10 June
AM
Training
Sun. 11 June
AM/PM
Training
Mon. 12 June
AM/PM
Training
Tue. 13 June
1-1
International Friendly Match vs Belgium
(Stadium Den Dreef Leuven)
*Local Time
*The schedule is subject to change due to the team condition, the weather, etc.
Related News