NEWS
Application starts from 17 March - JFA UNIQLO SOCCER KIDS in Singapore Event Information
17 March 2017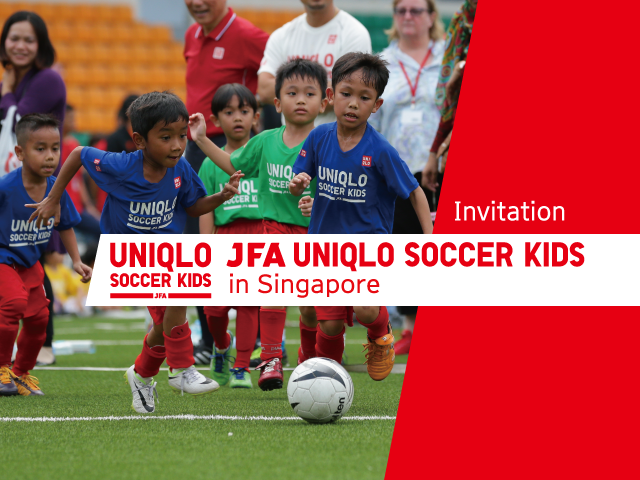 JFA UNIQLO SOCCER KIDS is the joyful football festival that any child under 6 years old who is yet to enter school can join. Registration is free-of-charge and no prior football experience is required. Japan Football Association and prefectural football associations co-organize the festival in 14 venues all over Japan and this time, the festival will be held at Jalan Besar Stadium in Singapore on Saturday, 22 April 2017. The application will start from Friday, 17 March via JFA official website.
JFA UNIQLO SOCCER KIDS in Singapore Registration Information
Organiser:
JAPAN FOOTBALL ASSOCIATION
Host Association:
FOOTBALL ASSOCIATION of SINGAPORE
Title sponsor:
UNIQLO (SINGAPORE) PTE. LTD.
Venue:
Jalan Besar Stadium,
100 Tyrwhitt Rd, Singapore
Date:
Saturday, 22 April, 2017
Application Period:
17 March - 14 April / Registration ends at 5pm on 14 April, 2017 (Local Time)
Application page will close when it reaches the capacity.
Schedule:
Reception 9:00 / Opening Ceremony 9:40 / Festival 10:30-12:40 / Closing Ceremony 12:50
Age and team restrictions: For children under 6 only. Teams should consist of 4 to 8 children. No primary school children allowed. Both boys and girls are welcome and no prior football experience required. Teams with less than 4 children will not be allowed to register. For teams with more than 8 children, please apply as 2 teams.
Team selection:
Registration is capped at 72 teams.
Teams will be selected on a first-come, first-served basis. Application form will be closed when it reaches the capacity. Please register early.
Registration fee:
Free-of-charge
How to apply:
Please register online at either the JFA or FAS website.
Click Here.
Notes
- There may be changes to the number of teams and programme due to unforeseen circumstances.
- To allow this event to reach even more people, the organisers and sponsors may use photos and videos of participants taken during the event for promotional and archival purposes. Personal information provided during registration will be used for operational purposes for this event.
- Parents are allowed to support from behind the pitch lines but no heels will be allowed at pitch level. Please wear sport shoes to the venue or change into sport shoes before entering the football pitch.
- Parking lots are highly limited. Participants and parents are strongly encouraged to come to the venue by public transportation.
- Insurance will be provided for all participants and staff, but please note that coverage is limited. Please also be noted that while the organisers will attend to injuries, adult supervisors will be responsible for all other matters.
Regulations
- The aim of this event is to let children have fun experiencing football. Standard football rules may not apply to these matches. Each team will play 3 matches. Each match will consist of 4 players on both sides. Players may be changed at any time from the players' bench.
- Match duration is 10 minutes per match, no half-time breaks. Pitch size is Touchline 20m x Goal line 12m. Goal size is 1m (h) x 2m (w). Ball is Size 3 (provided by organisers).
- UNIQLO T-shirts will be provided on the day of the event. Participants need to change into these T-shirts before the event. Participants will need to wear their own shorts, shoes and socks.
- Please make sure that each team has at least 1 adult supervisor.
- There will be no announcement of winners and losers.
- Please make sure that all participants wear comfortable shoes. Spikes are not allowed.
- Referees are provided by organisers.
In event of bad weather
In the event of bad weather (hazardous PSI level above 100, lightning and/or thunderstorm), the organisers will update in due course. Should the festival be cancelled the information will be published on our official media and will be sent by e-mail to the participants.

Football Association of Singapore Website:
http://www.fas.org.sg/
Enquiries:
Football Association of Singapore
E: grassrootsfootball@fas.org.sg
T: (+65) 6880 3164 (Weekdays, 9am - 6pm)
Event Schedule
| Date | Supervisor | Venue |
| --- | --- | --- |
| Sat. 4 June 2016 | Fukuoka | Fukuoka Yahuoku! Dome |
| Sun. 19 June 2016 | Hyogo | Noevir Stadium Kobe |
| Sun. 3 July 2016 | Chiba | Fukuda Denshi Field |
| Mon. 18 July 2016 | Aichi | Nagoya Dome |
| Sat. 10 September 2016 | Toyama | Toyama Athletic Recreation Park Athletic Field |
| Sun. 16 October 2016 | Ibaraki | Kashima Soccer Stadium |
| Sun. 30 October 2016 | Fukui | Fukui Sports Park Athletic Field |
| Sat. 26 November 2016 | Saitama | Seibu Prince Dome |
| Sat. 26 November 2016 | Kumamoto | Umakana Yokana Stadium |
| Sat. 3 December 2016 | Hokkaido | Sapporo Dome |
| Sat. 10 December 2016 | Okayama | City Light Stadium |
| Sun. 18 December 2016 | Yamaguchi | Yamaguchi Kirara Expo Memorial Park Multipurpose Dome |
| Sun. 29 January 2017 | Osaka | Kyocera Dome Osaka |
| Sat. 18 March 2017 | Tokyo | Koto-ku Yumenoshima Athletic Field |
| Sat. 22 April 2017 | Singapore | Jalan Besar Stadium |
Special Sponsor