NEWS
SURUGA bank Championship 2017 SAITAMA between the Japanese and South American Cup winners will be held next August
16 December 2016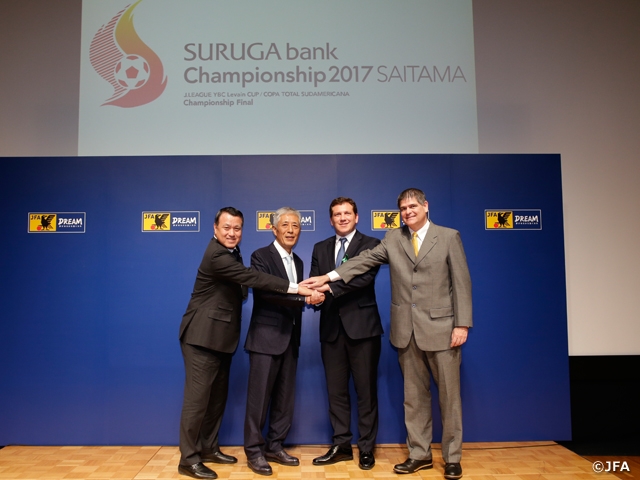 We formally announce today that the SURUGA bank Championship where the winners of the J.LEAGUE YBC Levain CUP and the COPA SUDAMERICANA play in an international competition match will be held next year.
The following championship has been taking place since 2008, and this will be their tenth year hosting this cross-continent competition. The J.League Cup winners Urawa Red Diamonds will face the South American champions Chapecoense next August at Saitama Stadium 2002.
Championship Outline
Championship Name:
SURUGA bank Championship 2017 SAITAMA
J.LEAGUE YBC Levain CUP / COPA SUDAMERICANA Championship Final
Promoters:
Japan Football Association (JFA)
South American Football Federation (CONMEBOL)
Japan Professional Football League (J. League)
Fixture:
Urawa Red Diamonds (Japan/ J.LEAGUE YBC Levain CUP 2016 winners) vs Chapecoense (Brazil/ COPA SUDAMERICANA 2016 winners)
Date:
August 2017 (TBC)
Venue:
Saitama Stadium 2002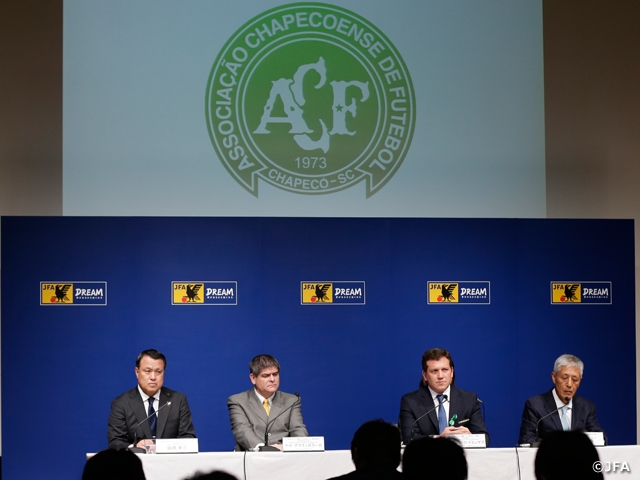 Past Championships
Year (Date)
Venue
Japanese Team
Result
South American Team
1
2008 (30 July)
Nagai (Osaka)
Gamba Osaka
0-1
Arsenal FC
(Argentina)
2
2009 (August 5)
Kyuseki Dome (Oita)
Oita Trinita
1-2
SC Internacional
(Brazil)
3
2010 (August 4)
National Stadium (Tokyo)
F.C. Tokyo
2-2
(PK4-3)
LDU de Quito
(Ecuador)
4
2011 (August 3)
Ecopa (Shizuoka)
Jubilo Iwata
2-2
(PK4-2)
Independiente
(Argentina)
5
2012 (August 1)
Kashima (Ibaraki)
Kashima Antlers
2-2
(PK7-6)
Universidad de Chile
(Chile)
6
2013 (August 7)
Kashima (Ibaraki)
Kashima Antlers
3-2
Sao Paolo FC
(Brazil)
7
2014 (August 6)
Kashiwa (Chiba)
Kashiwa Reysol
2-1
Lanus
(Argentina)
8
2015 (August 11)
Expo' 70 (Osaka)
Gamba Osaka
0-3
River Plate
(Argentina)
9
2016 (August 10)
Kashima (Ibaraki)
Kashima Antlers
0-1
Independiente Santa Fe
(Columbia)
*Overall Result:Japan 5 wins, 4 losses(including 3 wins on penalties)
About Copa Sudamericana
This is prestigious official club competition in South America football, equally crucial as the CONMEBOL Copa Libertadores. The championship started in 2002 by integrating two international football competitions - Copa Merconorte participated by clubs in northern countries of South America and Copa Mercosur for clubs in southern countries of South America, which were both held until 2001.
In Europe, two premier international competitions - UEFA Champions League and Europa League are held in parallel. In South America, the CONMEBOL Libertadores Cup is held in the earlier period of the season, whereas the Copa Sudamericana takes place in the later part. This is the reason why top clubs are able to participate in both championships, while keeping a high level of performance.

The championship is held in a knockout format- home and away, from the first round to the final with 47 participating teams from 10 different countries of CONMEBOL.
South American Football Federation(CONMEBOL)President Alejandro Dominguez Comment
In the South American Football Federation (Conmebol), there was a very sad accident. We lost many valuable football players in a plane crash in Medellin, where the Brazilian football club, Chapecoense, and their staff were on their way to compete in the final of the Copa Sudamericana. Not only their lives but also their dream of winning the major title was lost in the accident. In commemoration of this tragedy, their opponents, Atletico Nacional, have decided not to compete in the final, displaying their sportsmanship and honouring the departed football stars, and named Chapecoense as the champions of the South American club teams. We, also, concurred with this decision and officially awarded the title of Copa Sudamericana to the Brazilian club.
We will continue to participate in the SURUGA bank Championship, at the same time making our partnership permanent with the Japan Football Federation (JFA). Having a strong relationship with the JFA is also very important for the Conmebol. Using football also as the means with the aim to exchange cultures, we are hoping to strengthen the friendship with the Japanese people as well.