NEWS
U-16 Japan National Team notch lopsided win over Vietnam in AFC U-16 Championship India 2016 opener
17 September 2016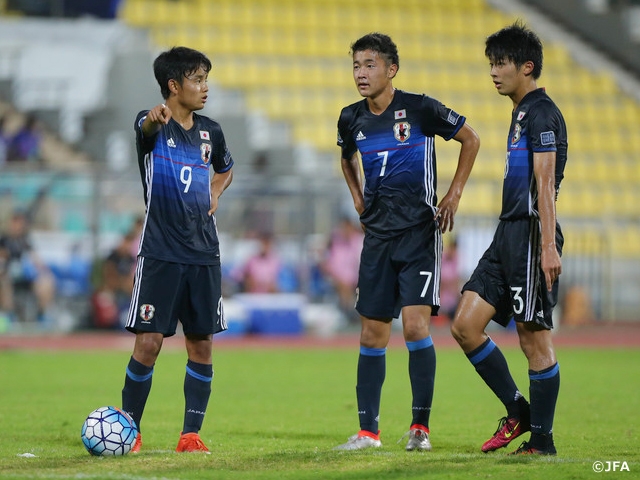 AFC U-16 Championship India 2016 Group Stage 1st Match vs U-16 Vietnam National Team
2016-9-16 (Fri.) - 20:00 Playing Time: 90min. (45mins.x2)
GMC stadium Bambolim (Goa, India)
U-16 Japan National Team 7-0 (3-0, 4-0) U-16 Vietnam National Team
Scores
16' KUBO Takefusa (U-16 Japan National Team)
24' FUKUOKA Shimpei (U-16 Japan National Team)
40' MIYASHIRO Taisei (U-16 Japan National Team)
51' FUKUOKA Shimpei (U-16 Japan National Team)
64' KUBO Takefusa (U-16 Japan National Team)
79' KEMMOTSU Takumu (U-16 Japan National Team)
85' YAMADA Hiroto (U-16 Japan National Team)
Line-ups
GK: TANI Kosei
DF: SUGAWARA Yukinari, SEKO Ayumu, KOBAYASHI Yuki, KIDA Hinata
MF: KUBO Takefusa, HIRAKAWA Rei, FUKUOKA Shimpei, NAKAMURA Keito
FW: YAMADA Hiroto, MIYASHIRO Taisei
Substitutions
GK: AOKI Kokoro, OUCHI Issei
DF: SAKUTA Ryutaro, KIKUCHI Kenta, KEMMOTSU Takumu, KATSURA Rikuto
MF: KOZUKI Soichiro, SEHATA Gijo, TANIMOTO Shunsuke, MATSUMOTO Nagi, SUZUKI Toichi
FW: TANAHASHI Akito
HT KOBAYASHI Yuki → KEMMOTSU Takumu
53' FUKUOKA Shimpei → SEHATA Gijo
66' KIDA Hinata → KIKUCHI Kenta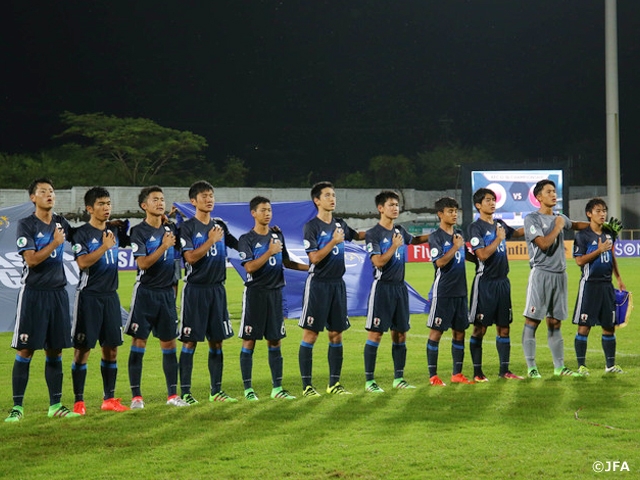 Match Report
The U-16 Japan National Team, dubbed "00JAPAN," posted a lop-sided 7-0 win over Vietnam on 16 September in the 2016 AFC U-16 Championship in India.
The U-16 Vietnam National Team finished runners-up in July's 2016 AFF U-16 Youth Championship and have focused on developing youth generation in recent year. "We are going to play actively and try to get the ball. The team who will play with stronger mind-set will win," Japan coach MORIYAMA Yoshiro told his players in a pre-game meeting.
The game kicked off at 20:00 in a hot, humid weather. Japan put pressure in their front, but perhaps because of the nervousness, they often made passing mistakes and lost the ball. But they eventually had the ball in their front more often and began creating chances. In the 16th minute, KUBO Takefusa earned a free kick and scored a goal on his own with it to take a lead for Japan.
Japan turned on their offensive switch with the goal and put more pressure in their front. In the 24th minute, midfielder FUKUOKA Shimpei netted a goal capitalizing on a pass from forward NAKAMURA Keito to extend the lead for Japan. In the 40th minute, forward MIYASHIRO Taisei received a throw-in on the right side and made an outstanding long shot into the goalmouth as Japan led 3-0 at halftime.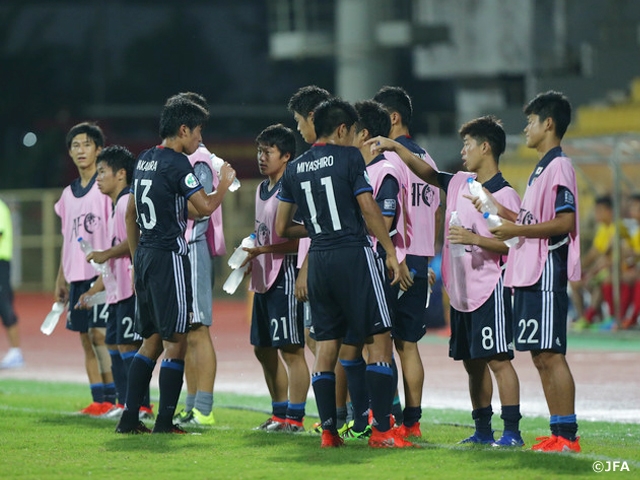 In the second half, Japan kept attacking on the opponents, who seemed to start running out of their gas. In the 51st minute, Fukuoka headed a cleared corner kick into the goalmouth for the fourth goal for Japan. In the 64th minute, Kubo dribbled past defenders on the left side and made a shot from a spot that he didn't have much angle to the goalmouth. In the 79th minute, defender KEMMOTSU Takumu, who came off the bench, headed a free kick of Kubo to score to give Japan a 6-0 lead.
Japan wouldn't let their opponents have shooting chance in the remainder of the game, and added another when forward YAMADA Hiroto reacted to a through pass from midfielder HIRAKAWA Rei and scored on it in the 85th minute. The game ended as it was. Japan got off to a great start of the tournament with a 7-0 complete win.
The next match will be against Kyrgyz Republic, who beat Australia 1-0 on the same day.
* "00 JAPAN" is the nickname of the U-16 Japan National Team that consists of members who were born after 2000.
Coach and Players' Comments
MORIYAMA Yoshiro, Coach
We didn't think that we would have this much of a lead today to be honest with you. When we took a trip to India in June this year, most of our players had to go through some conditioning struggles, like losing their weights. Reflecting on the experiences, all our staff, including our medical staff, paid efforts to get our players able to adjust to the circumstances in India and this is the result of it.
After we arrived in India, all our players have maintained their physical conditions well til today and we got the best outcome we could possible do in this first game. Early in the game, I thought that we would have a little difficult game, but we wound up scoring three goals within the first half, and it got us the momentum. We score all the goals in great ways, in the ways that we would intend to.
It'a a little surprising that Kyrgyz Republic beat Australia, both of who are in the same group with us. But we would like to have good preparation for our next game against Kyrgyz Republic.
DF #5 SEKO Ayumu (Cerezo Osaka U-18)
It gives us a sigh of relief as we won our first game. We defenders shut them out to zero goals and it gives us confidence. We would like to keep that going. To make it happen, we are going to have to have better preparation to get in the games.
MF #10 FUKUOKA Shimpei (Kyoto Sanga F.C. U-18)
Today's game was one of the best games our 00JAPAN has ever played with the way we played it. Our defenders were all vocal and communicated well with each other, and ended up not allowing any goals to the opponents. Our offence scored seven goals, but we could've scored even more, so we would like to have better accuracy on our finishes. Also, the way we came in the game was very good, so we would like to continue to keep it going.
FW #9 KUBO Takefusa (F.C. Tokyo U-18)
I think we came in the game with nervousness in a positive sense. After we scored a goal, we got relaxed and everybody was able to play communicating with each other. We got away with the big win, but we should not get satisfied with this. I would like to play correcting the issues I had in this game and play with more composure.
Schedule
AFC U-16 Championship India 2016
Thu. 15 September
PM
Training
Fri. 16 September
7-0
vs U-16 Vietnam (Goa/GMC Stadium)
Sat. 17 September
PM
Training
Sun. 18 September
PM
Training
Mon. 19 September
16:00
vs U-16 Kyrgyz Republic (Goa/GMC Stadium)
Tue. 20 September
AM
Training
Wed. 21 September
PM
Training
Thu. 22 September
16:00
vs U-16 Australia (Goa/GMCStadium)
Fri. 23 September
AM
Training (TBC)
Sat. 24 September
PM
Training (TBC)
Sun. 25 September
TBC
Quater-Finals (TBC)
Mon. 26 September
PM
Training (TBC)
Tue. 27 September
PM
Training (TBC)
Wed. 28 September
PM
Training (TBC)
Thu. 29 September
TBC
Semi-Finals (TBC)
Fri. 30 September
AM
Training (TBC)
Sat. 1 October
PM
Training (TBC)
Sun. 2 October
18:00
Final (Goa/Pandit Jawaharlal Nehru Stadium)
*Local Time
*The schedule is subject to change due to the team condition, the weather, etc.
*If India, the hosting country of 2017 FIFA U-17 World Cup, advances to the semifinals, the playoff matches will be held on 29 September and 2 October deciding the fifth place among the four losing teams in the quarterfinals.
AFC U-16 Championship India 2016
2016-9-15(Thu.)~2016-10-2(Sun.)
TV Broadcasting (Japanese version only)
More Information