NEWS
Japan team set off for Olympics with domestic camp
20 July 2016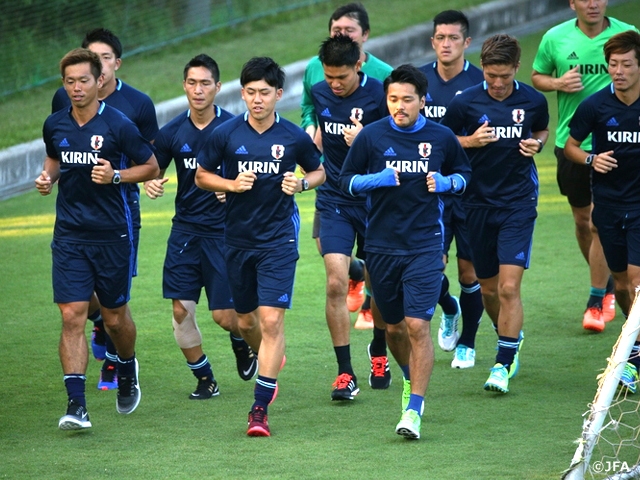 Japan's national team participating in the Rio de Janeiro Olympics began their activity for the tournament with a domestic camp in Chiba on Tuesday 19 July.
While KUBO Yuya (Berner Sport Club Young Boys/ Switzerland), MINAMINO Takumi (Salzburg/ Austria), ASANO Takuma (Arsenal FC/ England) and YAJIMA Shinya (Fagiano Okayama) join the team later due to their club schedule, three overage players forward KOHROGI Shinzoh (Urawa Reds) and a pair of defenders SHIOTANI Tsukasa (Sanfrecce Hiroshima) and FUJIHARU Hiroki (Gamba Osaka) got together for the first time to fill the spots for players over 24 years old.
In consideration of fatigue from a string of J.League matches, the first day saw the players tuning up with recovery workouts such as running, ball passing and stretching, but they still worked up a good sweat in a lively, relaxing mood.
F.C. Tokyo's midfielder NAKAJIMA Shoya and defender MUROYA Sei and Vissel Kobe defender IWANAMI Takuya worked out separately because they had just got vaccinated for the trip. Midfielder IDEGUCHI Yosuke (Gamba Osaka) stayed at hotel due to poor physical condition.
Japan coach TEGURAMORI Makoto felt in front of the players assembling 'battles with this team are now starting off' and said "we need to feel the attention and expectation from the fellow countrymen and imprint them into your brain and body. And take what we are expected and what we should achieve into your heart."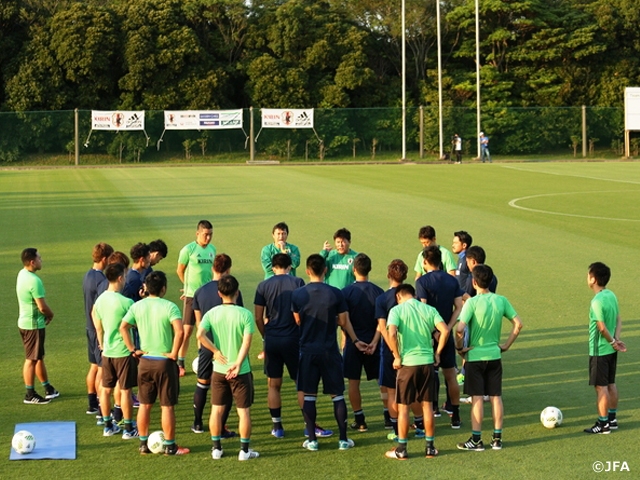 Kohrogi said, "I've been watching past video footage and asking Endo about the team. I think, playing on the pitch, I can get to know the team better. I will try to understand them by practicing together in training."
On the same day before the team gathering, a send-off party was held for the Olympic team at Japan Football Museum. On behalf of the coaching staff, Teguramori expressed his aspirations for the finals in front of 150 visitors including officials, neighbours from Kinhana Shopping District and kids from Yushima Kindergarten, saying "this coming tournament will be very precious and important for the development of Japanese football. We haven't got a medal since the Mexico Olympics 48 years ago, so we will try to get it and bring it back to Japan at any cost."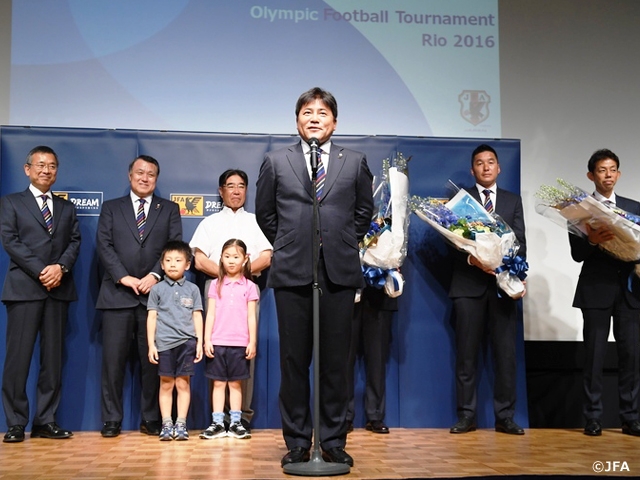 The team will continue their training in Japan until Tuesday 20 July before leaving for Brazil on Wednesday 21. In preparation for the tournament, the Japan team will start their training in the North East coast, Aracaju in the run-up to the first Men's football match starting on Thursday 4 August ahead of the Olympic opening ceremony.
Men's football competitions take place in seven cities throughout Brazil including Rio de Janeiro. Japan face Nigeria on Thursday 4 August and Colombia on Sunday 7 both in Manaus before meeting Sweden on Wednesday 10 in Salvador.
The final will be held on Saturday 20 August in Rio de Janeiro.
Coach and Players' Comments
TEGURAMORI Makoto, Coach
With the three overage players coming in, we all got together. I felt like, "battles with this team are now starting off." What we've got to achieve is massive. And to do so, it's essential to raise our mental and physical energy. While working on recovery during these two days, I want to talk about how each player can prepare themselves for the first match against Nigeria.
The most important thing ahead of the first match is conditioning. We don't need to rush. We are already fit to play against Nigeria. If we can recover from fatigue, the overage players can get integrated with the team. After getting to Brazil, I'm thinking of implementing the right amount of agility and power training.
DF #17 IWANAMI Takuya (Vissel Kobe)
It's been a while for me since the last activity with the national team. I'm looking forward to it. I'm getting back in excellent form and having more playing time for J.League matches. It's going to be competitive for a starting spot, and the group stage is tough as it has three matches with only two days off in between. There are 18 days in total. I think there is a high possibility for me to get a chance to play in a match. Every one of us has to get ready to perform well.
FW #13 KOHROGI Shinzoh (Urawa Reds)
I know well about the position of overage players; they are expected to perform as experienced, skilled players. But I don't think it's a good idea to overburden myself with pressure. I believe that I have been called up here because my everyday performance shown with my team was highly credited. Staying calm as usual is most important.
DF #6 SHIOTANI Tsukasa (Sanfrecce Hiroshima)
Watching the J.League matches and actually playing against them, I found out that we have players with talent. Rather than leading the team as an overage player, my stance is to do my utmost for the team. It's important for me to focus on reality, stay grounded and give everything I've got.
JFA-TV (Japanese version only)
Interview - TEGURAMORI Makoto, Coach

Interview - IWANAMI Takuya (Vissel Kobe)

Interview - KOHROGI Shinzoh (Urawa Reds)
Interview - NAKAJIMA Shoya (F.C. Tokyo)
Schedule
Tue. 19 July
PM
Training
Wed. 20 July
PM
Training
Fri. 22 July
PM
Training
Sat. 23 July
AM/PM
Training
Sun. 24 July
AM/PM
Training
Mon. 25 July
AM/PM
Training
Tue. 26 July
AM/PM
Training
Wed. 27 July
PM
Training Match
vs C.S Sergipe
Thu. 28 July
AM
Training
Fri. 29 July
PM
Official Training
Sat. 30 July
16:30
International Friendly Match
vs U-23 Brazil National Team (@Estádio Serra Dourada)
[Japan Time: Sun. 31 July 4:30]

Olympic Football Tournament Rio 2016
Sun. 31 July
TBC
Training
Mon. 1 August
TBC
Training
Tue. 2 August
TBC
Training
Wed. 3 August
TBC
Official Training
Thu. 4 August
21:00
Group B 1st Match
vs Nigeria (@Amazonia Arena)
[Japan Time: Fri. 5 August 10:00]

Fri. 5 August
TBC
Training
Sat. 6 August
TBC
Training
Sun. 7 August
21:00
Group B 2nd Match
vs Colombia (@Amazonia Arena)
[Japan Time: Mon. 8 August 10:00]

Tue. 9 August
PM
Official Training
Wed. 10 August
19:00
Group B 3rd Match
vs Sweden (@Fonte Nova Arena)
[Japan Time: Thu. 11 August 07:00]

*The following schedule determines to win and advance to the next round
Sat. 13 August
16:00
22:00
Quarter-Final (If Japan top the Group)
vs Group A 2nd (@Fonte Nova Arena)
Quarter-Final (If Japan 2nd the Group)
vs Group A 1st (@Corinthians Arena)
Sun. 14 August
TBC
Training
Mon. 15 August
TBC
Training
Tue. 16 August
TBC
Training
Wed. 17 August
13:00
16:00
Semi-Final (@Maracana/Rio de Janeiro)
Semi-Final (@Corinthians Arena/Sao Paulo)
Thu. 18 August
TBC
Training
Fri. 19 August
TBC
Training
Sat. 20 August
13:00
17:30
3/4-Place Playoff (@Mineirao/Belo Horizonte)
Final (@Maracana/Rio de Janeiro)
*Local Time
*The schedule is subject to change due to the team condition, the weather, etc.