NEWS
TAKAKURA Asako takes over as coach of Nadeshiko Japan
27 April 2016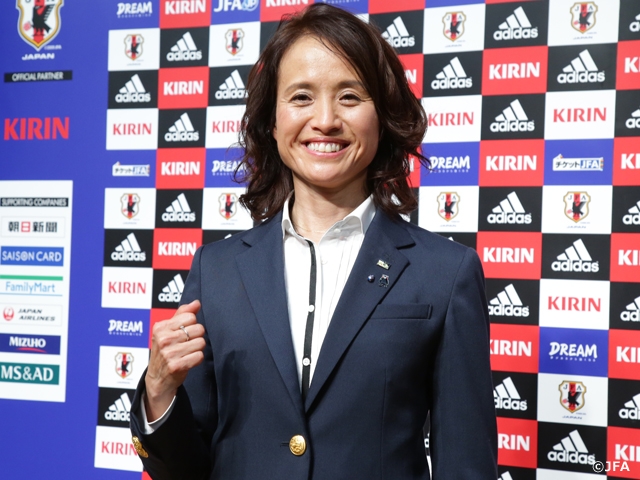 The Japan Football Association has announced that TAKAKURA Asako named for Nadeshiko Japan (Japan Women's National Team).
Profile of TAKAKURA Asako
Born on 19 April, 1968 in Fukushima, Japan, as a player she played for FC Jinnan, Yomiuri Soccer Club Beleza, Silicon Volley Red Devils (USA), etc. As a Japan women's national player, she capped 79 matches and scored 30 goals (including ones at 1991/1995 World Cups, 1996 Olympics). In her coaching career, she was awarded four consecutive AFC Coach of the Year (Women's) since 2012.
Takakura took on a request from FIFA, AFC and participated in FIFA Women's World Cup Canada 2015, FIFA U-20 Women's World Cup Japan 2012, and AFC Women's Asian Cup Vietnam 2014 as a member of Technical Study Group. She possesses JFA Official Class S Coach Licence, AFC A Class Coach Licence.
Playing Carreer
1981-1984
FC Jinnan
1985-1999
Yomiuri Soccer Club Beleza
1999
Matsushita Panasonic Bambina
2000
Silicon Volley Red Devils (USA)
2001-2004
Speranza FC TAKATSUKI
Coaching Carreer
2007-2008
JFA National Training Centre Coach [Women's] Nationwide
2008
U-13 Japan Women's Selection Coach
Nadeshiko Challenge Project Coach/Assistant Coach
2009
JFA National Training Centre Coach [Women's] Kanto
JFA Elite Program [Women's] Coach
U-14 Japan Women's Selection Coach
Nadeshiko Challenge Project Assistant Coach
2009-2012
U-16/U-17 Japan Women's National Team Assistant Coach
2010
U-20 Japan Women's National Team Assistant Coach
2013-2014
U-16/U-17 Japan Women's National Team Coach
2014-2015
U-18/U-19 Japan Women's National Team Coach
2016-
U-20 Japan Women's National Team Coach
Statistics
AFC U-16 Women's Championship China 2013 1st Place
FIFA U-17 Women's World Cup Costa Rica 2014 1st Place
AFC U-19 Women's Championship China 2015 1st Place
JFA-TV (Japanese version only)