NEWS
U-15 Japan National Team win friendly Match against Thailand
24 July 2015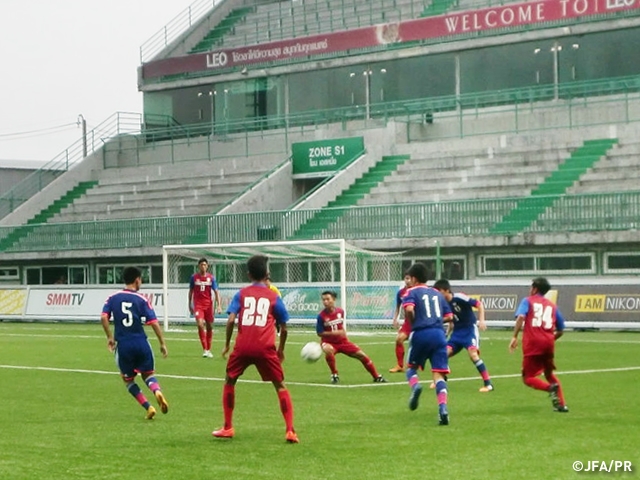 U-15 Japan National Team vs U-16 Thailand national team
2015-7-22 (Wed.) - 17:00 Playing Time: 90min. (45min.×2)
LEO Stadium (Thailand/Bangkok)
U-15 Japan National Team 4-0 (1st 1-0, 2nd 3-0) U-16 Thailand national team
Scores
20' NAKAMURA Keito (Japan)
52' MIYASHIRO Taisei (Japan)
53' KIDA Hinata (Japan)
77' KUBO Takefusa (Japan)
Line-ups
GK: TANI Kosei
DF: SAKUTA Ryutaro, SEKO Ayumu, KEMMOTSU Takumu, KIKUCHI Kenta
MF: HIRAKAWA Rei, SUZUKI Toichi, SUGAWARA Yukinari, KIDA Hinata
FW: NAKAMURA Keito, MIYASHIRO Taisei
Substitutes
GK: TAKADA Yuma, ISHII Ryo
DF: OKAMOTO Shosei, ENDO Hikaru, OISHI Naoya, IWAI Ryuji, INOUE Miki
MF: MASUTANI Takara, FUNAKOSHI Hiromu, HOMMA Shion, YACHIDA Teppei
FW: KATSURA Rikuto, KUBO Takefusa
61' NAKAMURA Keito → KATSURA Rikuto
61' SUZUKI Toichi → KUBO Takefusa
69' MIYASHIRO Taisei → FUNAKOSHI Hiromu
79' HIRAKAWA Rei → HOMMA Shion
79' KIDA Hinata → MASUTANI Takara
81' KIKUCHI Kenta → IWAI Ryuji
81' SAKUTA Ryutaro → ENDO Hikaru
86' SUGAWARA Yukinari → INOUE Miki
88' KEMMOTSU Takumu → OKAMOTO Shosei
88' SEKO Ayumu → OISHI Naoya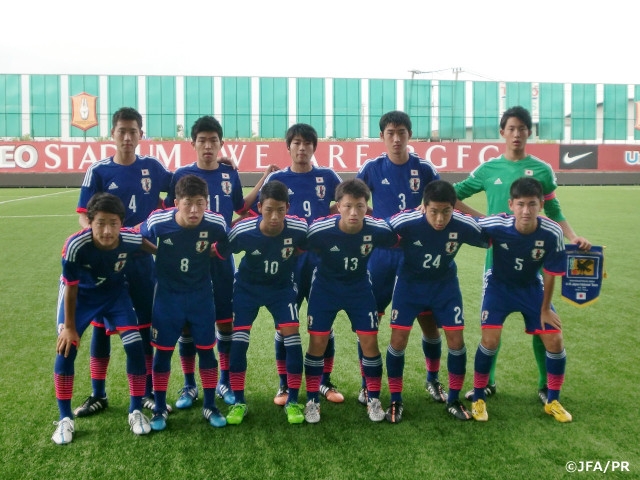 Match Report
The U-15 Japan National Team, "00JAPAN", met the U-16 Thailand national team for the first match on their Thailand tour.
Although Japan pressed from the beginning and got through in front of the goal several times, they could not get any shots away. Nothing happened for a while, but Japan started to succeed in sending effective long-distance passes to the front line.
Then after 20 minutes, NAKAMURA Keito, who received a through pass from MIYASHIRO Taisei, calmly faced a one-on-one, and struck the long-awaited opener.
In the 26th minute, Japan earned a penalty kick, but Miyashiro's shot sadly deflected off the goalpost. However, Japan was building up positive momentum and SUGAWARA Yukinari created a goal-scoring opportunity after 28 minutes and Miyashiro after 31 minutes, only for them to miss the goal.
Then Thailand started to attack back at the end of the first half. Although the opponent got through to the space behind the defensive line and faced a one-on-one, SEKO Ayumu defended tightly using his body. The game went into the second half at 1-0.
MORIYAMA Yoshiro, the coach, encouraged the players during half time: "the opponent is not scared, as you're only playing in a limited area. We have some players in the defensive line, who are good at long-distance passes. So let's play widely, switching the sides, to get through the opponent. Also focus on accurate passes. You need to play aggressively, thinking of each pass carefully and speedily. Let's score another goal at the beginning of the second half."
The players took on board the encouragement of the staff and picked up their pace from the beginning of the second half. After 52 minutes, Miyashiro got through three defenders, displaying his individual skills, and struck another goal. Then in the 53rd minute, KIDA Hinata, who got through to the centre from a combination play on the wing, struck a strong long-distance shot into the right-hand corner.
After 77 minutes, KUBO Takefusa, who exchanged passes with KIKUCHI Kenta and received the ball in the centre, scored a superb goal in the right-hand corner, adding more insurance. Although Japan substituted many players, they continued to concentrate on defence to keep a clean sheet.
"00JAPAN" will meet the U-18 Bangkok Glass F.C. on 25 July.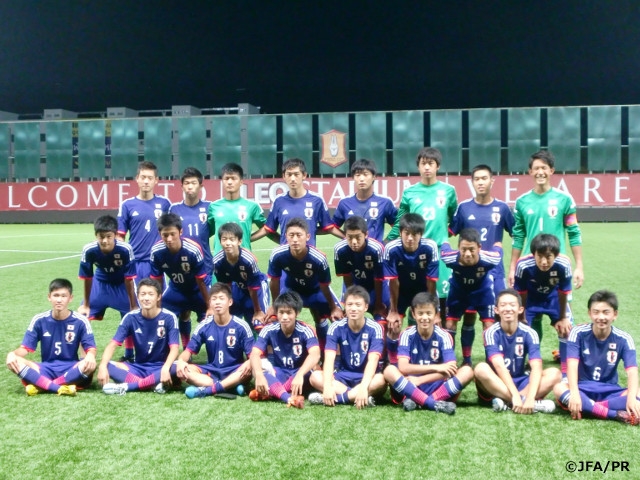 Players' Comments
TANI Kosei (Gamba Osaka Junior Youth)
All my teammates played today's match with a strong spirit, and defended well to keep a clean sheet. I think it was really good. Personally, I could predict the movement behind the defenders and continue coaching my teammates, which gave me some confidence. I'd like to lead the team as a captain, and share today's tasks to win all the games during this tour.
KEMMOTSU Takumu (Shimizu S-Pulse Junior Youth)
One of the reasons we could win was that every player defended solidly with his body. Having said that, personally I found many tasks to focus on: I couldn't win position for headers; I couldn't pass speedily enough; and couldn't take a long-distance pass to the front line. As my aim in this tour is to be able to press hard against forward passes to the opponent's front line, I'd like to play the next match, thinking of pressing more quickly and more closely.
SAKUTA Ryutaro (Vissel Kobe U-15)
Keeping a clean sheet against a strong team was a good achievement. I was pleased that I competed well near the ball or in one-on-one situations. However, the accuracy of crosses and committing too many fouls were my issues that need to be fixed. Fouls in particular can cause my team trouble. So I have to be careful and improve that. As there is a good atmosphere around, I'd like to stay vocal in tomorrow's training to become an even more united team.
KIDA Hinata (Cerezo Osaka U-15)
We couldn't take the initiative enough in the first half and stayed in a limited area. We should have played in a wider area, moving the ball around. All the players on the pitch as well as on the bench stayed vocal even before the match started to create a good atmosphere, which was one of the reasons for today's victory. We are going to play against a team in a higher age category. I'd like try hard in tomorrow's practice session to win two consecutive games.
MIYASHIRO Taisei (Kawasaki Frontale U-15)
The atmosphere of the team was good from the warm-up, and we started the game in a good way. Our two forwards' performance gradually got better through the match, and we created goal-scoring opportunities. I felt frustrated, as I couldn't score through a penalty kick. Having said that, I was very pleased that I could score a goal after that.
Keeping possessions in the front line and playing aggressively for the space behind the defender gave me some confidence. My task is to be able to shoot with more accuracy. I'd like to improve it during the tour, staying ambitious for goals.
Schedule
| | | |
| --- | --- | --- |
| Tue. 21 July | AM/PM | Training (Ramkhamhaeng University) |
| Wed. 22 July | AM/PM | Training (Ramkhamhaeng University) |
| Thu. 23 July | 4-0 | Friendly Match vs U-16 Thailand National Team(LEO Stadium) |
| Fri. 24 July | AM/PM | Training (Ramkhamhaeng University) |
| Sat. 25 July | 16:00 | Friendly Match vs Bangkok Glass FC U-18(LEO Stadium Training Pitch) |
| Sun. 26 July | AM/PM | Training (Ramkhamhaeng University) |
| Mon. 27 July | 16:00 | Friendly Match vs Chonburi FC U-18(Chonburi Municipality Stadium) |
| Tue. 28 July | AM/PM | Training (Ramkhamhaeng University) |
| Wed. 29 July | 09:30 | Friendly Match vs SCG Muangthong United U-18(SCG Stadium Training Field) |
Note: The schedule is subject to change due to the team condition, the weather, etc.