NEWS
AFC Annual Awards 2014 - Japan awarded 6 categories in AFC Inspiring Member Association of The Year, etc., OKUDERA Yasuhiko, SAWA Homare inducted in the AFC Hall of Fame
01 December 2014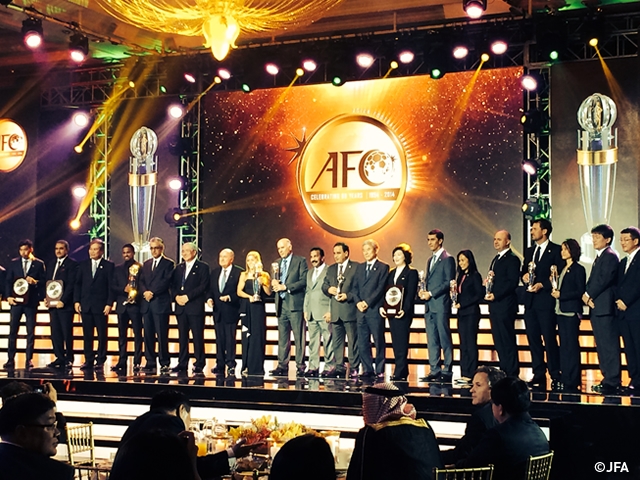 The Asian Football Association (AFC) held "AFC Annual Awards" ceremony on Sunday 30 November in Manila, Philippines. Japan received total of six awards including one awarded earlier ? AFC Inspiring Member Association of The Year to start with. The other awards include JFA Honored Chairman OGURA Junji for the Diamond of Asia award, Japan U-17 Women's head coach TAKAKURA Asako for AFC Coach of The Year (WOMEN) for three straight years
The list of AFC Annual Awards 2014 and comments of award winners of Japan
AFC DIAMOND OF ASIA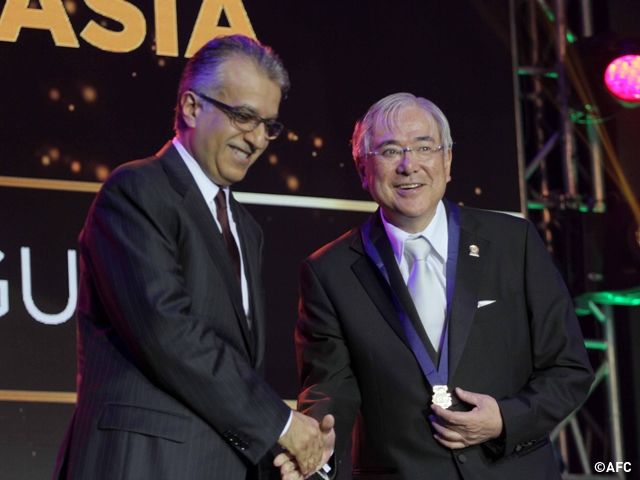 OGURA Junji (JFA Honorary President)
This is third Diamond Award given to Japanese and I think I am much honored to given the award in the AFC's 60th Anniversary gala event. I am pleased to be acknowledged of my contribution to Asia. Recent remarkable performance of Japan ladies, Nadeshiko Japan or Japan Women's national team became the world cup winner, these are something Asian people also feel proud of. I would suppose the reason for receiving this award are partly thanks to Japan women's splendid showing, again I am really pleased to see these women's excellent performance.
AFC INSPIRING MEMBER ASSOCIATION OF THE YEAR
Japan Football Association (JFA)
[DAINI Kuniya, JFA President]
I am much honored for getting recognition of the whole JFA activities. I think this is the recognition for JFA taking firm stand on fostering grassroots and youth ages, women's and SAMURAI BLUE (Japan National Team) , across age groups. There are many things still remain to be dealt with. I am going to aggressively tackle them and get things moving.
AFC COACH OF THE YEAR WOMEN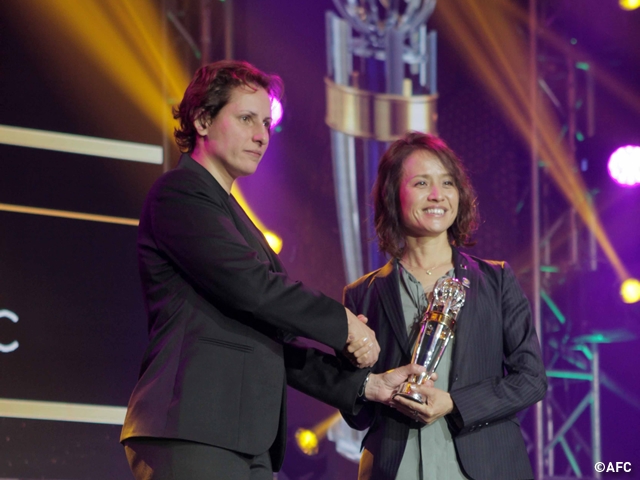 TAKAKURA Asako (Japan Women's U-17 Head Coach) *third time three straight years
I believe this is the award given because the players played hard and generated a positive result, I would also like to extend my gratitude to many coaches before me who had engaged in training up the players. Studying as hard as ever, I am going to make continuous effort more than ever to become a good coach.
AFC FUTSAL TEAM OF THE YEAR
Japan Futsal National Team *third time
Miguel RODRIGO, Head Coach of Japan Futsal National Team
I believe receiving this honorable award reflects everyone's effort put together - JFA, F.League, Referees Committee, supporters, media and sponsors. On the other hand, this award will place bigger responsibility on our shoulders. Anywhere, any opponents we play, we have to play with our pride and it gives us a big challenge for our young squad. I just cannot stop here for satisfying with receiving this award. My goal is to become one of top eight countries in the world in ten years, so that we can get ready for the world cup 2016 and 2020. For reaching these goals and leveraging this award, I would promise to keep on playing at full throttle.
AFC Hall of Fame
Mr. OKUDERA Yasuhiko
I am very pleased to be inducted in honored AFC Hall of Fame. I did not have any expectation at all to get award to begin with, it was my honor to be inducted for the first AFC Hall of Fame and fell like I am in a dream. Taking advantage of being inducted as the AFC Hall of Fame, I am committed to make contribution to development of Japan football by doing whatever I can.
HOMARE Sawa, Player
The AFC Hall of Fame was inaugurated, I am much honored to be inducted in the AFC Hall of Fame along with wonderful persons like Mr. Okudera. I was surprised I was the only one to be selected as a player. I would like to extend my gratitude for giving me AFC's recognition to my football life so far and all the people who supported me.
FULL LIST OF AWARD WINNERS
AFC DIAMOND OF ASIA
OGURA Junji (Japan)
AFC DREAM ASIA AWARD
Qatar
AFC ASPIRING MEMBER ASSOCIATION OF THE YEAR
Kyrgyz Republic
AFC DEVELOPING MEMBER ASSOCIATION OF THE YEAR
DPR Korea
AFC INSPIRING MEMBER ASSOCIATION OF THE YEAR
Japan
AFC PRESIDENT RECOGNITION AWARD FOR GRASSROOTS FOOTBALL
India
Philippines
Tajikistan
AFC CORPORATE ICON AWARD
TV ASAHI, NHK Japan Broadcasting Network
AFC NATIONAL TEAM OF THE YEAR (MEN)
Palestine
AFC NATIONAL TEAM OF THE YEAR (WOMEN)
Japan Women's U-17 * awarded on 5 November
AFC FAIR PLAY ASSOCIATION OF THE YEAR
Korea Republic
AFC COACH OF THE YEAR (WOMEN)
TAKAKURA Asako (Japan U-17 Women's National Team)
AFC COACH OF THE YEAR (MEN)
Tony Popovic (Asutralia/Western Sydney Wanderers)
AFC REFEREE OF THE YEAR (WOMEN)
Rita binti Gani (Malaysia)
AFC REFEREE OF THE YEAR (MEN)
Ravshan Irmatov (Uzbekistan)
AFC CLUB OF THE YEAR
Western Sydney Wanderers (Australia)
AFC FUTSAL TEAM OF THE YEAR
Japan Futsal National Team *to be awarded
AFC FUTSAL PLAYER OF THE YEAR
Aliasghar Hassanzadeh *to be awarded
AFC FOREIGN PLAYER OF THE YEAR
Asamoah Gyan *to be awarded
AFC ASIAN INTERNATIONAL PLAYER OF THE YEAR
Mile Jidenak *to be awarded
AFC YOUTH PLAYER OF THE YEAR (MEN)
Ahmad Moein *to be awarded
AFC YOUTH PLAYER OF THE YEAR (WOMEN)
SUGITA Hina (Japan)
AFC PLAYER OF THE YEAR (WOMEN)
Katrina Lee Gorry (Australia)
AFC PLAYER OF THE YEAR (MEN)
Nassir Al Shamrani (Saudi Arabia)
Full list of AFC Hall of Fame Inductees
Homayoun Behzadi (Iran)
Dato' Soh Chin Aun (Malaysia)
OKUDERA Yasuhiko (Japan)
Sun Wen (China)
Hong Myung-bo (Korea Republic)
Ali Daei (Iran)
Sami Al Jaber (Saudi Arabia)
Baichung Bhutia (India)
Harry Kewell (Australia)
SAWA Homare (Japan)