NEWS
Suruga Bank Championship 2015 for J.League Yamazaki-Nabisco Cup winner /Copa Total Sudamericana winner - Gamba Osaka to compete
08 November 2014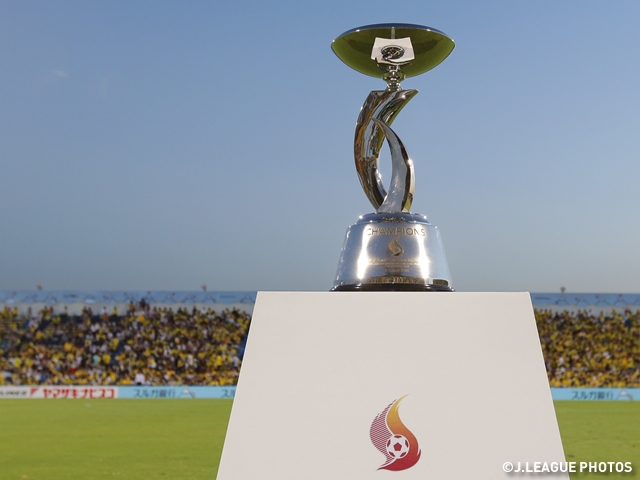 The final of 2014 J.League Yamazaki Nabisco Cup was held on Saturday, 8 November at Saitama Stadium 2002 and Gamba Osaka won the championship.
Having won this championship, Gamba Osaka secured spot for international friendly match "Suruga Bank Championship 2015" (planned next summer) against the winner of Copa Total Sudamericana 2014, official club championship organized by the South American Football Confederation(CONMEBOL).
Gamba Osaka takes on the championship second time in seven years.
On the other hand, the last four teams were decided for Copa Total Sudamericana 2014. They are San Paolo FC, the winner of the championship 2013, Argentine's powerhouse River Plate who had come to Japan for Toyota Cup before and Boca Juniors and Atletico Nacional of Colombia side, winning their domestic league title three straight seasons. Four teams compete for the championship.
Championship Information
Championship name (temporary):
Suruga Bank Championship 2015
J.League Yamazaki Nabisco Cup/Copa Total Sudamericana.
Promoter:
Japan Football Association (JFA)
South American Football Confederation (CONMEBOL)
Japan Professional Football League (J.League)
Game:
Gamba Osaka (Japan/the Champion team of 2014 J.League Yamazaki Nabisco Cup)
vs
the champion team of Copa Total Sudamericana
Fixture:
Planned to hold in summer of 2015
Venue:
to be decided
Reference
History of the championship
Year/Fixture
Venue
Club representing Japan
Results
Club representing South America
1
2008-7-30
Nagai(Osaka)
Gamba Osaka
0-1
Arsenal FC(Argentine)
2
2009-8-5
Kyuseki Dome(Oita)
Oita Trinita1-2
1-2
SC Internacional(Brazil)
3
2010-8-4
National Stadium(Tokyo)
FC Tokyo
2-2
PSO 4-3
Liga Deportiva Universitaria de Quito(Ecuador)
4
2011-8-3
Ecopa(Shizuoka)
Jubilo Iwata
2-2
PSO 4-2
Independiente (Argentine)
5
2012-8-1
Kashima(Ibaraki)
Kashima Antlers
2-2
PSO 7-6
Universidad de Chile(Chile)
6
2013-8-7
Kashima(Ibaraki)
Kashima Antlers
3-2
Sao Paulo FC(Brazil)
7
2014-8-6
Kashiwa(Chiba)
Kashiwa Reysol
2-1
Lanus(Argentine)
*Japan clubs 5 wins 2 losses (including 3 wins by PSO - Penalty Shoot Out, winning 5 games in a row)
About Copa Sudamericana
This is prestigious official club competition in South America football, equally crucial as CONMEBOL Copa Libertadores. The championship started in 2002 by integrating two international football competitions - Copa Merconorte participated by clubs in northern countries of South America and Copa Mercosur for clubs in southern countries South America, used to be held until 2001.
In Europe, two premier international competitions - UEFA Champions League and Europa League are held in parallel. In South America, the period of two championships for CONMEBOL Libertadores Cup is earlier period of the season and Copa Sudamericana in the later part. This is the reason why top club is able to take part in both championships and the games are known for high quality play.
The championship is held knockout format- home and away, from 1st round to the final and participated by 47 teams from 10 member countries of (CONMEBOL).
Presenting Sponsor