NEWS
Nishimura, Sagara, Nagi to referee opening match of 2014 FIFA World Cup
11 June 2014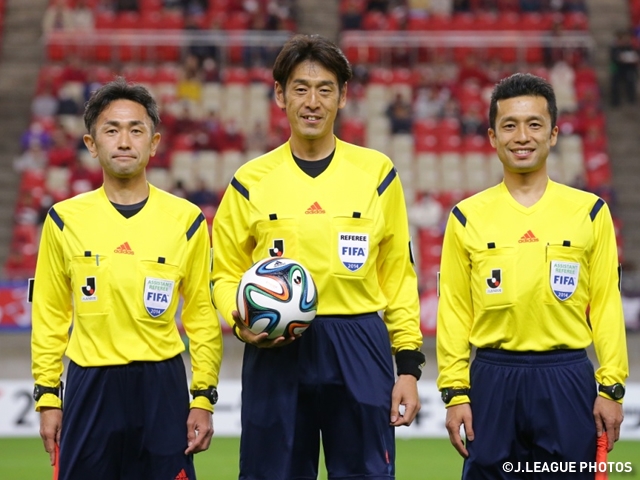 The Fédération Internationale de Football Association (FIFA) announced the assignment of referees for the first four group stage matches in the 2014 FIFA World Cup Brazil, and it was determined that the opening match on Thursday 12 June between Brazil and Croatia would be refereed by Nishimura Yuichi as the referee, and Sagara Toru and Nagi Toshiyuki as assistant referees.
It will be the first time for Japanese referees to officiate the World Cup's opening match and the second time for referees from Asia to take that role after Ravshan Irmatov of Uzbekistan did in the 2010 World Cup South Africa.
Details of assignment for referees Nishimura, Sagara and Nagi for the match #1
Match:Brazil National Team vs Croatia National Team (Group A)
Time & Date:Thursday 12 June Kickoff at 17:00 (Local Time)
Venue:Arena de Sao Paulo, Sao Paulo, Brazil
Assignments:Referee: Nishimura Yuichi, 1st Assistant Referee: Sagara Toru, 2nd Assistant Referee: Nagi Toshiyuki
Comments
DAINI Kuniya, President, Japan Football Association
It's very significant for Japanese referees to be assigned for the opening match of the FIFA World Cup. I think Nishimura got the opportunity because his refereeing at the last World Cup was highly evaluated. I am also very delighted with the fact that Japanese referees overall are highly appreciated. This inspires other referees as well. In the World Cup it's important for the Japan National Team to win matches, but having Japanese referees do well like this is also fantastic.
JFA-TV