NEWS
Japan National Squad focus on cooling down following Consta Rica tune-up
04 June 2014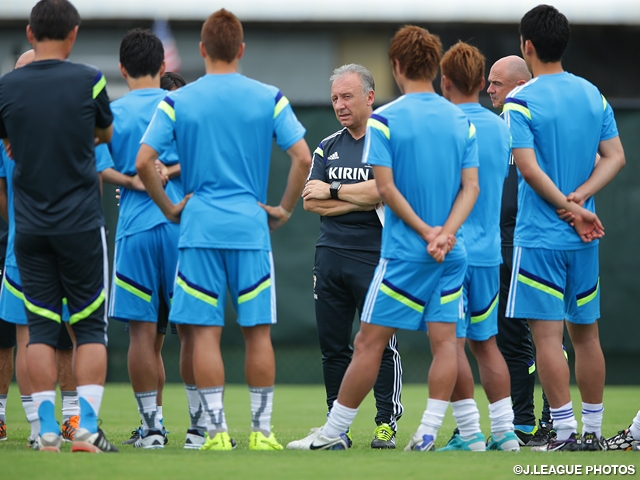 Japan's World Cup squad, who are currently in their preparation process and played an international friendly against Costa Rica on the 2nd June, went through a light practice, which mainly meant for cool downs, in Clearwater, Florida, on the following afternoon.
In a cloudy but humid weather, the team did some fitness training using balance balls, and then was divided into two squads to have some practical shooting practice.
Meanwhile, before the practice, some 50 children from the local Japanese community in the Tampa Bay area in Florida and about 10 junior high school students from Nagano City, which is a sister city of Clearwater, visited the field and had a photo session with the players. The Nagano students will be here to stay for a short study-abroad program from the following week.
''The children will watch the World Cup in Japan, so after this experience, I think that they will be able to watch the games on television feeling even more familiar with the team along with their host families in Japan,'' said a representative person for the Clearwater students. A mother of one of the students said in an excited fashion, ''It was such a rare opportunity and it was a great experience for all of us.''
A female elementary student of the Tampa Japanese community commented, ''It was great to take a photo with the players. I want to be a national team player when I'm grown up.'' She enjoyed kicking a ball with her friends in a space right by the practice field.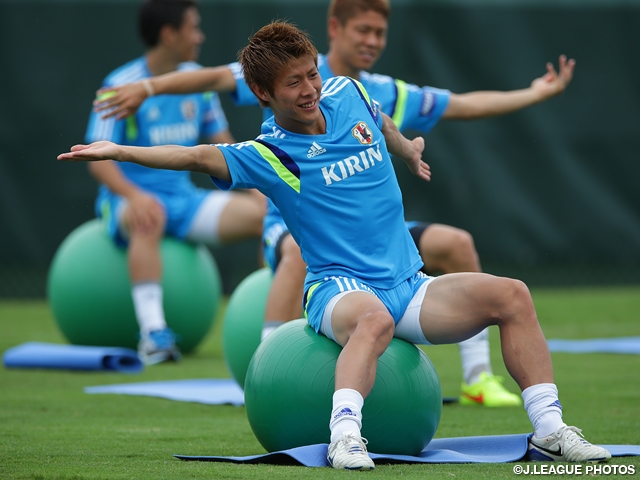 Comments
DF MORISHIGE Masato(F.C.TOKYO)
There were the occasion that we gave up the goal and another in which we were about to allow another (in yesterday's game), but we have got to win in those battles, otherwise it could change results of games. (On giving up the goal) it was my mistake matching up-wise, and I had to keep myself in a distance that I could always touch the player I was defending. As for the crosses that they were launching with different timings, I was able to adjust well enough in the second half. It's important to not repeat the same mistakes. The more we play, the more issues we will have, but it'll be critical how much we can resolve them by the World Cup. Offensively, I could go laterally, which is my trait, so many times, and I thought I had to keep doing it.
FW KAGAWA Shinji(Manchester United/England)
I was frankly pleased that I scored the goal and it gave me a sigh of relief a little bit, too. If I'm able to be given as many chances as I did like that, getting in the penalty area, I have a firm confidence that I can do that every game. What was good about yesterday's game was that I had clearly more occasions to get involved in our shooting chances. If we can increase the number of those occasions, naturally we will be able to get more goals. And I was involved more in the processes to go near the goal area than the recent games, so I want to keep it up in the upcoming games. We fired some shots and take them positively as the team, but we need to make them more and in terms of the elaboration on the shots, each of us will have to be more aware of it. That's an issue to us.
DF SAKAI Gotoku (VfB Stuttgart/Germany)
I was observing yesterday's game from outside, thinking that we were defending the opponents firmly, understanding their traits. As to the positioning and body movements when they were on the defensive line, I learned a lot from the movements of Konno and Uchida. My knee condition has gotten a lot better. I've improved well enough to be able to go through some physical things and kick the ball, so although the opening of the World Cup is coming up soon, I don't particularly have worries. We are always aware of a game even in our practices and have our concepts in our brains that we have to show in contests, so I don't think that we are going to have any breakdowns.
DF SAKAI Hiroki(Hannover 96/Germany)
As I got in the game as a substitution, I tried to adjust my tension with the other players that were already in it first. That, I was able to do fine, and enjoyed matching up with the number 9. If I'm given such situations more, I feel like I can enjoy even more. Especially the game was played in a fast tempo, and our front were very good. But that is why the back end have to be solid and when we get the ball back, we should quickly connect it to our secondary attacks. That's significant for us to not lose our gas. And we were eliminating in those occasions and could have counter attacks just fine (in yesterday's game). It was important to win the game, but we got some issues to correct, so hopefully we can take advantage of them for the next one.
JFA-TV
GK KAWASHIMA Eiji

DF MORISHIGE Masato

FW KAGAWA Shinji
FW KAKITANI Yoichiro

DF SAKAI Hiroki
Schedule
Wed, 21 May
↓
Sun, 25 May
-
Training Camp
Sun, 25 May
18:00
"Dream for Our power 2014" send off party
(Tokyo/Yoyogi National Stadium Yoyogi Gymnasiums 1)
Tue, 27 May
1-0
Kirin Challeng Cup2014
vs Cyprus National Team
(SAITAMA Stadium2〇〇2)
Thu, 29 May
↓
Fri, 6 June
-
Training Camp
(Unaited States)
Mon, 2 June
3-1
International Friendly Match
vs Costa Rica NationalTeam
(United States/Tampa)
Fri, 6 June
19:30
International Friendly Match
vs Zambia NationalTeam
(United States/Tampa)
LIVE
Hong Kong : 6/7 07:30~
i-CABLE Sports
Super Soccer Channel 61
Thailand : 6/7 06:30~
True Sport 1
True Sport HD 2
Sat, 14 June
22:00
2014 FIFA World Cup Brazil
vs CÔTE D'IVOIRE National Team
(Arena Pernambuco)
Thu, 19 June
19:00
2014 FIFA World Cup Brazil
vs Greece National Team
(Estadio das Dunas)
Tue, 24 June
16:00
2014 FIFA World Cup Brazil
vs Colombia National Team
(Arena Pantanal)
※Local Time