NEWS
Japan women's U-23 candidates begin training camp in Yamagata – (report on 9 Sep)
10 September 2014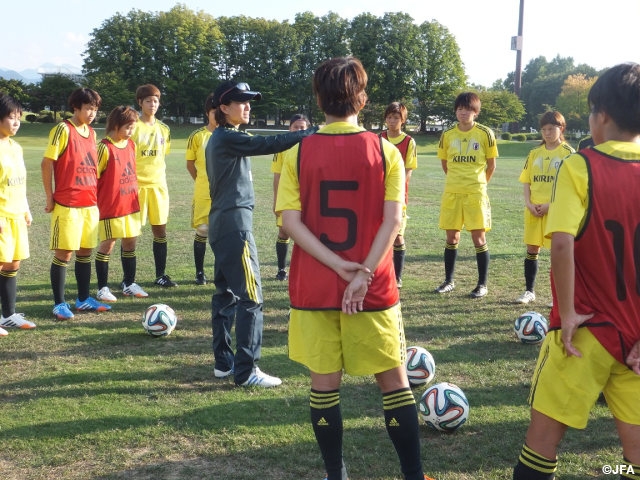 Under the clear sky on Tuesday 9 September, candidates of Japan women's national under-23 team started their training camp in Yamagata.
This is the second time for them to work together following International Women's U-23 Tournament La Manga 2014 in February. With their fine performances in the tournament, Kira Chinatsu and Sugita Ami were selected for the squad of AFC Asian Cup in May.
18 players including six who played in the La Manga's tournament have been called up for this training camp.
On the first day, the team started with condition check-ups of each player after warm-up.
After that, the squad got together to listen to the words of head coach Takakura in charge of this team. Takakura said to players "we have different members from last time to work on training and games. I want you all to take something back from this camp and consider it as a place where you learn new things." "You all are candidates of the FIFA World Cup next year. I want you to show your strong heart on the pitch that you want to be selected for the World Cup squad. Each of you should believe in yourself as if you are the leader on and off the pitch," added Takakura.
Then, they worked on practical training following a passing game in a small area and a ball-keeping game simulating game build-ups.
Their practice was wrapped up with more game-oriented drills including a 3-on-2 and a 7-on-6 with a goalkeeper in a pitch a little bit larger than a half.
Comments
TAKAKURA Asako, Head Coach
The training camp for Japan women's U-23 candidates aims to improve this team for the U-23 tournament in La Manga and to develop players so that they will be able to play on Nadeshiko Japan.
I hope each player fully presents her own trait as well as sell herself to step into Nadeshiko Japan. This team has been put together just on the spot, but it's important for players to think about what to do and present themselves.
Today as the first day, all players played actively, but I felt they still stay in their shell and they were being tame. I hope they are going to get out of it.Most of all, winning is important even in practice matches, but at the same time I want players to show what they can do and maintain a good balance between prioritising teamwork and showcasing individual skills. With doing those, I want them to stick to winning matches, our most important goal.
SUGITA Ami(Iga Football Club Kunoichi)
I'm having a great experience being called up for a national team camp. There are some players who I played together with in the La Manga International Tournament. Playing with the players who are the same generation motivates me a lot. I will actively communicate with others and stick to a win with those teammates no matter what match it is.
(After moving to Iga FC in April) the environment around me has changed. I feel how difficult it is to utilise my play and put up a good result.
At this camp, I'm the oldest. I want to communicate with others and will learn a lot from the camp in the next few days. I will show my specialities, shooting following dribble penetration and large amount of running.
YOKOYAMA Kumi(AC Nagano Parceiro Ladies)
I'm in a good environment with my team where I can play on the pitch 90 minutes a match. In today's training, I played with players who are at a high level in the same generation. Their passing speed was faster than before. That was inspiring. I will try hard to present not only my speciality, dribbling but also how good my through ball and decision-making are.
In a match, I first need to try to get a goal as an offensive position player, but I also want to get involved in plays that lead to someone else's goal.
I will take what I learn here back to my team.
TANAKA Mariko(SFIDA Setagaya FC)
This is my first time to join a national team camp, so I got nervous when I heard of the call-up. Today I got nervous again and got tight. I think I'm a shy person, but I often say jokes in my team.
I will show my specialities like dynamic passing, strength to win headers and ball keeping, and at the same time I want to communicate with others to let myself and teammates play better.
I play in the Challenge League, so there are not many chances to show my play to national team staff. But I got a chance to do it. I will take such a precious opportunity for myself.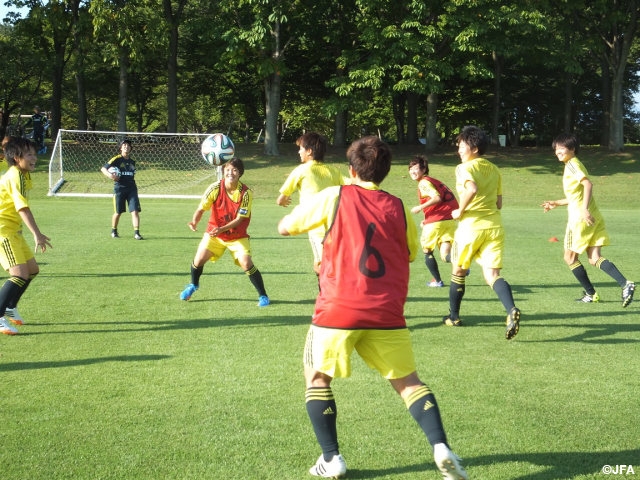 Schedule
Tue. 9 September
PM
Training
Wed. 10 September
AM/PM
Training
Training Match vs. Ghana Women's National Team
Thu. 11 September
AM/PM
Training
Training (Joint Training With Nadeshiko Japan)
Fri. 12 September 
AM/PM
Training
Sat. 13 September 
AM
Training
※The schedule may be changed depending on condition of the team or the weather.
Related News