NEWS
U-22 Costa Rica National Team arrive in Japan for International Friendly Match
28 June 2015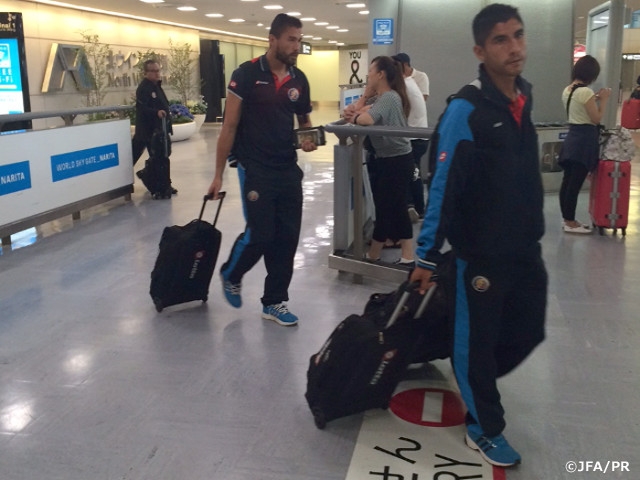 The U-22 Costa Rica National Team, who will play a friendly against the U-22 Japan National Team in Yurtec Stadium Sendai on Wednesday 1 July, arrived in Japan on 26 June. Although the players showed signs of tiredness from the long flight, there was a relaxed atmosphere, and they had good rest at the hotel that day. They held their first practice session in Japan the following day.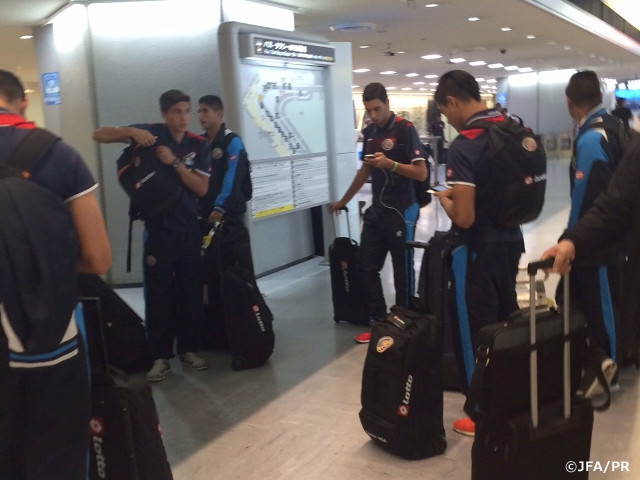 Head Coach and Players' Comments
Luis Fernando FALLAS ARIAS, Head Coach
I didn't expect to see this much greenery in Japan. I like it, as it reminds me of Costa Rica.
Our football tends to focus on keeping possession, and also has speed and aggression. Although the coming match is a friendly, it is essential for us. We showed our skills in the Toulon Tournament. We'd like to see if we can play in the same way against Japan, who are also aggressive and fast.
I'd like to entertain Japanese football fans by showing them our aggressive playing style.
Luis SEQUEIRA GUERRERO (U-22 Costa Rica National Team)
I am very impressed by all the Japanese facilities, even though we have just arrived.
Also, I felt the very kind hospitality of the Japanese people. The coming match will be essential for us to get ready for the Olympics, and also a good opportunity for us to become familiar with an Asian team. Of course, I'll play to win a friendly. I'd like to score some goals for our fans.
Darryl PARKER CORTES (U-22 Costa Rica National Team)
We have just arrived in Japan, but I was already very impressed by Japanese architectures and infrastructure. I'd like to show Japanese football fans that Costa Rica play very well too. I'd also like to make the coming match spectacular.
Ronald MATARRITA ULATE (U-22 Costa Rica National Team)
It will be an excellent opportunity for us to have unique experiences, as Japan has a completely different culture and customs from Costa Rica. In terms of football, we used to play a much simpler style, but it has started to change into a more dynamic and technical game.
We played very competitively against some high-level teams, such as France, the Netherlands, and America, in the previous Toulon Tournament, which brought us some confidence. Although Japan play swiftly and aggressively, I'd like to put on a spectacular performance against them.
International Friendly Match
U-22 Japan National Team vs. U-22 Costa Rica National Team
2015-7-1 (Wed.) – 19:00
Yurtec Stadium Sendai, Miyagi
Ticket information (Japanese version only)
Match information