NEWS
U-21 Japan National Team loses to U-23 Korea Republic National Team 1-2 in overtime, finishes as runners-up at the 18th Asian Games 2018 Jakarta Palembang
02 September 2018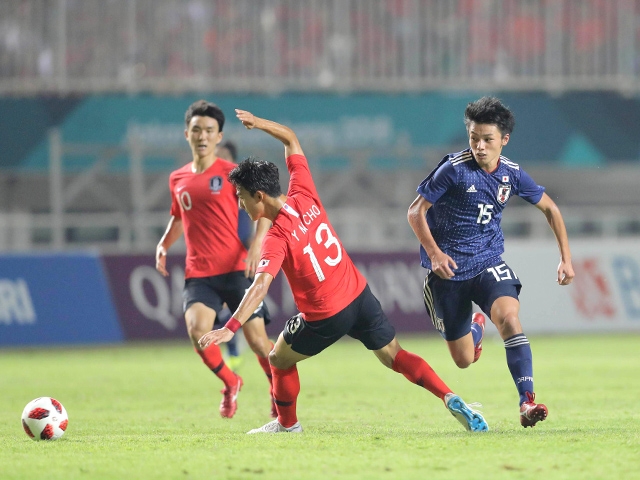 On Saturday 1 September, the U-21 Japan National Team played against the U-23 Korea Republic National Team and lost 1-2 in overtimes at the final of the 18th Asian Games 2018 Jakarta Palembang, finishing as the runners-up of the tournament.
In the final, Japan rotated five players from their starting line-up at the semi-final match, as MAEDA Daizen sat out due to injury while ITAKURA Kou returned from his suspension. UEDA Ayase, MIYOSHI Koji, MATSUMOTO Taishi, and NAGANUMA Yoichi were the new addition to their starting line-up.
As Coach MORIYASU Hajime admits, "They are a very strong team," the squad of Korea Republic featured many of their U-23 category players who plays in Europe as well as three of their over-age roster players, including the England Premier League star, Son Heung-Min.
It was Korea Republic who took the initiative of the match early in the match, but just as Coach Moriyasu has emphasised throughout this tournament, Japan showed great intensity to win the ball in fifty-fifty situations. Many opportunities were created for the Korean side, but the Japanese defence line displayed great persistence to keep the score line intact, as their goalkeeper KOJIMA Ryosuke made a superb save in the 23rd minute.
As SUGIOKA Daiki mentioned after the match, "We focused as a team to keep a clean sheet," Japan anticipated for their chances while they dished off the attacks initiated by their opponents. In the 24th minute, Itakura dribbled through the centre and fired a shot from distance, while Miyoshi made an individual effort to cut into the centre before firing a shot in the 28th minute. Both attempts came short from finding the net, but the game's momentum gradually evened out.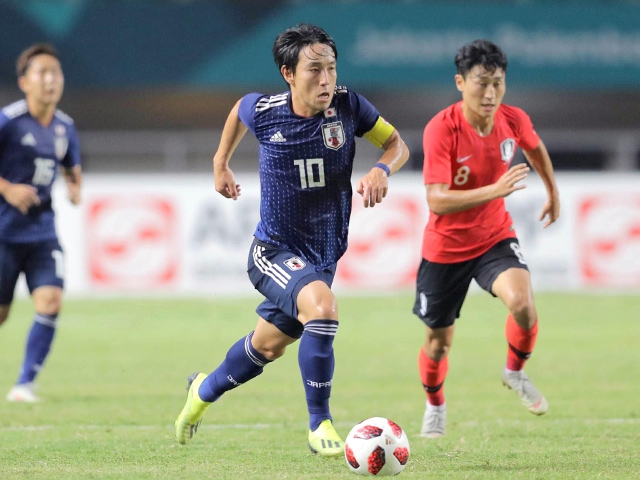 Although both teams were exhausted from the tight tournament schedule, the two teams whom Coach Moriyasu describes, "The leading countries in Asia," showcased an intense battle that was worthy to determine the best team in Asia. The efforts showcased by the Japanese side made Korea Republic rush their plays as the coach praised his players after the match, "They fought tenaciously until the very end." The intense battle ended scoreless after 90 minutes, sending the match into overtime.
The first three minutes of overtime became a regretful stretch for Japan. In the 93rd minute, Japan allowed Korea Republic to collect the loose ball repeatedly in their territory, which led to Lee Seung-Woo's goal. With momentum on their side, Korea Republic went onto score another goal in 101st minute, this time following a freekick.
Despite giving up a two-goal lead in overtime, the Japanese squad did not give up. In efforts rally back, the players gathered all of their remaining energy to apply aggressive pressure from the front line. Their efforts materialised in a shape of a corner kick in the 115th minute, where the late substitute HATSUSE Ryo delivered the kick to allow Ueda to head the ball into the goal to cut their deficit in half. Japan continued to attack after this goal, but the Korean side also displayed a persistent effort to sustain their lead. The match ended with a final score of 1-2, giving Japan the silver medal at this competition.
Coach Moriyasu praised his players, "They never gave up and showcased great intention to fight until the very end." JFA President TASHIMA Kohzo also shared his thoughts, "The players showed us a great fighting spirit. This experience should help us strive higher at the 2020 Tokyo Olympics." The U-21 Japan National Team will temporarily end its activities for now, but they will restart in November, when they travel to UAE for their training camp.
Coach and Players' Comments
MORIYASU Hajime, Coach (U-21 Japan National Team)
First of all, I would like to congratulate the Korea Republic team for winning the title. Also, I would like to thank the club teams for allowing the players to join this team during the middle of their league schedule. Our players showcased a great effort facing the overwhelmingly powerful offence line of Korea Republic. However, we must improve the quality of our transitions and counter attacks, while finding ways to spend more time in offence during the match. In this tournament, the players were challenged to play seven matches in a very short period of time, which allowed them to develop their mental, technical, strategical, and physical aspects. Even in today's game, the players showed us their toughness and their eagerness to win the title. I hope the players will utilise this experience to improve themselves as a player with great pride.
DF #7 HARA Teruki (Albirex Niigata)
We entered the match with the intention to play both defence and offence as a team, while I personally focused on winning the fifty-fifty balls. Even under tough stretches, we played collectively to cover each other through the entire 90 minutes. I am grateful for this opportunity to play against such wonderful team and players, as it has given me a great learning experience. I will feed off of this experience and continue to work hard with a sense of urgency.
DF #20 TATSUTA Yugo (Shimizu S-Pulse)
Our opponents were very strong, and the atmosphere of the stadium was something to remember. We entered the match with a strong intention that the strengths of the three defenders will determine the match. We managed to respond to the diagonal runs made by our opponents with a collective approach and our overall performance was much better than the previous matches. I feel that it was a very close match. We could have done a better job in our build-ups, perhaps with better decision makings and more pace.
MF #2 NAGANUMA Yoichi (FC Gifu)
We were able to showcase great persistency throughout the first and second half, but we need to be able to make more efforts when we are tired, and I think that's what we are taking back as a homework from this tournament. Korea Republic was very strong, but I feel like we could have possessed the ball more and create more opportunities to take shots. There were many scenes where we approached the game passively, and we could have made more challenges depending on the situation. Throughout this tournament, as we played each match, the team has gotten better and better. I think our willingness to win the match contributed to our overall performance.
MF #10 MIYOSHI Koji (Hokkaido Consadole Sapporo)
I am very disappointed. Our opponents took the upper hand at the final moments, where it mattered the most. We entered this tournament with a strong intention to win the Asian title with this squad, however, this is the reality. The team has shown great growth over the course as each player found their roles and what we must do as a team, even under tough stretches. That is why we managed to make it all the way to the final. We must not forget this bitterness and continue to work hard until we get to redeem ourselves.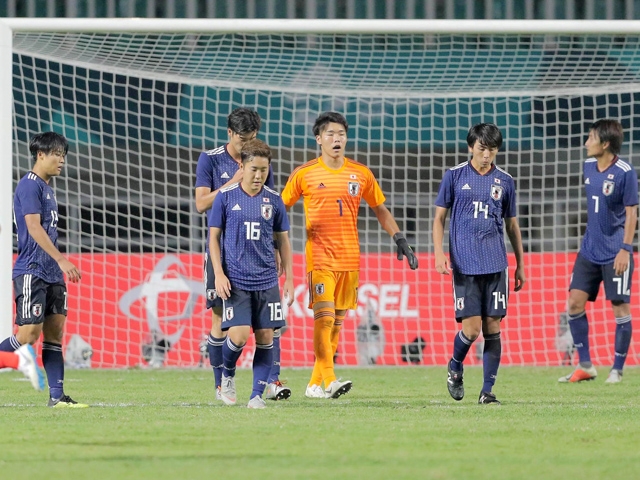 Schedule
The 18th Asian Games 2018 Jakarta Palembang
Tue. 14 August
1-0

1st Match vs Nepal
(Cikarang/Wibawa Mukti Stadium)
Wed. 15 August
-
Training
Thu. 16 August
4-0
2nd Match vs Pakistan
(Cikarang/Wibawa Mukti Stadium)
Fri. 17 August
-
Training
Sat. 18 August
-
Training
Sun. 19 August
0-1
3rd Match vs Vietnam
(Cikarang/Wibawa Mukti Stadium)
Mon. 20 August
-
Training
Tue. 21 August
-
Training
Wed. 22 August
-
Training
Thu. 23 August
-
Training
Fri. 24 August
1-0
Round of 16 vs Malaysia
(Bekasi/Patriot Stadium)
Sat. 25 August
-
Training
Sun. 26 August
-
Training
Mon. 27 August
2-1

Quarterfinal vs Saudi Arabia
(Cibinong/Pakansari Stadium)
Tue. 28 August
-
Training
Wed. 29 August
1-0
Semi-finals vs UAE
(Cibinong/Pakansari Stadium)
Thu. 30 August
-
Training
Fri. 31 August
-
Training
Sat. 1 September
1-2

Final vs Korea Republic
(Cibinong/Pakansari Stadium)
*Local Time
*The schedule is subject to change due to the team condition, the weather, etc.
The 18th Asian Games 2018 Jakarta Palembang
Tournament Dates: Sat. 18 August - Sun. 2 September 2018
【Men's】Final
Sat. 1 September 20:30 [Japan Time] vs U-23 Korea Republic National Team