NEWS
U-20 Japan Women's National Team beat USA 1-0 to grab bronze medal
05 December 2016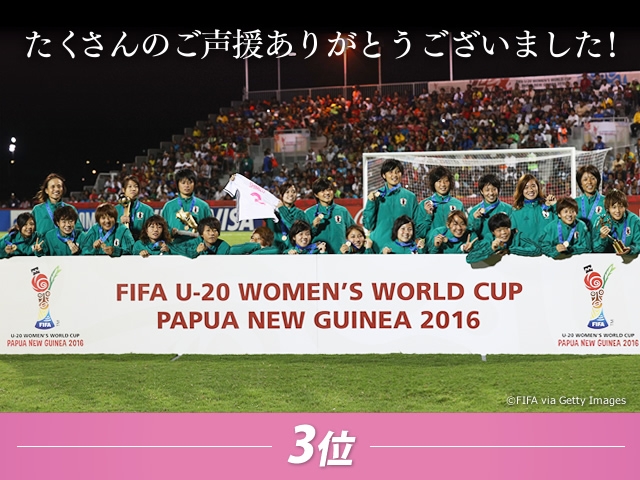 The U-20 Japan Women's National Team won the third-place playoff of the FIFA U-20 Women's World Cup Papua New Guinea 2016 against the U-20 USA Women's National Team 1-0.
The match kicked off at 16:00 in the heat. Japan, who were playing into the wind, started the game calmly. In the 6th minute, although the USA earned a corner kick, goalkeeper HIRAO Chika safely caught it. Moments later, forward PUGH reacted to a loose ball and tried to counter attack, but the Japanese defenders skilfully set the offside trap to stop them from advancing.
After 18 minutes, forward MOMIKI Yuka constructed a neat give-and-go with midfielder SUGITA and dribbled past the defenders to send a ball to the centre, where defender MORIYA Miyabi took a shot, only for it to be stopped by the opponents' defender. Japan created a big opportunity in the 21st minute. Forward Momiki ran forward after receiving a throw-in from defender Moriya, and midfielder SUMIDA Rin, who went past the defenders, struck at goal. Despite the fact it seemed like a deciding shot, the American side managed to defend it by giving away a corner kick. The USA did attack at the beginning of the match, but Japan found their rhythm, demonstrating their overwhelming skills in attack. Neither team could find the back of the net before halftime.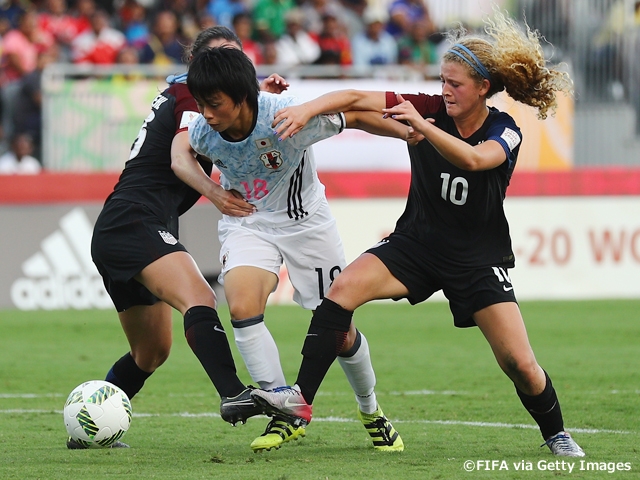 Japan were eager to strike the opener, and sent forward UENO Mami onto the pitch at the beginning of the second half. She showcased her abilities in the 46th minute by diving to head a cross from midfielder HASEGAWA Yui on the right. After 54 minutes, midfielder SUGITA turned in order to fire an excellent shot. Although Japan never stopped attacking, all of their shots were superbly saved by goalkeeper MURPHY. Coach TAKAKURA Asako made the second replacement in the 59th minute – midfielder MATSUBARA Shiho came off the bench, but the score stayed the same. After playing patiently, Japan finally struck the long-awaited opener in the 87th minute Forward Ueno, who received a pass from defender KITAGAWA Hikaru, chipped a deciding left-footed lob into the net before the opponents' defender came close. Japan defended solidly against the USA to beat them 1-0 and got the bronze medal.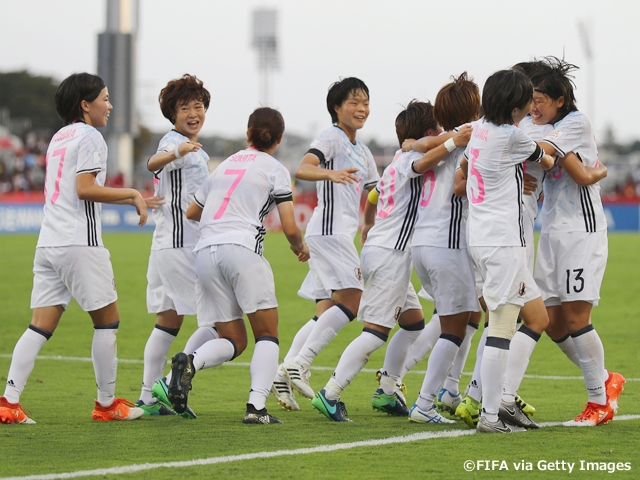 Japan won a 'fair play' award at the closing ceremony. UENO Mami, who scored the most, received 'adidas Golden Boot', while SUGITA Hina won the 'adidas Golden Ball', the Most Valuable Player of this championship.
Coach's and Players' Comments
TAKAKURA Asako, Coach
Our opponents, the USA, were an excellent team. I'd like to express my gratitude. Now all the matches of this Cup are over. I believe the players must have had a precious experience, playing football in this great environment. Although we aimed to become the strongest in the world, unfortunately, we lost in the semi-final. The players seemed to learn something from their defeat and started again. I couldn't say they performed excellently today, but I do hope the players will aim to earn the title again with a fighting spirit as a part of Nadeshiko Japan.
MF #7 SUGITA Hina (INAC KOBE LEONESSA)
I'm pleased to win the third-place playoff. I was determined to contribute more in attack. It was good that I could display my style today more than in any other game. I'd like to learn from the frustration we felt in failing to win the championship and practice harder for the future.
MF #8 HASEGAWA Yui (NIPPON TV BELEZA)
We aimed to become the best in the world. Since we refreshed ourselves and were determined to earn a medal together after our loss in the semi-final, I was really happy to win this game. Taking the initiative in the game does not necessarily mean you get a good result. Even though we performed well, we couldn't always win matches in this Cup. So I believe we need to improve ourselves more. We learned a lot from our defeat for the future. Next time, I'd like to aim to become the world's best in Nadeshiko Japan.
DF #4 ICHISE Nana (VEGALTA SENDAI LADIES)
I've been defending, focusing on the movement of the defensive line in the past couple of years. I believe we were competitive enough even in the match against France, to whom we lost. We didn't let the opponents send any good passes into the space behind our defenders. I'd like to improve the quality of those plays even more. Although we ended up with a bronze medal, earning a medal in the U-20 championship means a lot to me. It brought me some confidence. It was good to find tasks to be improved in this Cup.
GK #1 HIRAO Chika (Urawa Red Diamonds Ladies)
We aimed to earn a gold medal, which we couldn't achieve. Having said that, I was pleased to bring a medal back home by wining in the end. As I believe our team are the best, I really wanted to grab a gold medal for this team. I still have room to improve myself, which could have been one of the reasons we ended up with a bronze medal. So I'd like to fix my problems in order to join Nadeshiko Japan, with whom I'd like to win the World Cup.
Schedule
FIFA U-20 Women's World Cup Papua New Guinea 2016
Sun. 13 November
6-0
vs Nigeria (Bava Park)
Mon. 14 November
AM/PM
Training
Tue. 15 November
AM/PM
Training
Wed. 16 November
0-1
vs Spain (Bava Park)
Thu. 17 November
AM/PM
Training
Fri. 18 November
AM/PM
Training
Sat. 19 November
AM/PM
Training
Sun. 20 November
5-0
vs Canada (National Football Stadium)
Mon. 21 November
AM/PM
Training
Tue. 22 November
AM/PM
Training
Wed. 23 November
AM/PM
Training
Thu. 24 November
3-1
Quarterfinal
vs Brazil (National Football Stadium)
Fri. 25 November
AM/PM
Training
Sat. 26 November
AM/PM
Training
Sun. 27 November
AM/PM
Training
Mon. 28 November
AM/PM
Training
Tue. 29 November
1-2
Semifinal vs France (Sir John Guise Stadium)
Wed. 30 November
AM/PM
Training
Thu. 1 December
AM/PM
Training
Fri. 2 December
AM/PM
Training
Sat. 3 December
1-0
3rd place play-off vs United States (National Football Stadium)
*Local Time
*The schedule is subject to change due to the team condition, the weather, etc.