NEWS
U-20 Japan Women's National Team reach semi-finals by beating Brazil
25 November 2016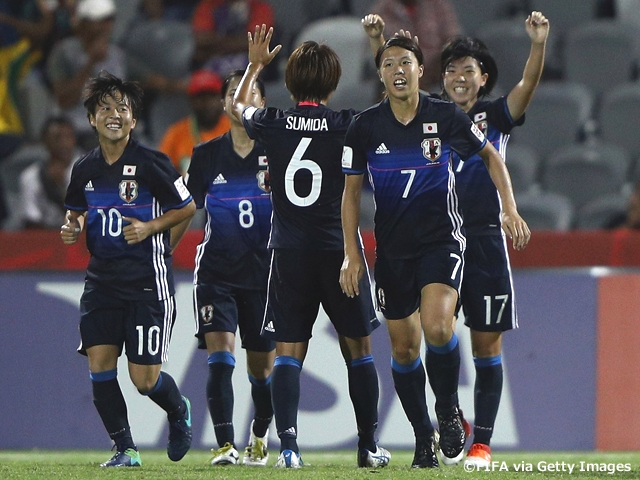 The knockout stage of the FIFA U-20 Women's World Cup Papua New Guinea 2016 has started, and the strong teams, which got through the group stage, played each other. Japan faced the U-20 Brazil Women's National Team with high-paced attacks in the quarter-final on Thursday 24 November.
Unlike the previous game against Canada, Japan were playing with the wind behind them. They started the match with midfielder SUGITA Hina as a defensive midfielder and defender MORIYA Miyabi at the right halfback. In the second minute, after the team earned a free kick, forward MOMIKI Yuka sent a sharp ball to the near side. Japan got through the tall Brazilian players without hesitation. Brazil, on the other hand, stayed competitive with forward Geyse's forceful shots.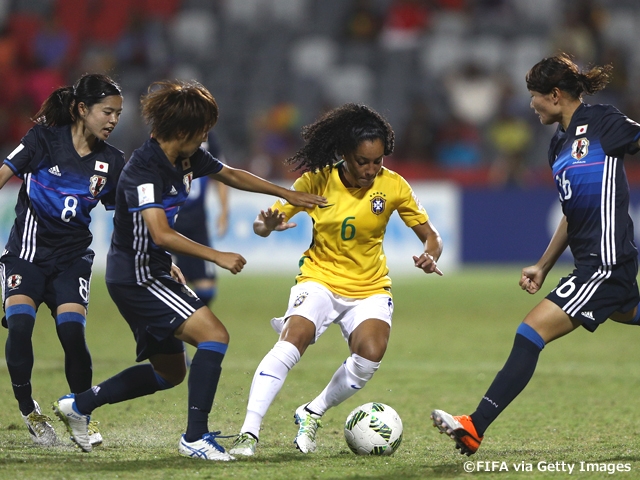 Japan started to control the game. After 18 minutes, defender MIYAGAWA Asato overlapped to fire a shot, which hit the crossbar. Although Japan continued to attack fiercely with forward UENO Mami's shot in the 21st minute and Momiki's direct free-kick attempt in the 24th minute, the Brazilian defenders performed solidly and prevent them from scoring. During injury time of the first half, however, Japan managed to strike the opener – Momiki supplied a final pass to onrushing defender Moriya, who found the target.
Japan succeeded in building up positive momentum in the second half. Midfielder MATSUBARA Shiho, who was sent on by coach TAKAKURA Asako to replace the forward Ueno in the second half, lived up to expectations. After 50 minutes, midfielder Matsubara received Moriya's pass to score a goal, stretching their lead. Then, in the 68th minute, Matsubara reacted to a loose ball to strike another goal. Japan had built a three-goal lead.
Japan had also shown well-coordinated defence, not allowing Brazil to counter-attack. Defenders NORIMATSU Ruka and ICHISE Nana led the team and reacted effectively to both vertical and horizontal movements, at the same time controlling the defensive line. With a stable defence, the team could also attack in various ways. Despite the fact Brazil scored a goal at the very end, Japan won the match 3-1 and reached the semi-finals.
After a four-day break, Japan will play the semi-final against the winner of the game between U-20 Germany and U-20 France on 25 November.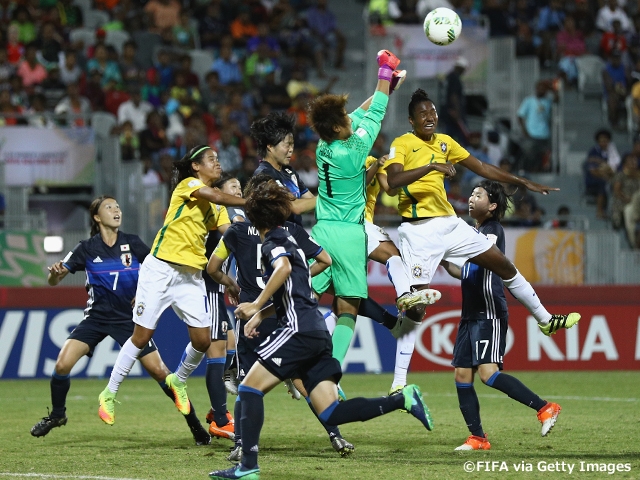 Coach's and Players' Comments
TAKAKURA Asako, Coach
Brazil are a strong team with excellent attacking skills. I told the players to expect a tough game. I'd like to point out that the players defended superbly against Brazil's fierce attacks with individual skills. One of the main reasons of our victory was that we struck the opener when we really needed (just before halftime). We found various tasks through the three group-stage games. We have been analysing them to improve the team. Each player is gradually but steadily fixing her problems. We'd like to play the two remaining matches as a united team and aim to become the best in the world.
MF #17 MATSUBARA Shiho (CEREZO OSAKA SAKAI LADIES)
I was instructed by the coach to 'initiate attacks aggressively and finish with a shot' and 'score goals' in the games against Spain or Canada, when I also came off the bench. I was sent to the pitch in the second half today. Although Japan had already built a one-goal lead, it was good that I could contribute to the team by scoring two more goals, which allowed us to play more comfortably. I believe that whoever is on the pitch, we can sustain the level of our team. By coming off the bench and performing well, I think I proved that point today.
DF #16 MORIYA Miyabi (INAC KOBE LEONESSA)
I was told to stay at the side and seek for scoring chances there. Since a loose ball came towards me, I slotted it into the net. I was pleased to strike the opener. I was instructed to position myself in front of the fullback, where I played in the first match. So, I expected to contribute more to scoring. I was determined to hunt for goals and aim at the space behind defenders. Two more matches to go – We'll play hard in order win them to finish this Cup with smiles on our faces.
DF #5 NORIMATSU Ruka (Urawa Red Diamonds Ladies)
I believe we performed to our best in both offence and defence today. The quality of our plays has improved compared to our previous games. As we couldn't play as we wanted in the game against Spain, we almost lost our confidence. However, we could refresh ourselves to prepare for the next match. Since you never know what might happen in an international tournament, I'd like to prepare well.
Schedule
FIFA U-20 Women's World Cup Papua New Guinea 2016
Sun. 13 November
6-0
vs Nigeria (Bava Park)
Mon. 14 November
AM/PM
Training
Tue. 15 November
AM/PM
Training
Wed. 16 November
0-1
vs Spain (Bava Park)
Thu. 17 November
AM/PM
Training
Fri. 18 November
AM/PM
Training
Sat. 19 November
AM/PM
Training
Sun. 20 November
5-0
vs Canada (National Football Stadium)
Mon. 21 November
AM/PM
Training
Tue. 22 November
AM/PM
Training
Wed. 23 November
AM/PM
Training
Thu. 24 November
3-1
Quarterfinal
vs Brazil (National Football Stadium)
Fri. 25 November
AM/PM
Training
Sat. 26 November
AM/PM
Training
Sun. 27 November
AM/PM
Training
Mon. 28 November
AM/PM
Training
Tue. 29 November
19:30
Semifinal (Sir John Guise Stadium)
Wed. 30 November
AM/PM
Training
Thu. 1 December
AM/PM
Training
Fri. 2 December
AM/PM
Training
Sat. 3 December
16:00/19:30
3rd place play-off/Final (National Football Stadium)
*Local Time
*The schedule is subject to change due to the team condition, the weather, etc.