NEWS
U-18 Japan National Team starts their trainings in preparation for the SBS Cup International Youth Soccer
15 August 2018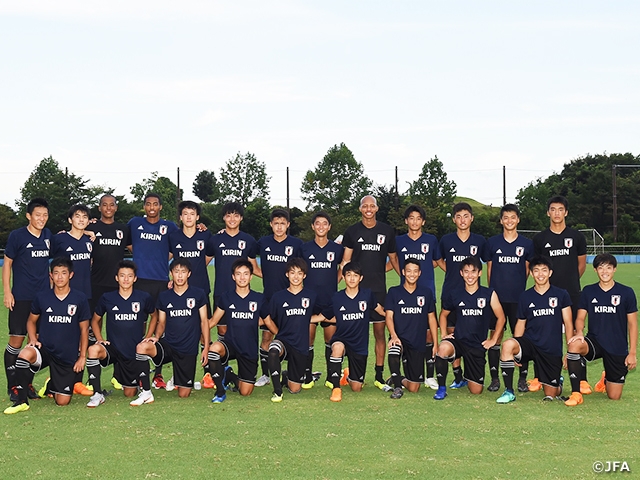 The U-18 Japan National Team, who will participate in the SBS Cup International Youth Soccer again this year, has started their training sessions on Monday 13 August in Shizuoka. The team aims to earn positive results at the FIFA U-20 World Cup Poland 2019 next May.
At the tournament, the U-18 Japan National Team will face the U-18 Australia National Team, U-18 Paraguay National Team, and Shizuoka Youth.
The SBS Cup International Youth Soccer is a prestige tournament with a long and rich history, as the tournament will be held for the 42nd time this year. It is considered as an entry point for the young players to join the elite group of players who has excelled at the FIFA World Cup Russia this year, and many other players who has joined the big clubs overseas.
After Japan finished in a disappointing third place with a record of one win and two loses last year, the team aims to win their ninth overall title, which will be their first in five years. This year's team consists with a mixture of players who are born in 2000 and 2001. Six of the players in the team played at the FIFA U-17 World Cup India 2017, while seven players were newly selected. Players born in 2002 will also join the team as training partners. Despite the limited time, the team will work on their combinations as well as to build their cohesiveness to heighten the overall team strengths.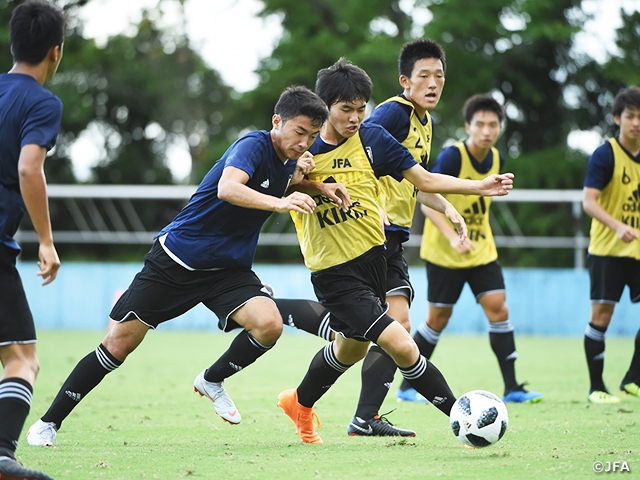 The players got together at noon on Monday 13 August at J-STEP in Shimizu City, Shizuoka. The team conducted a training session in the evening, despite incurring a long delay due to thunder storm that occurred in the area. The weather eventually improved, and the team were seen starting off their session with some stretching and running in order to loosen up their body. The team then worked on a passing drill before playing a 10 vs 10 "Hockey game," where goals were set so that players can score from either the front or back side of the goal. This particular drill made the players focus on how to exploit the space behind the opposing players as well as their intention to attack forward.
During their evening meeting, Coach Kageyama re-established the team concept for the U-18 Japan National Team. The staff, who had gone along with the national team in the FIFA World Cup in Russia, told the players what they have seen and shared episodes of their experience there, such as the players' commitment, professionalism, and how a simple mistake can cost the team the match. The players also listened in carefully to learn that a detailed plan is necessary for the youth players to develop their physical strengths.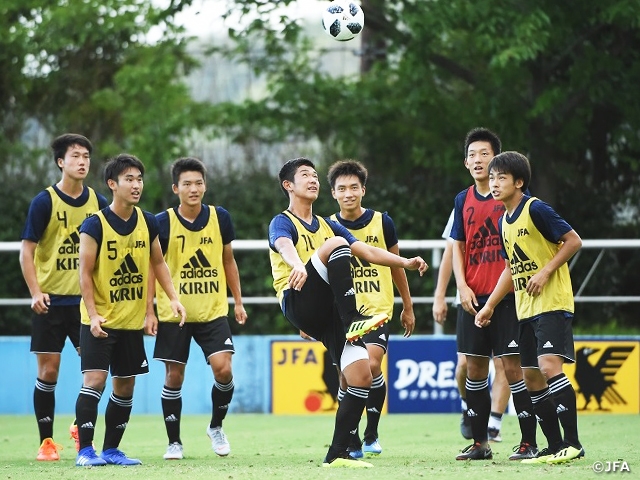 The team conducted a two-part training session on Tuesday 14, featuring a dense session, which started off with a video session to go over their team concept. With the temperature rising from the morning hours, the team conducted a 4 vs 2 drill, followed by a 3 vs 3 vs 3 drill in a small area to go over their transitions between offence and defence. Their morning session concluded with a 5 vs 5 scrimmage drill with the goalkeepers. The team emphasised to utilise the space behind the opposing defenders, to force turnovers, and to use their speed after forcing a turnover. The players encouraged each other when they started to get fatigued, while the players making their national team debut showed no hesitation to display their strengths, allowing the team to conduct a very productive training session. The afternoon session featured a practical 8 vs 8 scrimmage with 2 free-players, followed by a 9 vs 9 drill to nurture a mutual understanding among the players, and the session concluded with a shooting drill where the players took shots off crosses.
Following another training session on Wednesday 15, Japan will play their first match of the tournament against the U-18 Australia National Team on Thursday 16 August.
Players' Comments
DF MATSUO Yusuke (Ichiritsu Funabashi High School)
I'm very happy to be here because it's the first time I've been selected for the national team. I will give my best not to waste this opportunity. We suffered a frustrating result in the 2018 Inter High School Sports Festival. I'd like to learn from our experience and display my abilities as much as possible at this national team. The two-day training session was very high level, and I'm enjoying myself a lot. I'll continue to communicate with my teammates and work to improve our combinations. Winning the opening match can give us great momentum throughout the tournament, so we will prepare ourselves well ahead of our first match.
DF ISHIO Ryoga (Cerezo Osaka U-18)
I'm very happy to be selected into the national team, since I've always wanted to be a part of it. However, I must not be satisfied for just being here, instead, I must compete for the starting position in this team. I find the playing speed here very fast, and I need to make my judgements quicker. Although I feel like I managed to make my transitions quick enough, there is plenty of room for me to improve in terms of combinations and cohesiveness with my teammates. I also must become able to utilise both the direct plays and two-touch plays according to the circumstance. I hope to win our first match so that we can gain momentum towards our following matches.
MF AJIMA Itsuki (Omiya Ardija Youth)
Playing for the national team has always been one of my goals, so I'm very pleased to be here. Although I was selected as an additional member, I'd like to take this opportunity to prove that I belong here. I'd like to showcase my abilities, so that I will be selected again. The past two days have given me a great learning experience, as the speed at which the other players in the team make their decisions were very quick and the individual skills presented here were also very high. I was very interested to listen to the staff's experience at the FIFA World Cup in Russia. I'd like to prepare well ahead of our next match both as an individual and as a team, so that I can contribute for the team win.
FW ENOMOTO Itsuki (Maebashi Ikuei High School)
I'm so happy to be here. I will give my very best to fight with the pride as a member of the Japan national team. I am spending a very productive time, practicing with high-level teammates. Since I haven't been able to get myself involved in our plays as much, I'd like to make myself available to initiate more of our attacks. The cohesiveness with my teammates has been improving, so I'd like to challenge myself even more in our training session tomorrow. We have been training pretty intensively, so I will make sure to refresh myself off the pitch and prepare myself well ahead of our first match. I'd like to score the deciding goal of the match.
Schedule
Mon. 13 August
PM
Training
Tue. 14 August
AM/PM
Training
Wed. 15 August
PM
Training
2018 SBS Cup International Youth Soccer
Thu. 16 August
18:30
1st Match vs U-18 Australia National Team
(Fujieda-sogo Stadium)
Fri. 17 August
16:00
2nd Match vs U-18 Shizuoka Selection Team
(Ashitaka Athletic Park Stadium)
Sat. 18 August
AM
Training
Sun. 19 August
17:30
3rd Match vs U-18 Paraguay National Team
(Kusanagi Stadium)
*The schedule is subject to change due to the team condition, the weather, etc.

Tournament Dates: Thu. 16 - Sun. 19 August 2018
Tournament Venue: Fujieda-sogo Stadium/ Ashitaka Athletic Park Stadium/ Kusanagi Stadium, Shizuoka
Tournament Information