NEWS
U-16 Japan squad eliminated in semi-final at AFC U-16 Championship India 2016
30 September 2016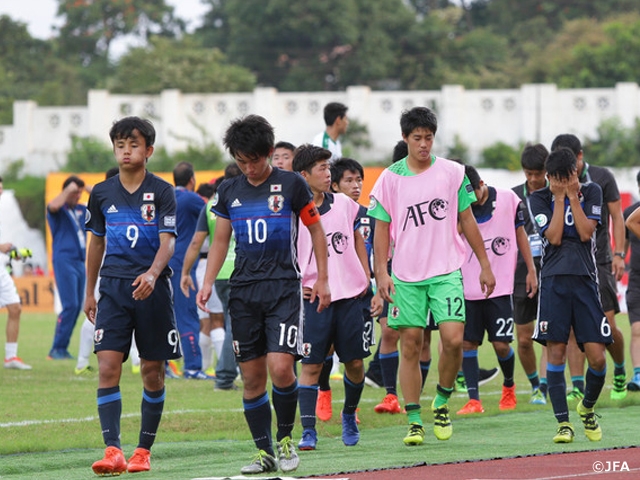 AFC U-16 Championship India 2016 Semifinal vs U-16 Iraq National Team
2016-9-29 (Thu.) - 16:00 Playing Time: 90min. (45min.x2)
GMC stadium Bambolim (Goa, India)
U-16 Japan National Team 2-4(前半2-1、後半0-3)U-16 Iraq National Team
Scores
18' goal against(U-16 Iraq National Team)
29' YAMADA Hiroto(U-16 Japan National Team)
42' MIYASHIRO Taisei(U-16 Japan National Team)
67' goal against(U-16 Iraq National Team)
81' goal against(PK)(U-16 Iraq National Team)
90+4' goal against(PK)(U-16 Iraq National Team)
Line-ups
GK:TANI Kosei
DF:KIDA Hinata、SEKO Ayumu、SUGAWARA Yukinari、KIKUCHI Kenta
MF:SUZUKI Toichi、HIRAKAWA Rei、FUKUOKA Shimpei、TANIMOTO Shunsuke
FW:YAMADA Hiroto、MIYASHIRO Taisei
Substitutions
GK:AOKI Kokoro、OUCHI Issei
DF:SAKUTA Ryutaro、KEMMOTSU Takumu、KATSURA Rikuto
MF:KOZUKI Soichiro、KUBO Takefusa、NAKAMURA Keito、MATSUMOTO Nagi
FW:TANAHASHI Akito
59' SUZUKI Toichi → KUBO Takefusa
69' TANIMOTO Shunsuke → NAKAMURA Keito
84' YAMADA Hiroto → KATSURA Rikuto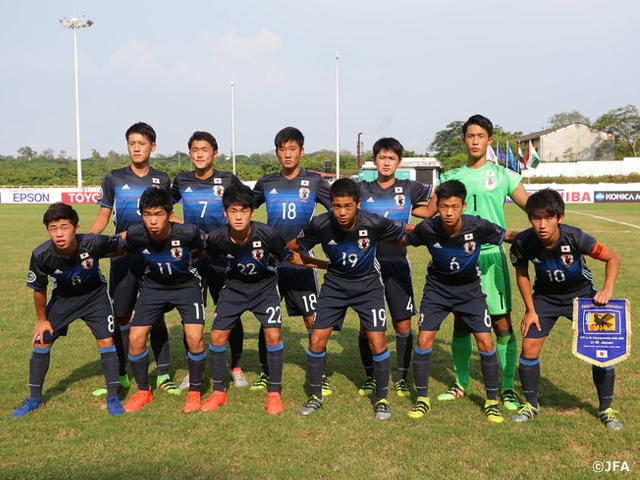 Match Report
On 29 September, 00 Japan lost to the U-16 Iraq National Team 4-2 in the semi-final and missed the appearance in the final of the AFC U-16 Championship India 2016.
As proven by their 2-0 win against National Uzbekistan U-16 Team and also by Japan's U-23 team's struggle against Iraq's counterpart in the AFC U-23 Championship, the recent development of Iraqi young national teams has been phenomenal.
Early in the semi-final match, both teams were having a hard time to create critical chances as they tried to be careful of their opponents' game plan. Then, in the 18th minute, Japan had their clearance picked up by Iraq and allowed to break through on the right side. The shot fired there got deflected by a Japanese defender and unfortunately went into the back of the net for the first goal Japan conceded in this entire tournament.
00 Japan trying to come back started calming down and moving the ball with good rhythm, getting their own chance in the 29th minute. Midfielder HIRAKAWA Rei received the ball in the middle and fed it to forward YAMADA Hiroto who dashed into the space behind the opposing defenders. Yamada composedly took advantage of the opportunity and equalise the scoring. In the 42nd minute, revitalised Japan had forward MIYASHIRO Taisei meet Yamada's grounder cross to score the go-ahead goal. The first half finished 2-1 with Japan enjoying great momentum.
In the second half, trailing by one goal, the opponents started to become more aggressive. 00 Japan on the other hand defended tenaciously and found counterattack opportunities repeatedly. In the 51st minute, after midfielder SUZUKI Toichi's cross got deflected by the opposing goalkeeper, Miyashiro attempted his own shot, but that was also denied by the goalie's outstanding save. Miyashiro also fired a few more fierce strikes in the 56th and 62nd minutes, but they hit either the goal post or the cross bar. While Japan were struggling to convert their chances, in the 67th minute Iraq got back on the level terms when they took away Japan's clearance and connected it to the player waiting in the middle unguarded. Then in the 81st minute, Japan's defender SEKO Ayumu gave away a penalty kick when he tried to stop an opposing forward who received a through ball inside the box. Iraq did not miss the given spot kick and regained the lead.
00 Japan did not give up and kept attacking. Four minutes into the additional time, however, they conceded another penalty kick to Iraq and let them extend the lead to two. The match ended moments later with the score of 4-2 in favour of Iraq.
Although aiming to be the champions in Asia, 00 Japan regrettably got eliminated in the semi-final. This valuable experience and disappointment need to be converted into added energy to show better performance in the FIFA U-17 World Cup India 2017 in which they just clinched a spot in this tournament.
* "00 JAPAN" is the nickname of the U-16 Japan National Team that consists of members who were born after 2000.
Coach's and Players' Comments
MORIYAMA Yoshiro,Coach
We allowed a goal in an unlucky way, but we came back, scored back two and finished the first half on a good note. But because we were on the leeward side in the second half, we had a difficult time in dealing with the opponents' long balls and their early pressure. Having a loss is disappointing but in this tournament we have already achieved our first goal which is getting a spot in the World Cup. The second goal of becoming the champions in Asia wasn't achieved. I hope each of my players learns a lot from today's loss and grows further.
MF #10 FUKUOKA Shimpei (Kyoto Sanga F.C. U-18)
It turned out to be a disappointing result, but we want to analyse from this loss what we are missing, and we want to get better as a team. The most important goal throughout this tournament which was going to the World Cup has been achieved with everyone's effort and I think it's a big takeaway.
DF #7 SUGAWARA Yukinari (Nagoya Grampus U18)
We had held every opponent scoreless, but today we gave away four goals. It's very disappointing. But in this match we found a lot of new assignments, so as an individual and also as a team, we want to correct those and keep working hard with a fresh mindset for next goal.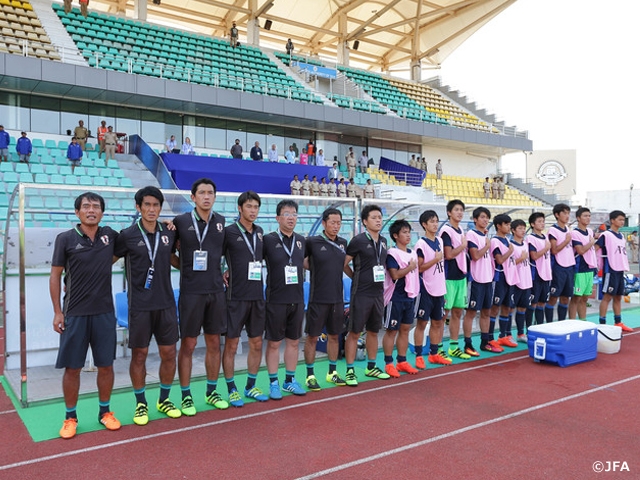 Schedule
AFC U-16 Championship India 2016
Thu. 15 September
PM
Training
Fri. 16 September
7-0
vs U-16 Vietnam (Goa/GMC Stadium)
Sat. 17 September
PM
Training
Sun. 18 September
PM
Training
Mon. 19 September
8-0
vs U-16 Kyrgyz Republic (Goa/GMC Stadium)
Tue. 20 September
AM
Training
Wed. 21 September
PM
Training
Thu. 22 September
6-0
vs U-16 Australia (Goa/GMC Stadium)
Fri. 23 September
10:30-12:30
Training (Nagoa Village Panchayat Football Ground)
Sat. 24 September
16:30-18:00
Training (Tilak Maidan)
Sun. 25 September
1-0
Quaterfinal vs U-16 UAE (Goa/GMC Stadium)
Mon. 26 September
11:15-13:15
Training (Nagoa Village Panchayat Football Ground)
Tue. 27 September
15:00-16:30
Training (TBC)
Wed. 28 September
15:00-16:30
Training (TBC)
Thu. 29 September
2-4
Semifinal vs U-16 Iraq (Goa/GMC Stadium)
Fri. 30 September
AM
Training (TBC)
Sat. 1 October
PM
Training (TBC)
Sun. 2 October
18:00
Final (Goa/Pandit Jawaharlal Nehru Stadium)
*Local Time
*The schedule is subject to change due to the team condition, the weather, etc.
*If India, the hosting country of 2017 FIFA U-17 World Cup, advances to the semifinals, the playoff matches will be held on 29 September and 2 October deciding the fifth place among the four losing teams in the quarterfinals.
AFC U-16 Championship India 2016
2016-9-15(Thu.)~2016-10-2(Sun.)
TV Broadcasting (Japanese version only)
More Information