NEWS
U-19 Japan Women's National Team get through to semi-finals with three wins from three in group stage at AFC U-19 Women's Championship
23 October 2017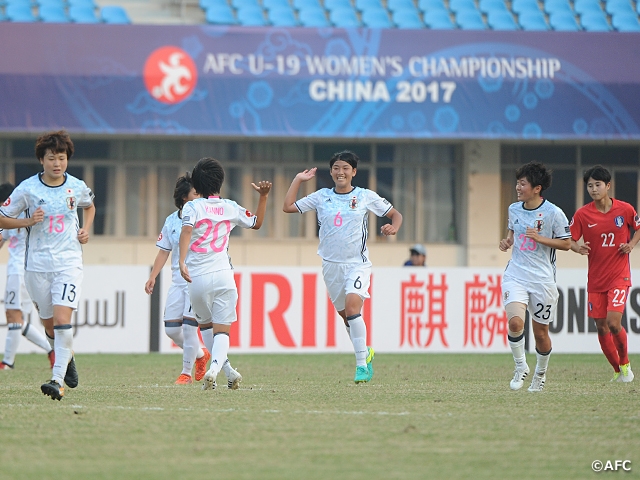 AFC U-19 Women's Championship China 2017
Third Match vs U-19 Korea Republic Women's National Team
22 October 2017 Kick-off 15:00(Local Time) Playing Time 90min.(45min.×2)
Jiangning Sports Centre Stadium (Nanjing, China)
U-19 Japan Women's National Team 2-0(0-0, 2-0)U-19 Korea Republic Women's National Team
Scores
49' MURAOKA Mami (U-19 Japan Women's National Team)
81' KANNO Oto (U-19 Japan Women's National Team)
Starting Line-ups
GK: STAMBAUGH Hannah
DF: NAGASHIMA Reina, MINAMI Moeka, TAKAHASHI Hana, TAKAHIRA Miyu
MF: SATO Mizuka, NAGANO Fuka, FUKUTA Yui, ENDO Jun
FW: MURAOKA Mami, MEHARA Rina
Reserves
GK: FUKUTA Mai, SUZUKI Aguri
DF: MIYAGAWA Asato, ONO Nana, KITAMURA Nanami, USHIJIMA Riko
MF: HAYASHI Honoka, MIYAZAWA Hinata, KANNO Oto
FW: Kono Fuka, UEKI Riko, TAKARADA Saori
Substitutions
HT NAGANO Fuka → MIYAGAWA Asato
60' NAGASHIMA Reina → KANNO Oto
76' MEHARA Rina → Kono Fuka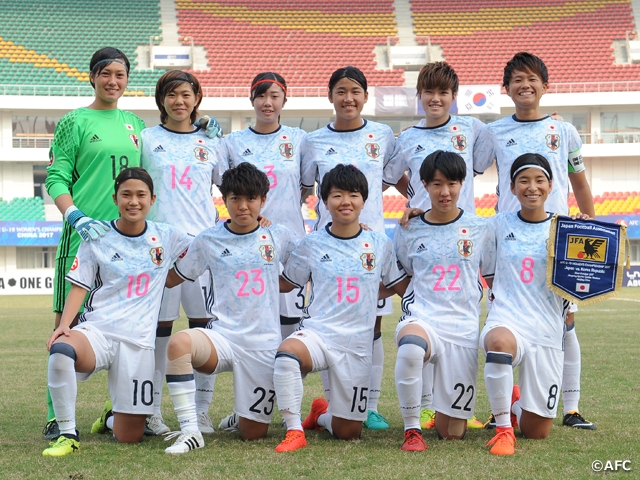 Match Report
The U-19 Japan Women's National Team played against the U-19 Korea Republic Women's National Team at Jiangning Sports Centre Stadium on Sunday 22 October.
Both faced this game in order to get through the group stage. At the beginning of the match, Japan struggled against a solid Korean defence. After 25 minutes, the midfielder NAGANO Fuka, who received a throw-in from the defender TAKAHIRA Miyu, tried to pass the ball to the forward MURAOKA Mami, only for her to mistime the ball.
Although the game went into halftime at 0-0, it changed soon after the second half started. In the 49th minute, the forward Muraoka received a pass from the midfielder SATO Mizuka and twisted her body to take a shot in front of the goal. Japan struck a long-awaited opener. Japan continued to attack. After 81 minutes, the midfielder FUKUTA Yui was taken down outside the penalty area, earning a free kick. The midfielder KANNO Oto, who came off the bench, fired a shot, which hit the inside part of the goalpost and went into the goal. Japan stretched their lead to two goals.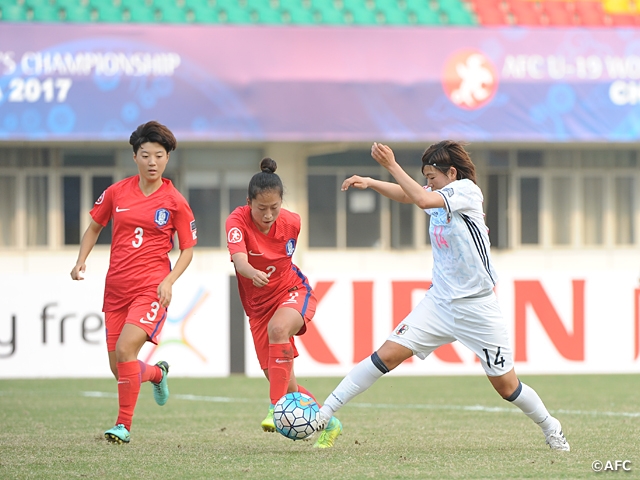 The score stayed at 2-0 until the final whistle and Japan won the match. As a result, Japan topped Group B to advance to the semi-finals.
Coach's and Players' Comments
IKEDA Futoshi, Coach
We approached the game very cautiously, so that we could top the group to get to the next stage. The players performed flexibly, playing almost as we planned. The next game will be against China PR to book a ticket in the U-20 World Cup. So we'd like to prepare ourselves well.
DF #6 TAKAHASHI Hana (Urawa Red Diamonds Ladies)
It was great that we kept a clean sheet and won the game. Having said that, we couldn't pass the ball rhythmically enough and also made careless mistakes. So we'd like to fix our problems before the coming match. The next game will be essential for booking a place in the U-20 World Cup. I'd like to prepare myself well to play my role as an individual player, as well as part of a united team.
MF #20 KANNO Oto (Nippon TV Menina)
We would top the group and get through the group stage if we won against Korea Republic today. It was great that we kept a clean sheet to win. I believe we played well in general. Personally, I was chuffed that I scored a goal from a free kick. If we win the coming match against China PR, we can book a ticket in the U-20 World Cup. So I'm determined to grab a win. Although we will play continuous games under pressure, I'd like to keep myself in good condition.
FW #14 MURAOKA Mami (Orca Kamogawa FC)
I intended to defend solidly up front, waiting for an opportunity to take a shot. In the first half, we couldn't send the ball forwards and couldn't create many goal-scoring opportunities. However, in the second half, we managed to pass the ball around better. I tried to be assertive to be able to receive the ball. When I scored, as I received a good ball from SATO, I turned well to strike a strong shot. I'd like to prepare myself well in order to perform as usual under pressure in the semi-finals.
Schedule
AFC U-19 Women's Championship China2017
Sun. 15 October
AM/PM
Training
Mon. 16 October
8-0
vs Vietnam(Jiangning Sports Centre)
Tue. 17 October
AM/PM
Training
Wed. 18 October
AM/PM
Training
Thu. 19 October
5-1
vs Australia(Jiangning Sports Centre)
Fri. 20 October
AM/PM
Training
Sat. 21 October
AM/PM
Training
Sun. 22 October
2-0
vs Korea Republic(Jiangning Sports Centre)
Mon. 23 October
AM/PM
Training
Tue. 24 October
AM/PM
Training
Wed. 25 October
15:00/19:00
Semi-Final(Jiangning Sports Centre)
Thu. 26 October
AM/PM
Training
Fri. 27 October
AM/PM
Training
Sat. 28 October
15:00/19:00
3/4th Place Playoff(Jiangning Sports Centre)
*Local time
*The schedule is subject to change due to the team condition, the weather, etc.