NEWS
U-19 Japan Women's National Team crush Australia 5-1 in AFC U-19 Women's Championship
20 October 2017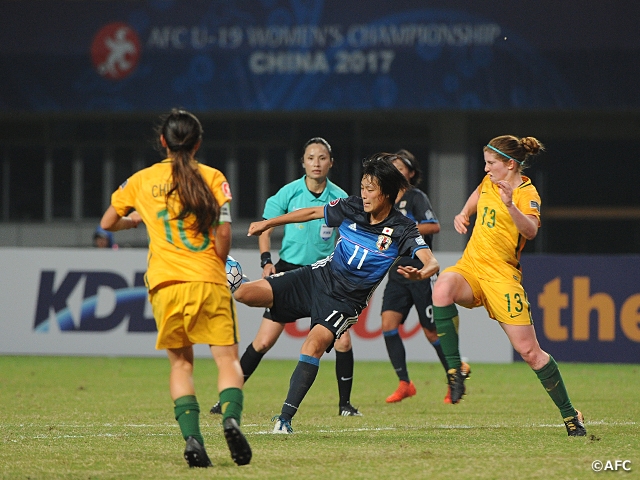 AFC U-19 Women's Championship China 2017
Second Match vs U-19 Australia Women's National Team
19 October 2017 Kick-off 19:00(Local Time) Playing Time 90min.(45min.×2)
Jiangning Sports Centre Stadium (Nanjing, China)
U-19 Japan Women's National Team 5-1 (0-1, 5-0) U-19 Australia Women's National Team
Scores
13' goal against (U-19 Australia Women's National Team)
51' MIYAGAWA Asato(U-19 Japan Women's National Team)
58' HAYASHI Honoka(U-19 Japan Women's National Team)
66' MIYAZAWA Hinata(U-19 Japan Women's National Team)
72' TAKARADA Saori(U-19 Japan Women's National Team)
90+3' TAKARADA Saori(U-19 Japan Women's National Team)
Starting Line-ups
GK: SUZUKI Aguri
DF: ONO Nana, USHIJIMA Riko, NAGASHIMA Reina, MIYAGAWA Asato, KITAMURA Nanami
MF: HAYASHI Honoka, MIYAZAWA Hinata, NAGANO Fuka
FW: Kono Fuka, UEKI Riko
Reserves
GK: STAMBAUGH Hannah, FUKUTA Mai
DF: TAKAHIRA Miyu, MINAMI Moeka, TAKAHASHI Hana, TAKARADA Saori
MF: FUKUTA Yui, SATO Mizuka
FW: MURAOKA Mami, MEHARA Rina, ENDO Jun
Substitutions
54' Kono Fuka → TAKARADA Saori
74' NAGANO Fuka → FUKUTA Yui
79' UEKI Riko → MURAOKA Mami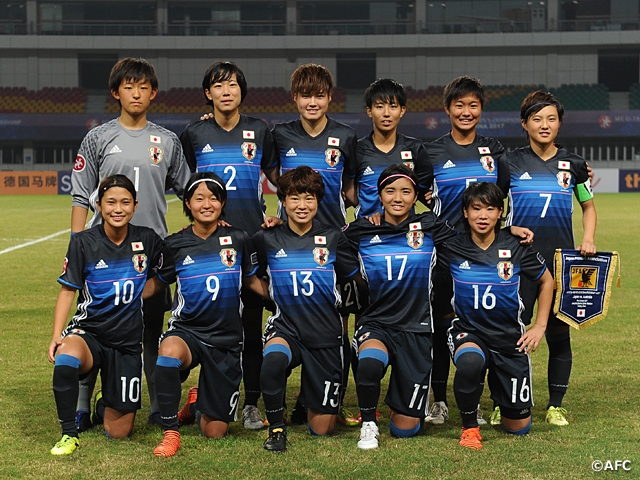 Match Report
The U-19 Japan Women's National Team took on Australia in their second group stage game of the AFC U-19 Women's Championship at Jiangning Sports Centre Stadium on Thursday 19 October.
Australia, who came in this game having beaten Korea Republic 2-0 in their previous game, attacked on Japan capitalizing on their speed right after the kick-off. As many of the Japanese players later said, "We hard tough times until we got used to their speed." In the 13th minute, they allowed Australia to dribbled into the box and conceded a goal. Japan finally began adjusting to Australia's speed after 30 minutes into the game and played in their own rhythm. In the 36th, defender USHIJIMA Riko sent a long pass to forward UEKI Riko, then Ueki bursted into the box and midfielder MIYAZAWA Hinata fired a shot, but the shot was denied by the goalkeeper and the game entered halftime with Australia up 1-0.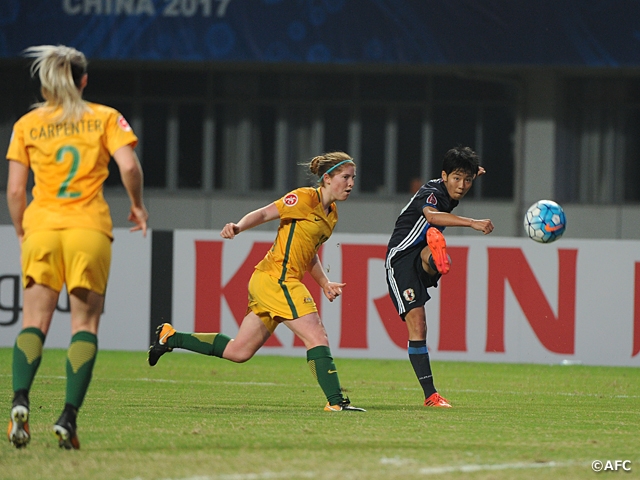 While Japan were trying to tie the game, Ueki dribbled and have a shot after a throw-in on the right. Midfielder MIYAGAWA Asato got the loose ball and netted an equalizer for Japan in the 51 minute. In the 58 minute, Ueki received a pass from Miyagawa and held it in the goal area. Then midfielder HAYASHI Honoka fired a middle shot to give Japan a 2-1 lead. Furthermore, Miyazawa added another goal in the 66 minute and late substitute and forward TAKARADA Saori added goals in the 72nd and 93rd. Japan cruised past Australia 5-1 to win for the second consecutive game.
Japan will face Korea Republic in the next match at 3 p.m. on Sunday 22 October.
Coach's and Players' Comments
IKEDA Futoshi, Coach
It took us to get used to their pressing and conceded a goal to them from our own mistake in the first half. But we did not get rattled and were able to take a lead in the second half. Including those who came in as substitutes, our players played understanding their own roles with responsibility and they showed some growth. We would like to have a good preparation toward our next game against Korea Republic.
MF #7 HAYASHI Honoka (CEREZO OSAKA SAKAI LADIES)
We had an image that Australia would come against us pressing from their front. Ealier in the game they played to the image, and we got overwhelmed by the pressure and gave the momentum to them, and it led to allow a goal to them. But after we adjusted to their speed, we created more chances, so we wanted to tie the game within the first half. (Regarding my goal) when Ueki dropped a pass, I saw a shooting course well, so I just swung my leg as hard as possible. It went how I imagined, so it was great. For our next game against Korea, we would like to play as a team and clinch a knockout stage berth.
FW #19 UEKI Riko (Nippon TV Menina)
In the first half, we struggled playing in our own rhythm and had hard times. In the second half, we started creating our offensive rhythm and ended up scoring many goals. So I think that it was a game that led to our growth as a team. My role is to play up front and score goals. I could not score one in this game, but I would still say that it was meaningful that I was involved in many of the scoring plays. We've won two games in the group stage, but we have not earned anything yet, so we would like to win all the games in the group stage, advance to the knockout stage and get the ticket to the World Cup.
Schedule
AFC U-19 Women's Championship China2017
Sun. 15 October
AM/PM
Training
Mon. 16 October
8-0
vs Vietnam(Jiangning Sports Centre)
Tue. 17 October
AM/PM
Training
Wed. 18 October
AM/PM
Training
Thu. 19 October
5-1
vs Australia(Jiangning Sports Centre)
Fri. 20 October
AM/PM
Training
Sat. 21 October
AM/PM
Training
Sun. 22 October
15:00
vs Korea Republic(Jiangning Sports Centre)
Mon. 23 October
AM/PM
Training
Tue. 24 October
AM/PM
Training
Wed. 25 October
15:00/19:00
Semi-Final(Jiangning Sports Centre)
Thu. 26 October
AM/PM
Training
Fri. 27 October
AM/PM
Training
Sat. 28 October
15:00/19:00
3/4th Place Playoff(Jiangning Sports Centre)
*Local time
*The schedule is subject to change due to the team condition, the weather, etc.