NEWS
Miguel RODRIGO steps down as Japan Futsal National Team coach
12 March 2016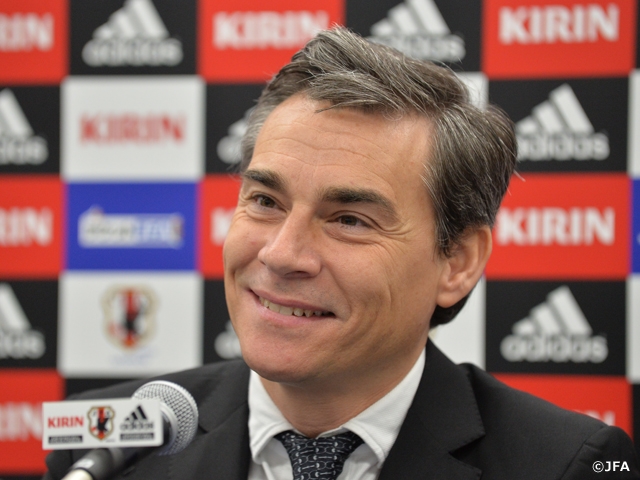 Miguel RODRIGO stepped down as the coach for the Japan Futsal National Team as his contract was up at the end of February and held a press conference on 11 March.
"This is a sad day for me," Miguel said, reflecting on his seven years in Japan. "Since I came here I've been able to learn so many things about the Japanese culture and people in the country." Miguel expressed his appreciation to all the people, including the fans, supporters, players and staff, during his tenure.
Meanwhile, MATSUZAKI Yasuhiro, the futsal director who attended the Press Conference as well, said: "since we've lost the chance to compete in this year's World Cup (with the elimination in the AFC Futsal Championship), we've got to take some time to sign a new coach who's fitting in the job as coach for Japan, and regarding the development plans, we're going to have to discuss with the new coach and we've got to use our brain, too."
Miguel coachs' last message
Dear everyone,
This is a sad day for me. My heart was teared apart into two, and this is one of the days that I cried most in my life. Unfortunately, I stepped down as coach for the Japan Futsal National Team as of 29 February.
While you have lots of smiles and honors in sports, you have lots of sadness and loneliness as well.
I suppose this is a day for me to deal with the latter.
I would like to express my deepest appreciation to our supporters of all generations who supported us since 2009, the fathers and mothers of the children who listened to me and let their children play futsal for the sport's future, the media that warmly reported such a great sport as futsal in the best way they could, all the officials, including of the F League, who gave us opportunities to exchange information and opinions for the development of the sport with broader visions and minds, the people of the local associations who pushed through lectures, clinics and promotional events and gave us the chances to help them, the coaches who came to those events to discuss their opinions with us, the children who gave us a lot of smiles and energy through their training, the people at the athletic facilities who took care of our activities with smiles and compassion, the F League people who became as one and supported the national team and people who were involved in the management, and all the staff of the F League and JFA who helped us do our best.
For our technical staff, which includes the doctors and athletic trainers, I would particularly like to show my appreciation because our championship in the Asian championship wouldn't have been achieved without each member of the group, and I'm a part of our contribution and glory.
For our players that I spent the time in training and games. Whether we would win or lose, each and every member was the champion to me. You guys helped me in my job, and I was able to spend part of the happiest years of my life. Thank you so much.
For those players whom I wasn't able to call up although they had enough capability to be on the national team, I feel sorry. Yet I hope they understand that I worked on our projects with my own standards of fairness and sincerity.
I would like to tell my appreciation to the people at the JFA who provided me the best circumstances available and gave me their support, and their executive persons, including the president, who had a faith in my job.
Lastly, my interpreter, coaches, general affairs and public relations staff with whom I've spent wonderful time. You are the brothers whom I've found in Japan.
I would like to make this occasion as a good-bye one but a see-you-again one. We couldn't compete in the World Cup in Colombia and I'm leaving this country, being discouraged. I don't want to make it an end for me. One day, I'll come back here to avenge this disappointment and get my pride back.
I've felt Japan as my home, and will always been part of my heart.
So long, everyone!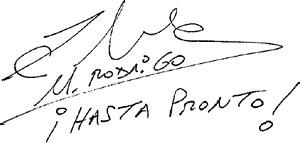 Profile
MIGUEL RODRIGO Conde Salazar
Date of Birth
15 July 1970 (age: 45)
Nationality
Spain (Valencia)
Coaching Career
1996/97
Nazareno de Sevilla
1997/98
Jaén Paraíso Interior
1998/2001
Spanesi Padova(Italy)
2001/02
Dinamo Moskva(Russia)
2002/03-2005/06
Luparense Padova(Italy)
2006/07-2008/09


Caja Segovia
[Spain League Futsal Division de Honor]
2009/06-2016/02
Japan Futsal National Team
46 wins, 13 draws, 33 losses in 92 games
*Penalty shootouts are regarded as draws
*Excluding games he was prohibited to be in bench
Advanced to round of 16 in 2012 FIFA Futsal World Cup
Two-time AFC Futsal Championship (2012, 2014)
Certification
FIFA futsal instructor
Futsal coaching certificate from Spanish football association (Level 3 *highest level)
JFA-TV (Japanese version only)