NEWS
AFC Futsal Championship, Futsal Japan National Team Arrives in Ho Chi Minh
30 April 2014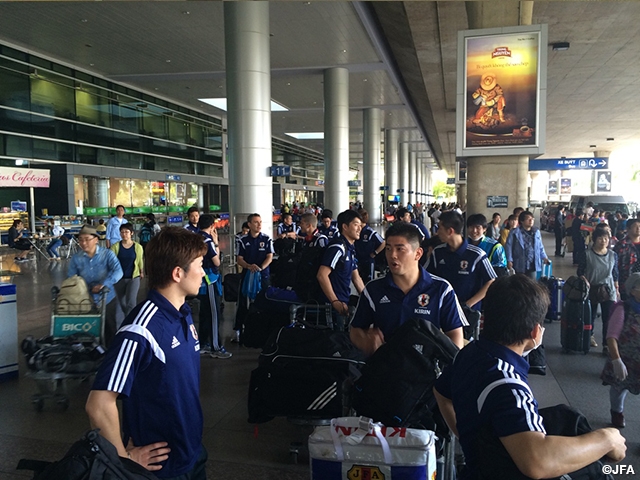 On 29 April, Futsal Japan National Team arrived in Ho Chi Minh, Vietnam, where AFC Futsal Championship will open on 30 April. The heated atmosphere that is unique to Southeast Asia enhances the mood that the tournament is now starting.
After checking-in at a hotel, players went out for training and did exercise thoroughly as if they were relieving muscles which became stiff because of the travel. The temperature and humidity were both high, and it didn't take long until their shirts became wet with sweat.
After the training, their head coach Miguel emphasized that they were challengers and made team members brace themselves by saying "It is totally wrong to defend the title. You've got to seize the title."
Japan National Team will face the first match with Korea National Team on 1 May, which is the second day of the tournament.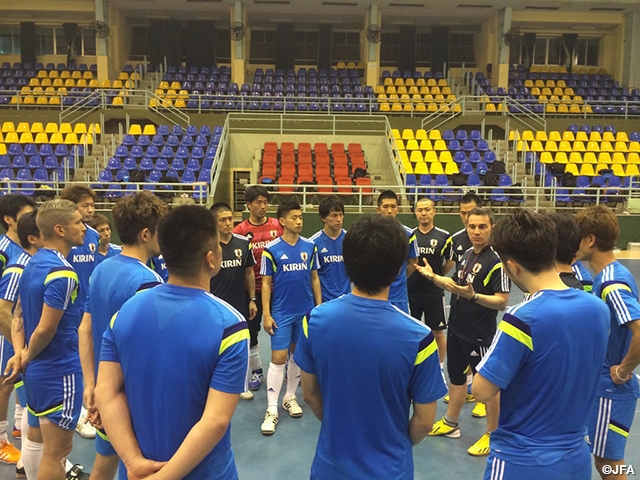 Schedule
AFC Futsal Championship Vietnam 2014
Thu. 1 May
16:00
Group Stage 1st leg
vs. Korea National Futsal Team
(Ton Duc Thang University Stadium)
LIVE
NHK BS1 Thu. 1 May 17:40 - 17:49
NHK BS1(Sub ch102) Thu. 1 May 17:49 - 20:00

Video Recording
TV Asahi Channel 2 Fri. 2 May 21:00 - 23:00
TV Asahi Channel 2 Tue. 13 May 17:00 - 19:00
Sat. 3 May
18:30
Group Stage
vs. Uzbekistan National Futsal Team
(Phu Tho Stadium)
Video Recording
NHK BS1 Sun. 4 May 08:00 - 09:50
TV Asahi Channel 2 Sun. 4 May 20:30 - 22:30
TV Asahi Channel 2 Wed. 14 May 17:00 - 19:00
Mon. 5 May
18:30
Group Stage
vs. Kirghiz National Futsal Team
(Phu Tho Stadium
LIVE
NHK BS1 Mon 5 May 20:15 - 21:49
NHK BS1(Sub ch102) 5/5(月) 21:49 - 22:30

Video Recording
TV Asahi Channel 2 Tue. 6 May 21:00 - 23:00
TV Asahi Channel 2 Thu. 15 May 17:00 - 19:0
Wed. 7 May
15:30
18:30
Quarter Final
(Ton Duc Thang University Stadium)
 
Thu. 8 May
15:30
18:30
Semifinal
(Phu Tho Stadium
 
Sat. 10 May
16:00
Third/Fourth-Place Match
(Phu Tho Stadium)
 
19:00
Final
(Phu Tho Stadium
 
※All match time is local time.
※The time for TV broadcasting is Japan time。