NEWS
【Match Report】Japan Beach Soccer National Team defeat Spain in the Intercontinental Beach Soccer Cup Dubai 2021 5th/6th place play-off
08 November 2021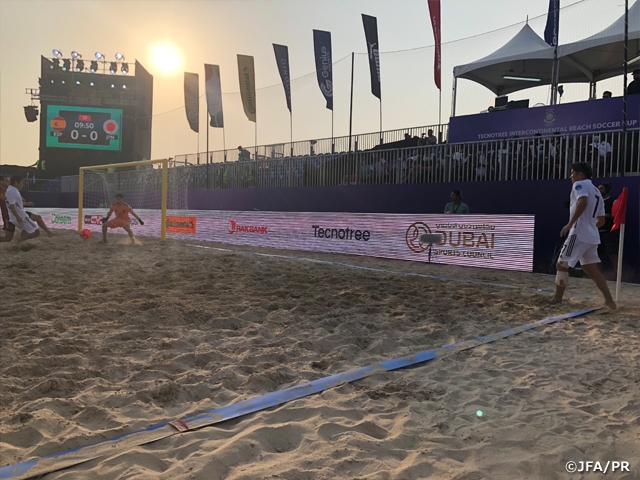 Date: Sat. 6 November 2021 [16:15 (local time)]
Venue: Kite Beach (Dubai)
Japan Beach Soccer National Team 5(2-1 1-0 2-3)4 Spain Beach Soccer National Team
【Goals】
1P 3' Goal against
1P 10' FK MOREIRA Ozu
1P 11' OKUYAMA Masanori
2P 1' FK MOREIRA Ozu
3P 8' MATSUO Naoya
3P 8' Goal against
3P 10' FK MOREIRA Ozu
3P 10' Goal against
3P 11' Goal against
Starting Line-up
GK GINOZA Tomoya
FP MOREIRA Ozu, MATSUO Naoya, OBA Takaaki, OKUYAMA Masanori
Reserve
GK KAWAI Yusuke
FP YAMAUCHI Shusei, MATSUOKA Tsukasa, AKAGUMA Takuya, UESATO Takumi, MIYAMA Ryunosuke, TANAKA Hayate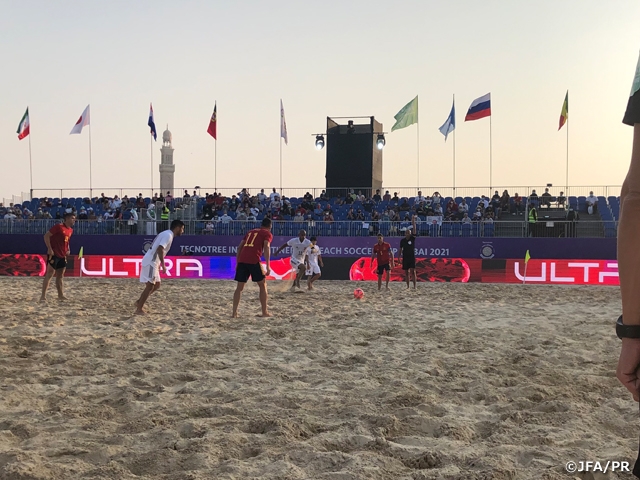 Match Report
On Saturday 6 November, the Japan Beach Soccer National Team played against Spain in the Intercontinental Beach Soccer Cup Dubai 2021 fifth/sixth place play-offs.
Japan conceded the opening goal in the third minute of the first period, when the Japanese goalkeeper GINOZA Tomoya (Sol Mar Praia Okinawa) was blinded by his teammate and could not respond to a mid-range shot taken by the opponent. However, despite conceding the early lead, Japan played with great composure to keep Spain from gaining momentum. After MOREIRA Ozu (Tokyo Verdy BS) scored the equaliser from a free kick, OBA Takaaki (Loewe Yokohama) drilled a shot to the far side, allowing OKUYAMA Masanori (Loewe Yokohama) to direct the ball into the net, giving Japan the lead at the end of the first period.
In the first minute of the second period, Moreira scored a free kick to further extend the lead, but the match turned into a deadlock afterwards, as both sides failed to score a goal. Although there were times when Spain created opportunities from their counterattacks, the Japanese players made tenacious efforts to hold their ground.
MATSUO Naoya (Averdade Kumamoto BS) scored Japan's fourth goal in the eighth minute of the third period. After Spain scored a goal, Moreira capitalised on a free kick to mark his second goal of the match. Although it was Spain who dominated the closing minutes, as they rallied to score two goals, Japan managed to hang onto their lead, winning the match 5-4.
As a result, the Japan Beach Soccer National Team finished the Intercontinental Beach Soccer Cup 2021 in fifth place.
Also on this day, Oba became the fourth player to ever reach 100th cap with the Japan Beach Soccer National Team. It was the first time a player in his 20s to reach the milestone.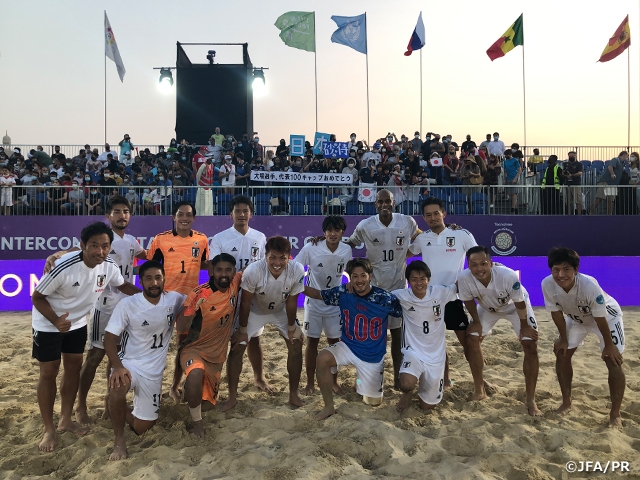 Players' Comments
FP #7 OBA Takaaki (Loewe Yokohama)
With this being my 100th cap with the national team, my teammates and coaches kept telling each other "Let's win this for Oba," before the match. I'm really happy to celebrate my 100th match with a victory over a strong Spanish side, and I'd like to thank all my teammates, staff, and fans for all the support. I am very honoured and proud to receive this commemorative jersey. I am very grateful to Tabata-san, who gave me the opportunity to be selected as a candidate for the national team when I was 19 years old, and to Ramos-san, who selected me as a candidate for the national team for the first time and taught me many things. Without these two, I might not have been able to play for the national team. I would also like to express my gratitude to my former teammates of the national team, coach Marcelo and coach Ozu, teammates at my former clubs, and all the people who support the Japan National Team.
From the day I first wore the Japanese flag to this point, I have faced many setbacks, hardships, and adversities, but I was helped by my family, friends, and peers each time, and I was able to come this far while overcoming obstacles that I could not have overcome by myself. Looking back, I feel that I have been blessed with a very happy life. I will continue to strive to be selected to the national team and play with all my heart so that I can bring excitement and smiles to many children and all the people who support us. Finally, I would like to express my gratitude and respect to JFA for providing me with such a wonderful experience, and to all the players I have competed with.
FP #13 MATSUOKA Tsukasa (Lazo Apego Kitakyusyu)
In this tournament, which was my first call up to the national team, I was able to experience in first-hand what it is like to compete at the world level. While I felt that there is a big difference between the domestic league and the world stage, I was also able to discover that there are parts of my game that were effective, so I now have a clear vision of what to work on once I return to Japan. I would like to become a regular member of the national team and improve my performance so that I can help the team surpass the results of the FIFA Beach Soccer World Cup Russia 2021™. Also, today's match marked the 100th cap for Oba-san, who is an alumnus of my high school, so I was very happy that we were able to win this match. Although we started the tournament with three consecutive losses in the group stage, the veteran players and staff members helped ease my nerves, which allowed me to blend right in with the team and showcase my usual performance, so I am very grateful for their support. However, as I mentioned earlier, I am not satisfied with this result, so I will continue to work hard at my own club and strive to become a regular member of the national team.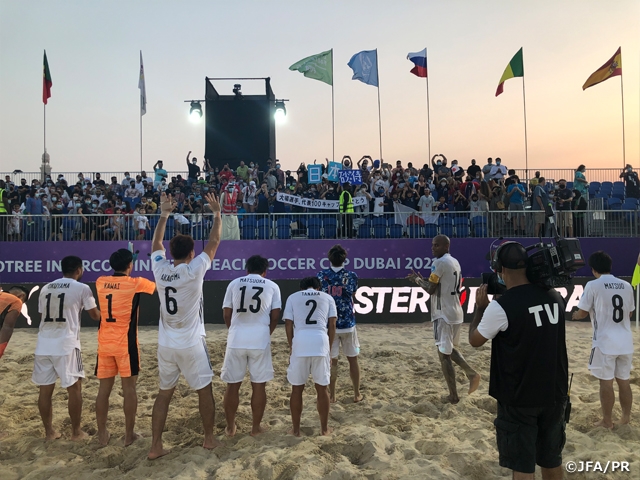 Tecnotree Intercontinental Beach Soccer Cup 2021
Tournament period: Tue. 2 - Sat. 6 November 2021